Squash and Turmeric Pancakes
Try these fluffy and beautiful orangey pancakes made from butternut squash! They can be served with both sweet and savoury toppings and are a great way to add more vegetables into your diet. 
Substitute:
No butternut squash? Try with pumpkin instead. 
Gluten free? Use 1 cup gluten free flour + ½ tsp xanthan gum
Vegan? Use flaxseed instead of the egg. To make a flax egg, mix 1 tbsp ground flaxseed with 3 tbsp of water. Let sit for 10-15 minutes to set and thicken.
No turmeric? Try with cinnamon powder instead of turmeric or ginger powder.
Prep time: 15 minutes
Cook time: 20 minutes
Total time: 35 minutes
Servings: 2
Ingredients:
130 g Plain flour
2 tsp Baking powder
1 tsp Turmeric 
½ tsp Ground ginger
1 Egg (room temperature ) / Flax seed
½ Butternut squash
100 ml Milk of choice
Vegetable oil (for cooking)
Maple syrup
Recipe:
Cook the butternut squash: Slice and boil the butternut squash for 10 minutes, or until tender. Remove from the boiling water (keep the water for the seeds) and let cool for 5 minutes, then blend in a food processor along with the milk, until smooth. 
Prepare the butternut seeds: Place the butternut squash seeds in the reserved boiling water, and simmer for 5 minutes, then drain well. Place the seeds on a baking tray, season with cinnamon and roast at 180 C/160 fan/4 gas mark, for 5-8 minutes, until crispy.
Make the pancake batter: In a small mixing bowl combine all dry ingredients together. In a large mixing bowl whisk the egg and butternut squash mixture together. Add the dry ingredients to the wet ingredients and stir until completely combined. Let the mixture sit for 5 minutes (they will rise better).
Cook the pancakes:In a pan, heat a little oil and scoop the batter onto it. Cook on the first side and then flip when little bubbles start to appear on the top of the pancakes. Cook until the other side is browned and cooked through. Repeat the cooking process with the remaining batter/pancakes. Serve with the crunchy seeds, and a drizzle of maple syrup.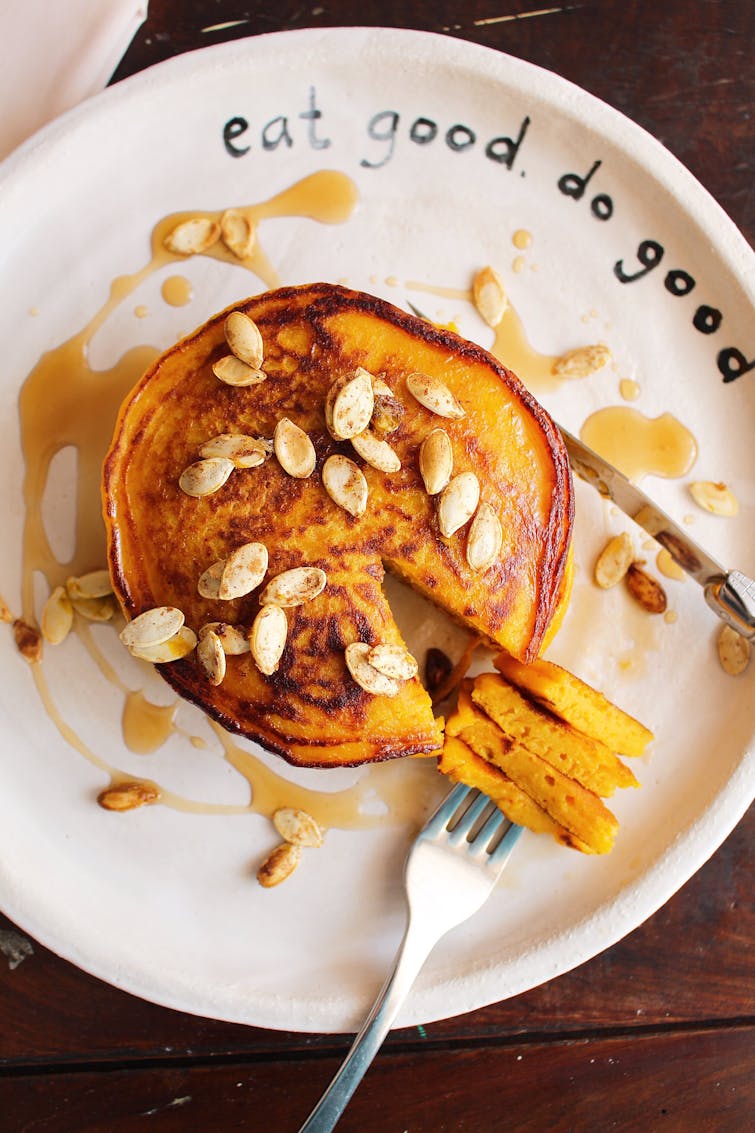 ---
How to store
Store the pancakes in the fridge for up to 3 days, or in the freezer for up to 3 months.
Leftovers
The butternut pancakes are delicious with both sweet and savoury toppings. Try serving them along our maple vanilla roasted plums. Another great serving option would be a sage beurre noisette. Simply cook a little butter until golden (it will have a nice nutty flavour), along with sage leaves and a clove of garlic.