Buffalo Style Mushrooms
Try these vegan buffalo mushrooms. The mushrooms are dipped in a creamy batter, breadcrumbs, then fried until crispy and glazed with homemade buffalo sauce. 
Substitute:
No mushrooms? Make buffalo cauliflower instead. Cut your cauliflower into florets and follow the same steps. 
Gluten-free? Make gluten free buffalo mushrooms, use rice flour and gluten free breadcrumbs. 
No garlic powder? Use onion powder instead.
No golden syrup? Try with light brown sugar or maple syrup. 
No creme fraiche? Serve with yoghurt/vegan yoghurt. 
Prep time: 30 minutes
Cook time: 30 minutes
Total time: 60 minutes
Servings: 2
Ingredients:
300 g Mushrooms
140 g Plant based milk
100 g Water
120 g Plain flour
1 tbsp Garlic powder
60 g Breadcrumbs
1 tsp Paprika
400 ml Vegetable oil
50 g Hot sauce
2 tbsp Golden syrup
20 g Vegan butter
Salt & pepper
vegan creme fraiche (for serving)
1 tsp Sesame seeds
Recipe:
Cut the largest mushrooms in half. Keep the smaller ones whole. In a bowl, whisk together the plant based milk, water, flour, garlic powder, salt and pepper. Add the mushrooms into the batter, mix well to coat, and set aside to marinate for 15 minutes. 
In a bowl, combine the breadcrumbs, and paprika. Dip the marinated mushrooms in the breadcrumb mixture.
Heat up the vegetable oil in a saucepan. When hot, add a few breaded mushrooms to the oil. Fry mushrooms in batches, 2-3 minutes until golden brown. Cooking time will vary depending on the size of your mushrooms.
Drain fried pieces over the saucepan with a slotted spoon and then place on a wire rack over a baking tray to remove excess oil. 
Preheat the oven to 200C/180 fan/6 gas mark. In a small pan combine the hot sauce, golden syrup and vegan butter.
Place the fried mushrooms in a bowl and pour the buffalo sauce over. Gently toss to coat.
Place the mushrooms in one layer on a lined baking tray. Roast for 10 minutes.
Serve immediately with vegan creme fraiche and a sprinkle of sesame seeds.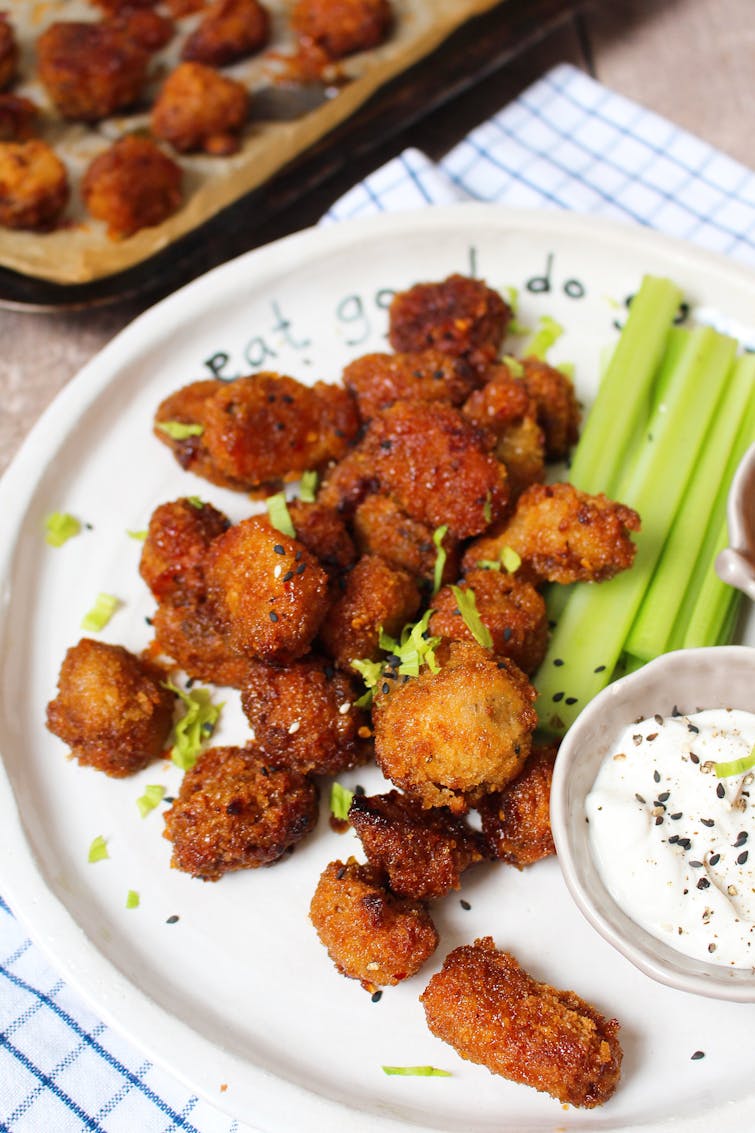 ---
How to store
Store your buffalo mushrooms in an airtight container in the fridge for up to 3 days.  To get them nice and crispy again, roast them at 180C/160 fan/4 gas mark for 5 minutes. 
Leftovers
You buffalo mushrooms will make a great addition to salads.