Buffalo Cauliflower Nuggets
Crispy and spicy buffalo cauliflower nuggets. The cauliflower florets are oven-baked, and tossed with spicy/sweet buffalo sauce. Delicious served on a bed of greens, or on its own. 
Substitute:
No smoked paprika? Try with cayenne or chilli powder instead. 
No eggs? Use 200 ml plant based milk instead. 
No maple syrup? Try with honey or golden syrup instead.
Prep time: 15 minutes
Cook time: 35 minutes
Total time: 50 minutes
Servings: 2
Ingredients:
1 Cauliflower
For the batter:
3 Eggs / Plant based milk
100 g Plain flour
100 g Panko breadcrumbs
1 tsp Smoked paprika
Vegetable oil
Salt
For the buffalo sauce:
10 g Worcestershire sauce
10 g Soy sauce
15 g Maple syrup
5 g Chilli sauce
80 g bbq sauce
For dipping:
Mayonnaise / Vegan yoghurt
Recipe:
Preheat the oven to 180 C/160 fan/4 gas mark. In a bowl, mix the flour, breadcrumbs, paprika, and a pinch of salt. In another bowl, add the eggs (or 200 ml plant based milk).
Add the cauliflower into the eggs, then into the flour mix. Toss well to evenly coat all the florets.
Line a baking tray with baking paper. Spread the cauliflower on the baking tray, and drizzle with a little vegetable oil.
Bake in the oven for 20 minutes, but make sure to stir them halfway through to prevent them from burning.
In the meantime, in a bowl mix together the coating sauce ingredients; bbq sauce, worcestershire sauce, soy sauce, maple syrup and chilli sauce. 
Remove the florets from the oven and add them to the bowl with the sauce. Stir well to coat.
Spread the cauliflower back on the baking tray and bake for another 15 minutes, until crispy.
Serve with the dipping sauce of your choice; garlic mayonnaise or mayonnaise/vegan mayonnaise.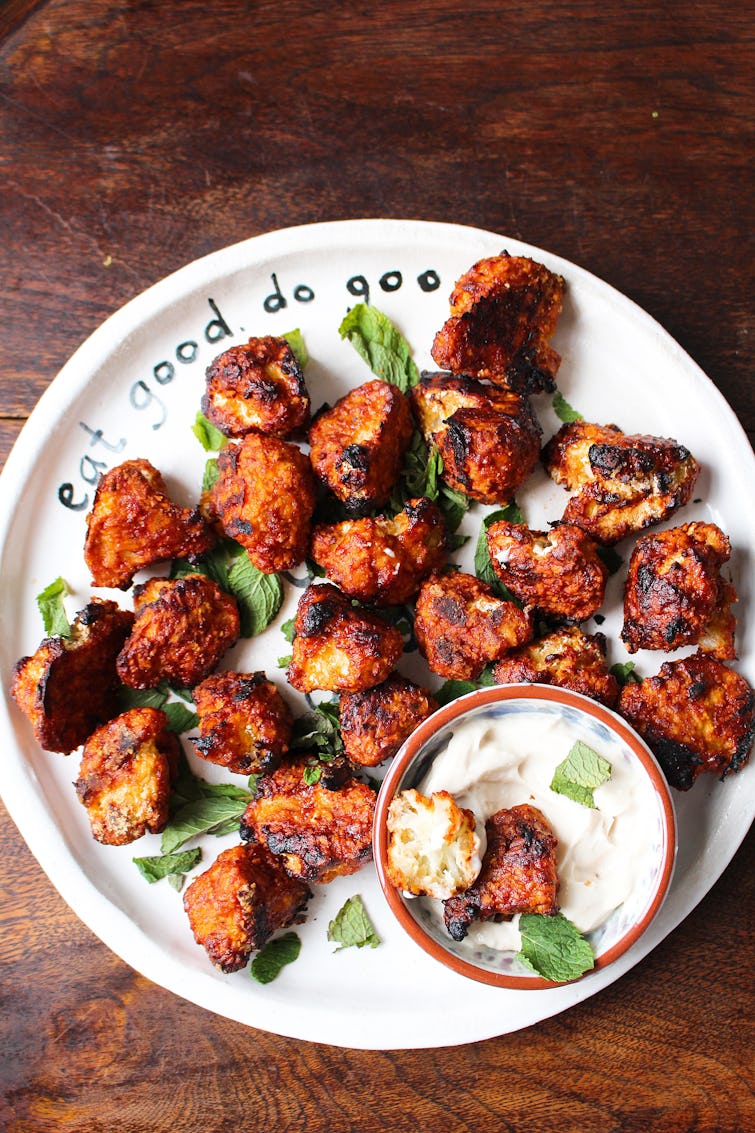 ---
How to store
Store in the fridge for up to 3 days or in the freezer for up to 1 month. To serve, reheat the nuggets in a hot oven until warm and crispy. 
Leftovers
The cauliflower nuggets would be delicious as a salad garnish.