Elisa Rossi: Brussels Sprouts & Potato Dauphinoise
"I cannot think of a richer and more indulgent zero-waste festive side dish than this one. It's super easy to make and only requires a few humble ingredients, it's lusciously creamy and utterly delicious! This dish makes the most of surplus vegetables like potatoes, shallots and Brussels Sprouts which otherwise would have gone to waste!
For this recipe I have used the Brussels sprouts stem as well, I know it might sound odd but it actually works really well and it's great to save on food waste. Just make sure you slice it very finely (a mandolin would be ideal). This festive Dauphinoise Potatoes is best to serve piping hot straight out of the oven but make sure to save any leftovers as I find it even more flavourful the next day. I just reheat it and serve with either leftover roasted veggies or if you make a cooked breakfast this will be absolutely brilliant on the side."
Elisa - Plant-based recipe creator, food stylist & blogger
Prep time: 25 minutes
Cook time: 70 minutes
Total time: 95 minutes
Servings: 6
Ingredients:
1 kg Potato ( finely sliced, preferably with a mandolin )
Shallot ( finely sliced )
6 Brussels sprouts (half of their stem - finely sliced )
sprig Rosemary (a few )
sprig Thyme (a few)
200 g Cashews (soaked in boiling water for 30 minutes)
7 tbsp Nutritional yeast
1000 ml Vegetable stock
1 tbsp Corn starch 
1 tbsp Soy sauce
1 tsp Salt
Black pepper (to taste )
Recipe:
Add the finely sliced potatoes to a large bowl and cover them with boiling water. Let them sit for 15 minutes.
In the meantime make the cashew cheesy sauce. Simply add all the ingredients into a blender and blend until smooth and creamy. 
Turn the oven on at 180 degrees Celsius.
Drain the potatoes. Spread a thin layer of sliced potatoes at the bottom of the oven dish. Sprinkle some of the sliced Brussel sprouts, shallot some black pepper and thyme leaves. Pour over a generous layer of the cashew cream. Repeat until the dish is full. 
Bake in the oven for 55 minutes. Remove from the oven and let it sit for a couple of minutes before serving.If you have any leftovers store them in  the fridge for 2-3 days. Any leftovers can also be frozen. Once cool, wrap the cooked dauphinouse tightly in sustainable wrapping eg. Beeswax wrap. Freeze for up to 6 months. Cook from frozen in a preheated oven for 30 minutes or until piping hot.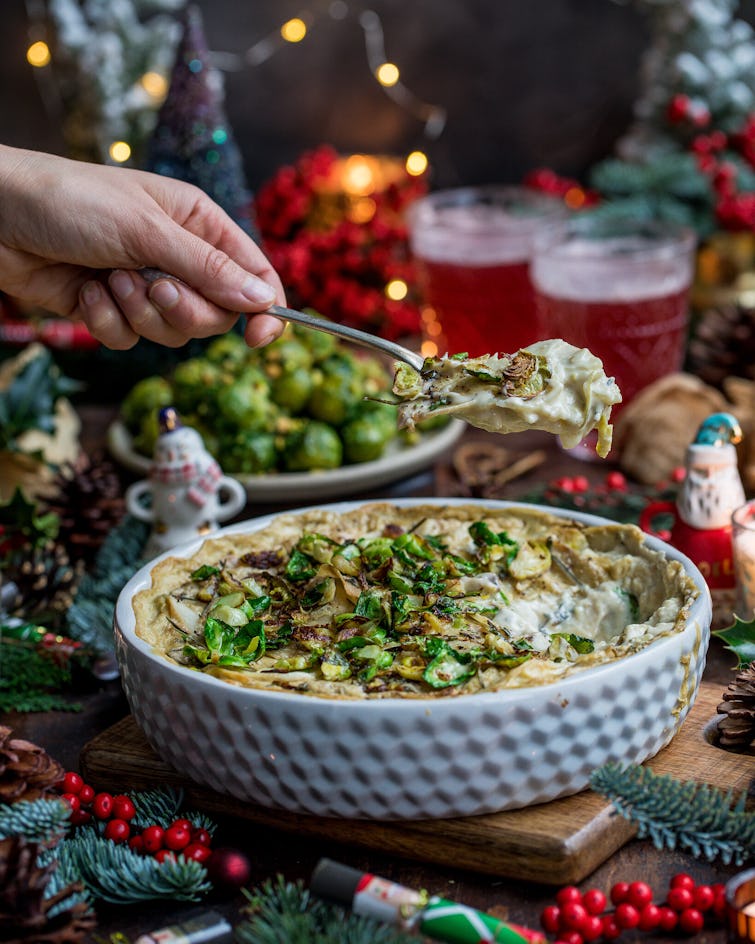 ---