Brussels Sprouts Caesar Salad
A classic salad reinvented with brussels sprouts! Try this quick and delicious recipe showcasing shredded brussels sprouts, crispy rosemary croutons and a creamy parmesan dressing.
Substitute:
No brussels sprouts? Try with lettuce or kale instead. 
Vegan? Use vegan parmesan and vegan mayonnaise. 
No rosemary? Try with oregano or thyme instead.
Prep time: 15 minutes
Cook time: 10 minutes
Total time: 25 minutes
Servings: 2
Ingredients:
300 g Brussels sprouts
50 g Parmesan / vegan parmesan
50 g Mayonnaise / Vegan mayonnaise
2 Garlic cloves
Lemon (juice of 1/2)
1 tbsp Dijon mustard
2 sprig Rosemary (chopped)
130 g Bread
Olive oil
Salt & pepper
Recipe:
Make the croutons: Preheat the oven to 180 C/160 fan/4gas mark. Tear the bread into bite-sized pieces and place it onto a large baking tray. Drizzle with 1 tablespoon of olive oil, season chopped rosemary, salt and pepper. Toss to combine, spread into an even layer and bake for 8-10 minutes, until browned and crisp.
Make the dressing: Add the parmesan, mayonnaise, garlic, mustard and lemon juice to a food processor. Blend until smooth, about 20 seconds. With the motor running, remove the inner cap on the lid and slowly pour in 4 tbsp of olive oil. Continue blending until creamy and emulsified, about 30 seconds more.
Make the salad: Use a knife to chop the brussels sprouts and place in a large bowl. Add the dressing and the croutons and toss until well-coated. Transfer to serving bowls and serve.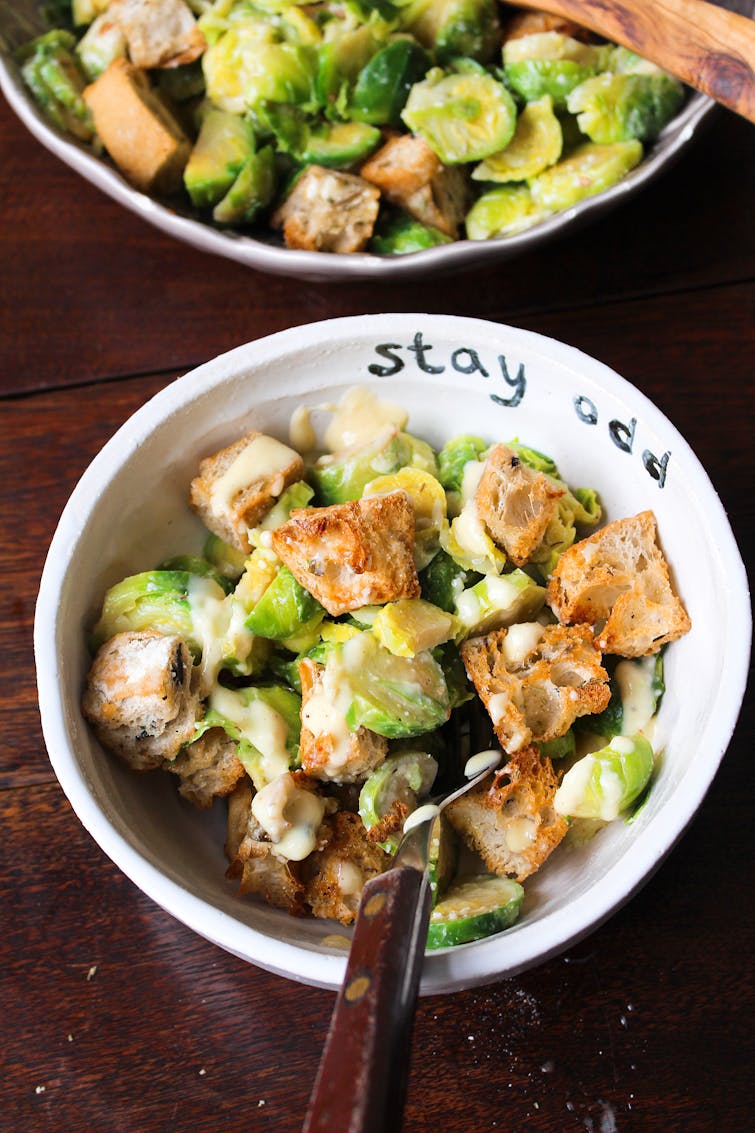 ---
How to store
The croutons can be made 5 days in advance, and stored at room temperature in an airtight container. The caesar dressing can be made 3 days in advance and stored in the fridge.
Leftovers
Add more roasted vegetables from your Oddbox to your salad. Roughly chop them, toss in olive oil, season and roast at 200 C/180 fan/6 gas mark, until cooked through.