Broccoli Potato Tray Bake
Try this savoury broccoli and potato bake with caramelised onion and a creamy bechamel sauce. Easy, comforting and delicious! 
Substitutes:
No red onion? Red onions have a nice sweetness to them and a lovely colour to go along with the potato and broccoli but you can use shallot or white onion instead. 
Vegan? Use vegan butter, plant based milk and vegan cheese instead. 
Prep time: 20 minutes
Cook time: 20 minutes
Total time: 40 minutes
Servings: 4
Ingredients:
2 Potatoes (large)
1 Broccoli
1 Red onion
3 Garlic cloves
3 tbsp Olive oil
1 tbsp Dried thyme
50 g Unsalted butter
50 g Plain flour
1 tsp Dijon mustard
½ tsp Ground nutmeg 
500 ml Milk of choice
100 g Cheddar (grated )
10 Basil leaves
Recipe:
Prepare the veggies: Rinse the potatoes under cold water to remove any first and cut into chunks. Cut the broccoli into florets and the broccoli stem into smaller pieces. Finely slice the red onion and finely chop the garlic cloves.
Cook the potatoes and broccoli: Fill a large saucepan with water and season with a teaspoon of salt. Add the potato chunks and place over a medium-high heat. Cook for 8-10 minutes, or until the potatoes are just tender. Then add the broccoli into the same pan and cook for another 3 minutes, until blanched. Drain and set aside.
Cook the onion: Place a pan over a medium heat. Add the olive oil, onion, garlic and dried herbs. Cook for 7-8 minutes, or until tender. Turn off the heat and set aside.
Make the bechamel: Add the butter to a saucepan and melt, then add in the flour and cook for 2 minutes on a low heat, stirring constantly. Add in a little milk to make a paste, then keep adding more milk gradually, stirring each time, until you have a smooth consistency. Simmer and keep stirring it until it's thick and creamy. Once you have the perfect texture, turn off the heat and add in the mustard, nutmeg and half of the cheddar cheese. Stir until melted and season to taste.
Cook the gratin: Preheat the oven to 190C/170c fan/5 gas mark. In a square baking dish add the potato, broccoli and onion mixture. Pour the bechamel sauce over and top with the rest of cheddar cheese. Bake in the oven for 20 minutes, or until the cheese is bubbling and the top is golden brown. Once baked remove the dish from the oven and add on the basil leaves to garnish.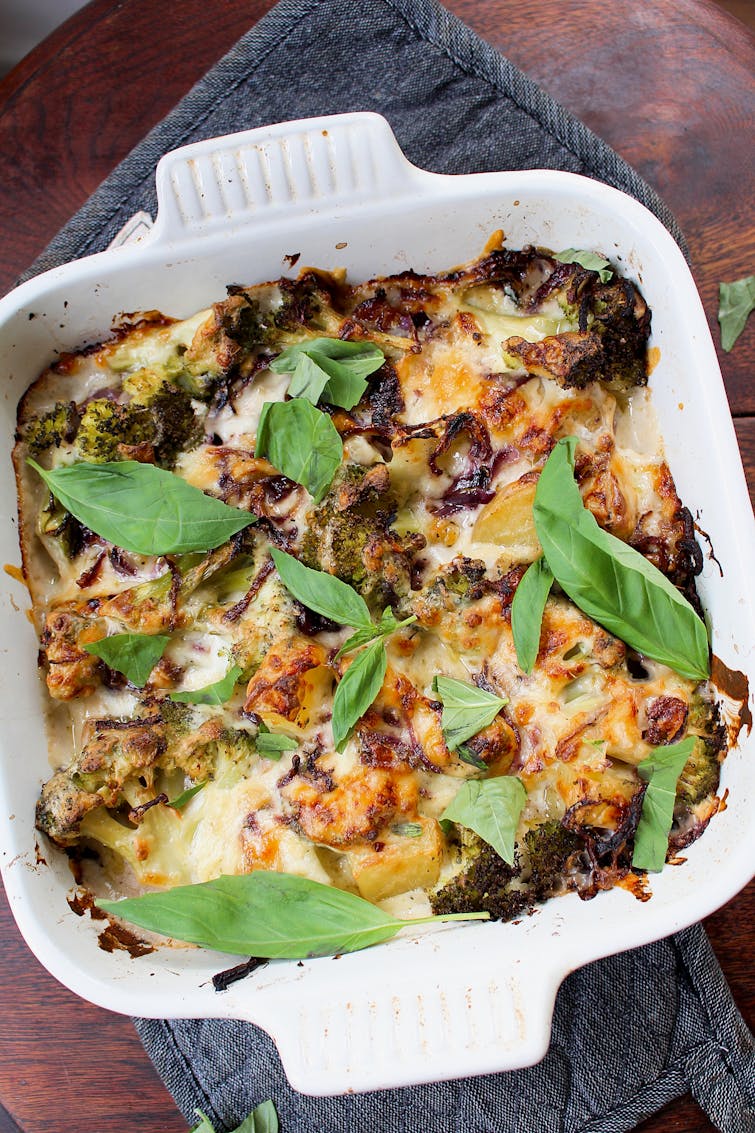 ---
How to store
Portion and store in airtight containers, in the fridge, for up to 3 days, or in the freezer for up to 3 months.