Beetroot Salad with Parsley, Candied Walnut & Feta
Grated beetroot is a great way to enjoy beetroot raw and cut down the cooking time. We've served it with fresh parsley, rocket, crunchy candied walnuts and crumbled feta.
Substitute:
No beetroot? Try with grated carrots instead. 
No rocket? Use any leafy greens instead. Spinach or lettuce are good options. 
No walnuts? Try with pecans or pumpkin seeds instead. 
Vegan? Use vegan feta and vegan butter alternatives. 
No balsamic vinegar? Try with lemon juice instead.
Prep time: 15 minutes
Cook time: 10 minutes
Total time: 25 minutes
Servings: 2
Ingredients:
400 g Beetroot (grated )
30 g Parsley (chopped )
20 g Rockets
40 g Feta (crumbled)
3 tbsp Olive oil
1 tbsp Balsamic vinegar
Salt & pepper
For the candied walnuts:
60 g Walnuts
20 g Water
50 g Caster sugar
10 g Butter
Recipe:
For the walnuts: Preheat the oven to 160 C/140 fan. Place the walnuts on a small tray and toast in the oven for around 5 minutes or until golden brown.
Then add the sugar and water to a small saucepan and bring to a boil for 1 minute. Add the walnuts and continue to stir until just golden brown and caramelised, for about 20 seconds.
Remove from the heat and add the butter, stirring through. Tip these out onto baking paper and set aside to cool.
For the salad: grate the beetroot and add into a mixing bowl.
To the mixing bowl, add rocket, chopped parsley, crumbled feta, olive oil, balsamic vinegar and a generous pinch of both salt and pepper.
Mix well and season to taste with more salt and pepper if needed.
Serve the beetroot salad with the candied walnuts over the top. Enjoy.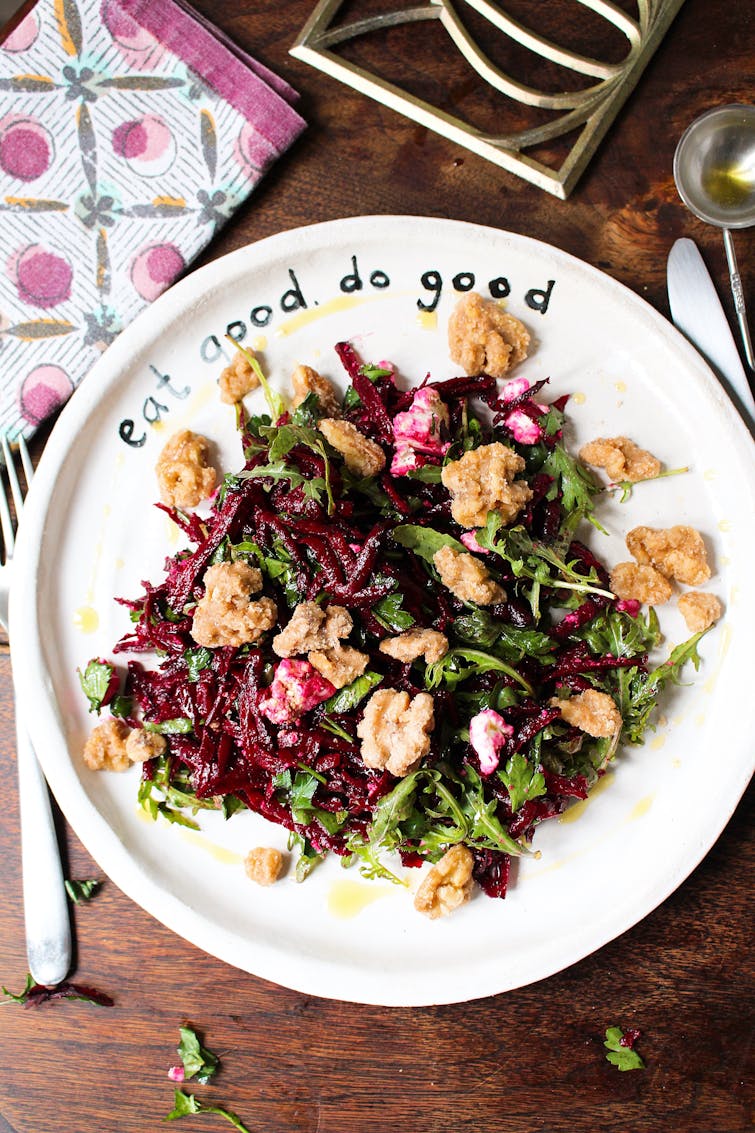 ---
How to store
Store the candied walnuts in an airtight container, in the fridge for up to 4 days. Add them to any salads or have them as a snack.