Beetroot Gyoza with Ponzu Sauce 
Easy homemade vegetarian dumplings with caramelised beetroot, ginger, and sesame-crusted wrappers. Each dumpling is pan-fried until crispy on the bottom, then served alongside a citrusy and soy sauce based ponzu sauce. These are a fun and healthy dinner to make any night of the week. 
Substitute:
No beetroot? Try with finely chopped mushrooms, kohlrabi or leek instead. 
No maple syrup? Use honey instead.
Prep time: 30 minutes
Cook time: 15 minutes
Total time: 45 minutes
Servings: 2
Ingredients:
For the filling:
200 g Beetroot
120 g Firm tofu
1 Onion (chopped )
2 Garlic cloves (chopped )
2 tbsp Ginger paste
2 tbsp Sesame oil
2 tbsp Soy sauce
For the wrappers:
260 g Plain flour
1 tsp Fine salt
150 ml Warm water
6 tbsp White sesame seeds
For the sauce:
4 tbsp Lime juice
3 tbsp Soy sauce
2 tbsp Maple syrup
For serving:
Spring onions (chopped )
Recipe:
Prepare the filling: Grate the beetroot using a grater box.
Place the grated beetroot in a large mixing bowl. Add the tofu, onion, garlic, ginger paste, sesame oil and soy sauce. Mix well to combine. 
Place a large frying pan over medium-high heat. Add the beetroot mixture and cook, stirring often for about 10 minutes, until the beetroot is tender and cooked. Turn off the heat and set aside to cool.
Make the wrappers: Add the flour to a mixing bowl and make a well in the centre. Add the warm water and gently mix with a pair of chopsticks or a fork, until no more loose flour can be seen.
Combine and knead with your hand. If too sticky, add flour. Cover and leave to rest for 15 minutes.
Finish the wrappers: Cut the dough in four and shape each one into a log. Cut each log into 7 pieces and roll them all into little balls. Roll out each piece into thin circles and keep the dumpling wrappers separated with small pieces of parchment paper.
To assemble, spoon 1 tablespoon of filling onto each wrapper. Fold the edges of the wrapper up around the filling and pinch and twist in the centre to seal. Repeat with the remaining wrappers.
Place the sesame seeds in a shallow bowl. Brush the bottoms of the dumplings with water and then dredge them in the sesame seeds.
Heat 1 tbsp of oil in a large frying pan set over medium heat. Add 6-7 dumplings and cook until the bottoms are light golden brown, about 2-3 minutes.
Carefully pour a splash of water into the pan and immediately cover with a lid. If you don't have a lid for your pan, use a large baking tray instead. Let the dumplings steam for 3-4 minutes on low-medium heat. Repeat with the remaining dumplings. 
To make the sauce, combine all ingredients in a medium bowl.
Serve alongside the dumplings and top with chopped spring onions.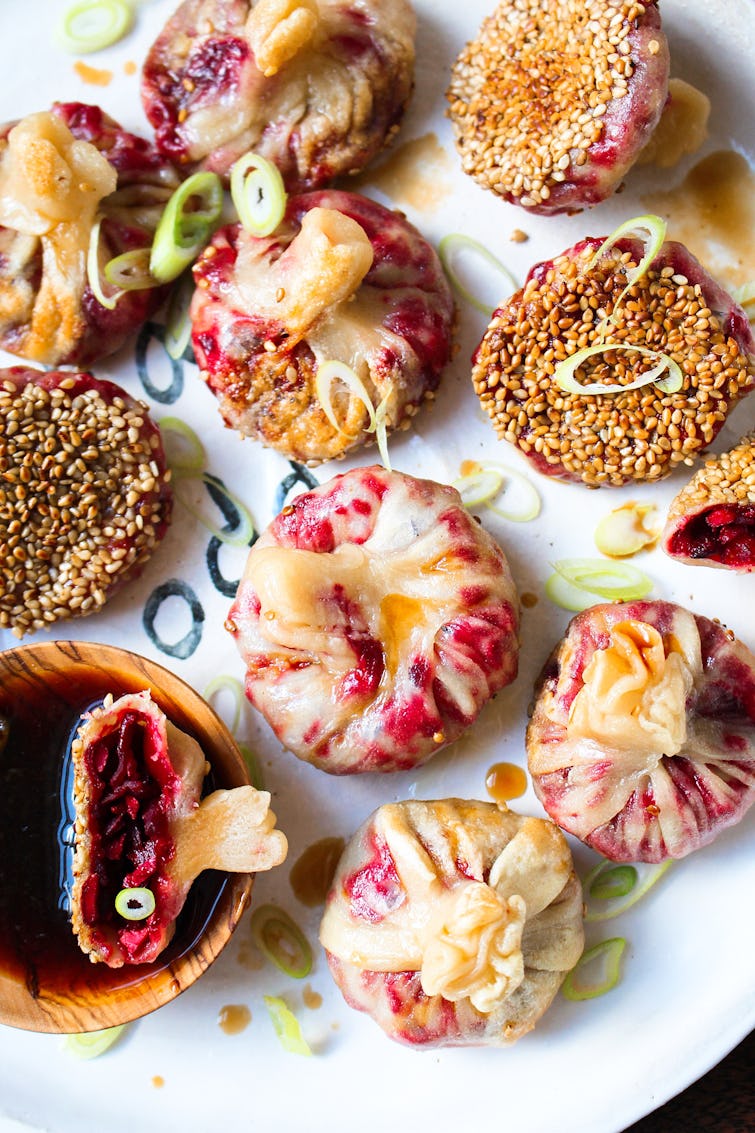 ---
How to store
Store in an airtight container in the fridge for up to 3 days. You can also freeze the dumplings for up to 1 month. When ready to eat, defrost and reheat in the preheated oven at 180 C/160c fan/4 gas mark for 10 minutes, or until crisp up and warm all the way through. 
Leftovers
Leftovers can be reheated at 180 C/160c fan/4 gas mark for 10 minutes, or until crisp up and warm all the way through. Serve them alongside a salad. Why not try our cabbage slaw or aubergine coronation chickpea salad!