Roasted Beetroot Falafels
Coarsely grated beetroot blended with tender cooked onion, chickpeas, beetroot leaves, cumin, ginger and seasonings. The beetroot mixture is formed into falafels, brushed with oil and baked. Served with tahini and yoghurt dip. 
Substitute:
No beetroot? Try with carrots, sweet potatoes or pumpkins instead. 
Vegan? Swap the egg for flaxseed instead, and use a plant based yoghurt for the dip. 
Gluten free? Use gluten free flour and 1 tsp of xanthan gum instead. 
Prep time: 15 minutes
Cook time: 20 minutes
Total time: 35 minutes
Servings: 2
Ingredients:
350 g Beetroots
1 Onion (Chopped)
1 Chickpeas (Can)
1 tsp Ground cumin
½ tsp Ground ginger
9 tbsp Plain flour
1 Egg
Lemon juice (Of half a lemon)
Olive oil
Salt & pepper
½ tbsp Tahini (To serve)
2 tbsp Yoghurt (To serve) / Vegan yoghurt
Recipe:
Prepare the ingredients: Grate the beetroot and roughly chop the leaves.
Heat 1 tbsp of olive oil in a frying pan, and fry the onions until softened but not coloured. Add the cumin powder, ginger powder and cook for 1 minute. 
Blend the ingredients: Add the chickpeas, grated beetroot and chopped beetroot leaves to the frying pan. Mix to combine and turn off the heat.
Add the mixture into a food processor with the lemon juice. Blend to a rough paste, then scrape into a bowl and stir in the flour, egg  beetroot and seasonings. Mix well until you have a soft dough - add more flour if needed. 
Shape the falafels: Shape the beetroot mixture into about 10 patties or balls, and space on a greased baking sheet. 
Cook the falafels: Preheat the oven to 200 C/180 C fan/6 gas mark. Brush the falafels with a little oil and bake for 20-25 minutes, or until crisp and hot through. 
Serve: To serve, mix the tahini with the yoghurt, salt and pepper. Dip the beetroot falafels into the sauce.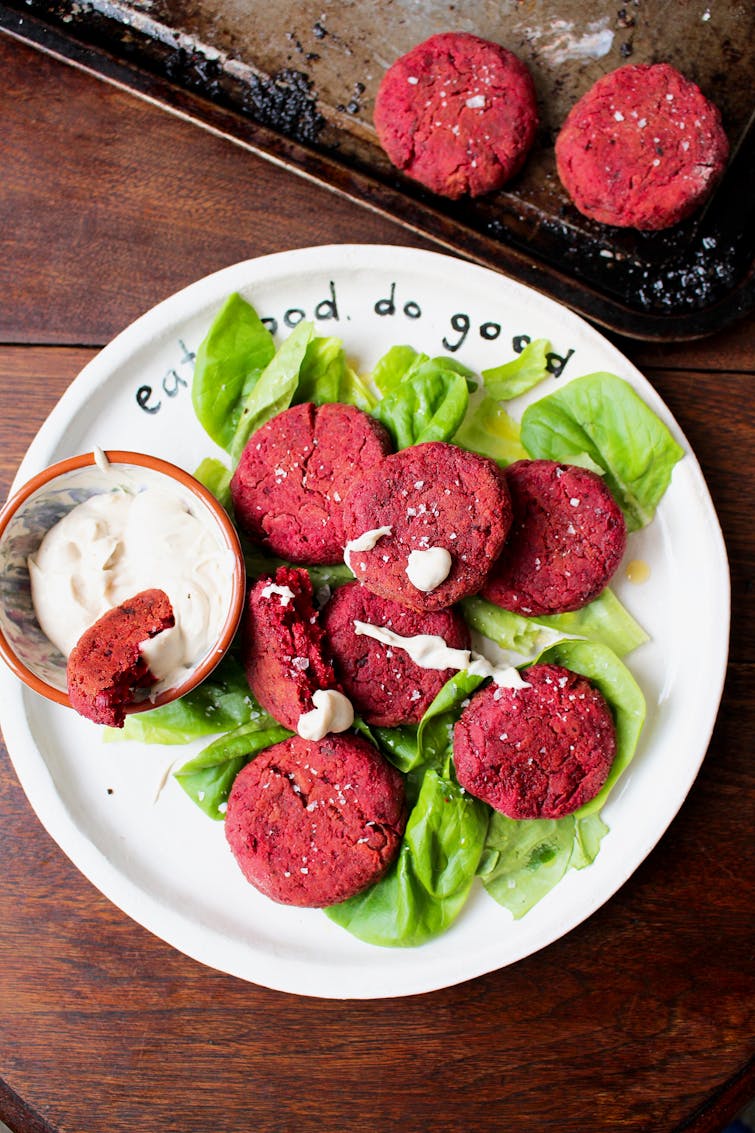 ---
How to store
Store the falafels and dip in the fridge, for up to 4 days. Store in the freezer for up to 3 months. The falafels can be reheated in the oven at 200 C/180 fan/6 gas mark, or deep fried until crisp and hot. 
Leftovers
The falafels would be lovely served in warm pita bread with a good drizzle of tahini sauce. To make the tahini dip into a sauce, add 1-2 tbsp of water and mix until light and liquid enough to drizzle.