Beetroot and Goat Cheese Dip
Make the most of your beetroots with this no waste beetroot dip recipe, using the whole beetroots including their skins and leaves. 
Substitute:
No beetroot? Try with carrots instead. 
No goat cheese? Use tahini or yoghurt instead. 
No garlic cloves? Try with garlic powder. 
No fennel seeds? Use cumin seeds instead. 
No oregano? Try with any dried herbs you have on hand. Thyme would be a great option here. 
No rye bread? Use any bread of your choice. Or alternatively serve with crackers.
Prep time: 10 minutes
Cook time: 35 minutes
Total time: 45 minutes
Servings: 4
Ingredients:
5 Beetroots
150 g Goats cheese
2 Garlic cloves
1 tsp Fennel seeds
1 tsp Oregano
½ Lemon juice
Olive oil
Salt & pepper
6 Basil leaves
slice Rye bread
Recipe:
Cook the beetroots: Preheat the oven to 190C/170 fan/5 gas mark. Cut the leaves out from the beetroots, but do not discard them. Cut the beetroots with their skin in 1.5 cm thick wedges. Place the beetroot wedges on a baking tray, drizzle with olive oil, season with fennel seeds, oregano, salt and pepper. Toss to coat and roast for 30-35 minutes, or until lightly caramelised and tender.
Cook the beetroot leaves: Roughly chop the beetroot leaves and thinly chop the garlic cloves. Heat up 2 tbsp of olive oil in a frying pan, and cook the leaves and garlic over medium heat for 5 minutes. Turn off the heat and let the flavours infuse while you are finishing the beetroot dip.
Blend the beetroots: Place the beetroot wedges in a food processor, along with the goat cheese and lemon juice. Blend until smooth and season to taste.
Serve: Add the beetroot dip to a plate and pour the beetroot leaves mixture over. Add broken basil leaves and serve with toasted rye bread.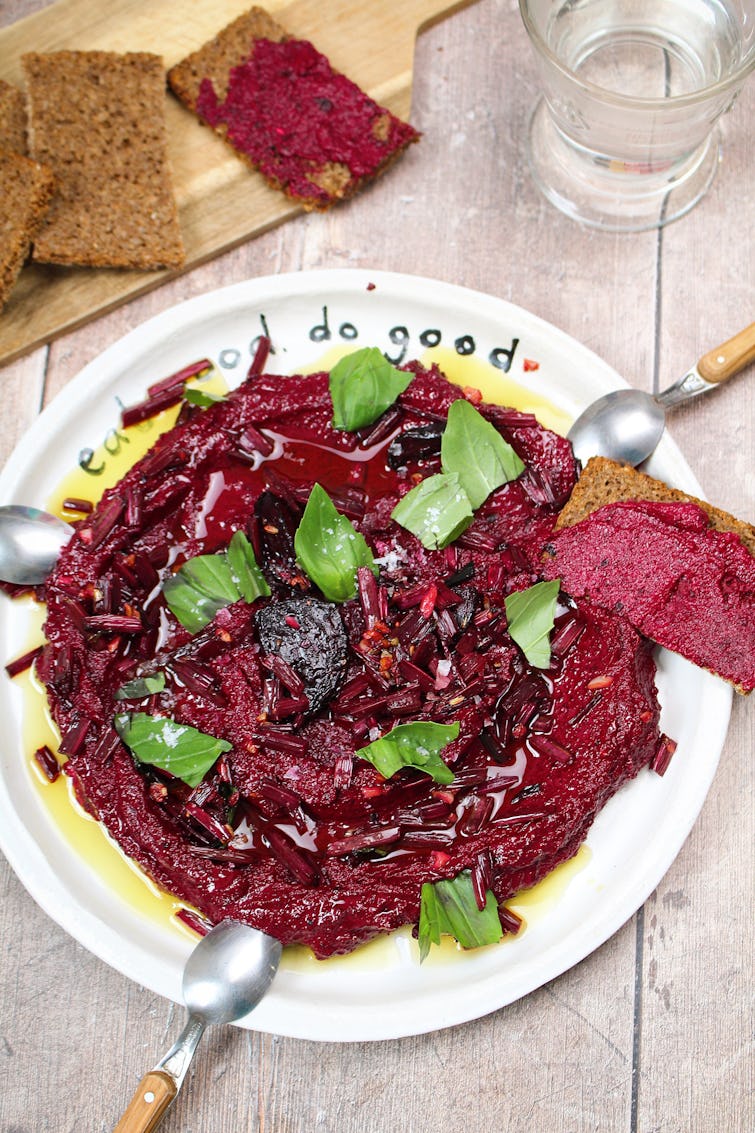 ---
How to store
Store the beetroot dip in the airtight container in the fridge for up to 3 days. Alternatively you can freeze the dip for up to 3 months. If the mixture splits when defrosted, place it back in a food processor and blend until smooth again.
Leftovers
Beetroot pasta: Toss your favourite al dente pasta into the beetroot dip along with some of the pasta water.  Beetroot hummus: Add the beetroot dip to or along with drained and rinsed chickpeas and tahini. Blend until smooth.