Beetroot and Chickpea Harissa Tray Bake
This is a great nourishing recipe with only a handful of ingredients. The beetroot has smoky and spicy flavours from the harissa, and is cooked with chickpeas, chopped tomatoes, and olive oil. Served with a creamy tahini and lemon dressing, and fresh mint.
Substitute:
No chickpeas? Try with cannellini beans or butter beans instead. 
No harissa pesto? Use 1 tsp of harissa instead. 
No mint? Serve with any other fresh herbs you have on hand.
Prep time: 10 minutes
Cook time: 20 minutes
Total time: 30 minutes
Servings: 2
Ingredients:
850 g Beetroots
2 tbsp Harissa pesto
400 g Chickpeas
400 g Tin chopped tomatoes
3 tbsp Olive oil
Salt & pepper
For the dressing:
3 tbsp Tahini
4 tbsp Lemon juice
3 tbsp Water
To serve:
10 Mint leaves
Flour tortilla
Recipe:
Preheat the oven to 200 C/180 fan/ 6 gas mark. Scrub clean and cut the beetroots in wedges. Drain and rinse the chickpeas. Measure your ingredients ready.
In a large mixing bowl, add the beetroots, chickpeas, harissa pesto, olive oil, salt and pepper. Toss well to coat.
Pour the chopped tomatoes on a large baking dish and cover with the beetroot and chickpea mixture. Cook in the oven for 30 minutes, or until the beetroots are cooked. Add a splash of water if needed.
In the meantime, make the tahini dressing. Mix all the ingredients (tahini, lemon, water) into a bowl until you have a creamy and runny consistency.
Serve the beetroots with a generous drizzle of the tahini dressing, mint leaves and flat bread.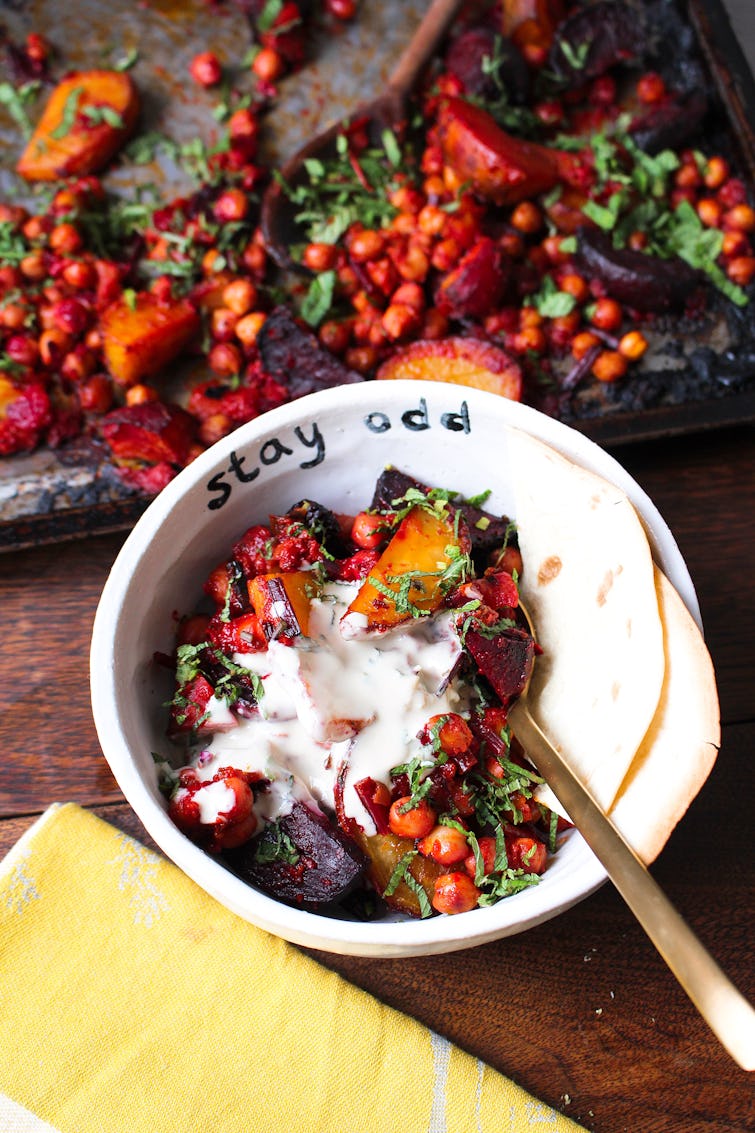 ---
How to store
Store in the fridge in an airtight container for up to 3 days. 
Leftovers
Serve leftovers alongside a simple chopped salad.