Vegan Beet & Quinoa Burger
This yummy recipe is brought to you courtesy Sasha from the @thesashadiaries (Instagram). 
Prep time: 10 minutes
Cook time: 30 minutes
Total time: 40 minutes
Servings: 5
Ingredients:
300 g Beetroots (1 packet, steamed)
1 Onion (finely diced)
4 Garlic cloves (crushed)
½ tsp Cumin
¼ tsp Smoked paprika
1 tsp Pink Himalayan rock salt
Quinoa (1 cup cooked)
Breadcrumbs (0.25 cup, wholemeal)
2 tbsp Flax seed (+ 3 tbsp water, let thicken for 5 minutes)
2 tsp Lemon juice
Recipe:
Puree the beetroot roughly in a food processor and pour into a bowl.
Fry the onion and garlic until fragrant, then add in the cumin, paprika and salt.
Fry another minute then add cooked mixture into the beetroot.
Add the quinoa, breadcrumbs, lemon juice and flax egg and mix well.
Add more breadcrumbs if mixture is still a bit wet. Form 5 patties from this mixture and bake on a parchment-lined baking tray at 180C for 30 minutes, flipping halfway.
Enjoy with some guacamole and sweet potatoes in a toasted bun!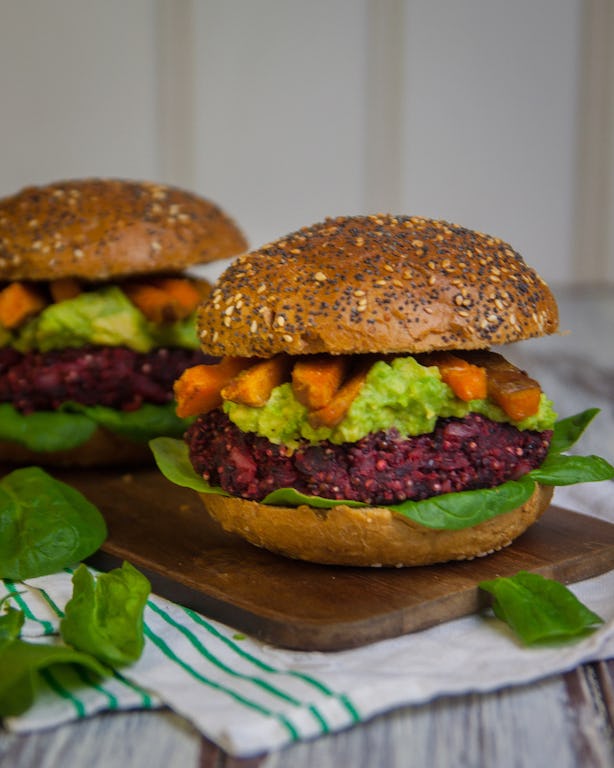 ---