Baked Spinach Pasta Shells
These large pasta shells are stuffed with a delicious spinach and ricotta filling. This recipe makes a great hearty, comforting, crowd-pleasing vegetarian dinner.
Substitute:
No conchiglioni? Use cannelloni pasta. Follow the same process, stuff the cannelloni, place in the tomato sauce and bake. 
No onion? You can make the sauce with only chopped tomatoes and seasonings. Or replace the onion for shallot, red onion, celery or even carrot. 
No ricotta? Use mascarpone instead. You can also add mozzarella or grated parmesan on top of the pasta before baking. 
Prep time: 20 minutes
Cook time: 60 minutes
Total time: 80 minutes
Servings: 2
Ingredients:
200 g Spinach
1 Onion (chopped)
2 Tin chopped tomatoes
1 tbsp Oregano
1 tbsp Olive oil
Lemon zest (of half a lemon)
160 g Ricotta cheese  / vegan ricotta style cheese
200 g Conchiglioni pasta
1 tbsp Olive oil
Salt & pepper
Recipe:
Make the tomato sauce: Place the chopped tomatoes and 2 glasses of water in a food processor. Blend until smooth. In a large saucepan, fry the onion, garlic and oregano in a little olive oil, for 5 minutes, until tender. Season with salt and pepper, and pour in the tomato juice. Simmer for 15 minutes. The tomato sauce should be a little watery - don't worry, it will dry down in the oven. 
Make the spinach filling: In a frying pan, wilt the spinach along with the garlic for 3-5 minutes. Season and squeeze excess moisture. Chop a little the wilted spinach, and place in a bowl, along with the ricotta/vegan cheese and lemon zest. Mix to combine, and place into a piping bag. 
Stuff the shells: Preheat the oven to 200C/180 fan/6 gas mark. Pour the tomato sauce into a shallow baking dish. Stuff each pasta shell with a generous amount of the spinach mixture, and place in the baking dish, open side up. Gently push the pasta shells in the sauce. 
Bake the spinach pasta shells: Cover the baking dish with foil to create a steam and evenly cook the pasta. Bake for 30 minutes covered, then 15 minutes uncovered.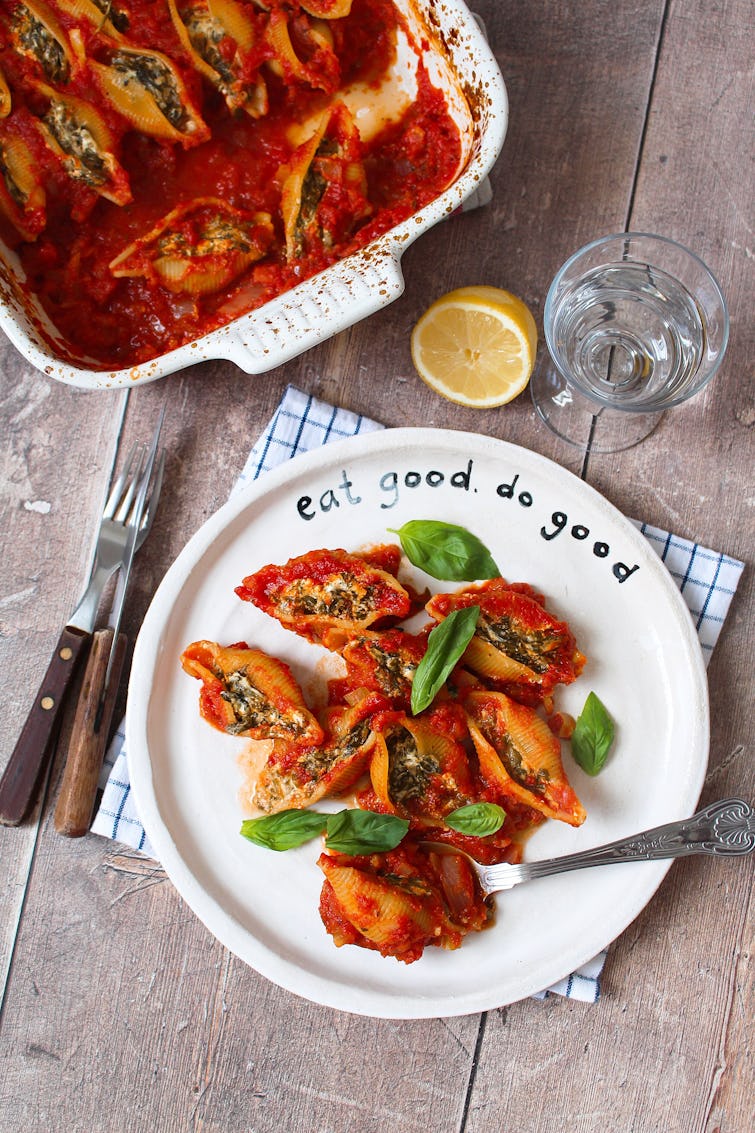 ---
How to store
Store in the fridge in an airtight container for up to 3 days. 
Leftovers
The baked pasta shells can be eaten hot or cold. Cold, they would make a great addition to a green salad. Leftover tomato sauce can be used as a simple pasta tomato sauce. Toss in al dente pasta along with a little pasta water and serve. The spinach ricotta mixture would make a great filling for homemade raviolis. Homemade pasta sheets can be made from pasta flour and egg.