Baked Feta With Grapes
Try this savoury recipe using grapes! The grapes are baked along with feta, thyme and honey in a filo pastry base. The baked grapes get juicy and sweet, and the feta creamy.
Tips: The baking paper will help you lift the filo pastry onto a plate without breaking it. You can keep and reuse the baking paper which will be clean. If you have one, use a reusable silicone baking mat.
Prep time: 5 minutes
Cook time: 20 minutes
Total time: 25 minutes
Servings: 2
Ingredients:
300 g Grapes
1 block Feta / Vegan feta
1 tsp Dried thyme
1 tbsp Runny honey
3 Filo pastry sheets
Olive oil
Slices of bread (few)
Recipe:
Prepare the ingredients: Preheat the oven to 190C/170 fan/5 gas mark. Line a gratin dish with baking paper, then add the 3 filo pastry sheets, brushing with a little olive oil between each sheet. Add the grapes, thyme, a drizzle of olive oil, and toss to coat. Nestle the block of feta in among the grapes, drizzle with honey and bake for 25 minutes, or until the feta is browning, and the grapes look juicy. 
Serve: Serve in the middle of the table with toasted bread for scooping up the cheese, grapes and juices.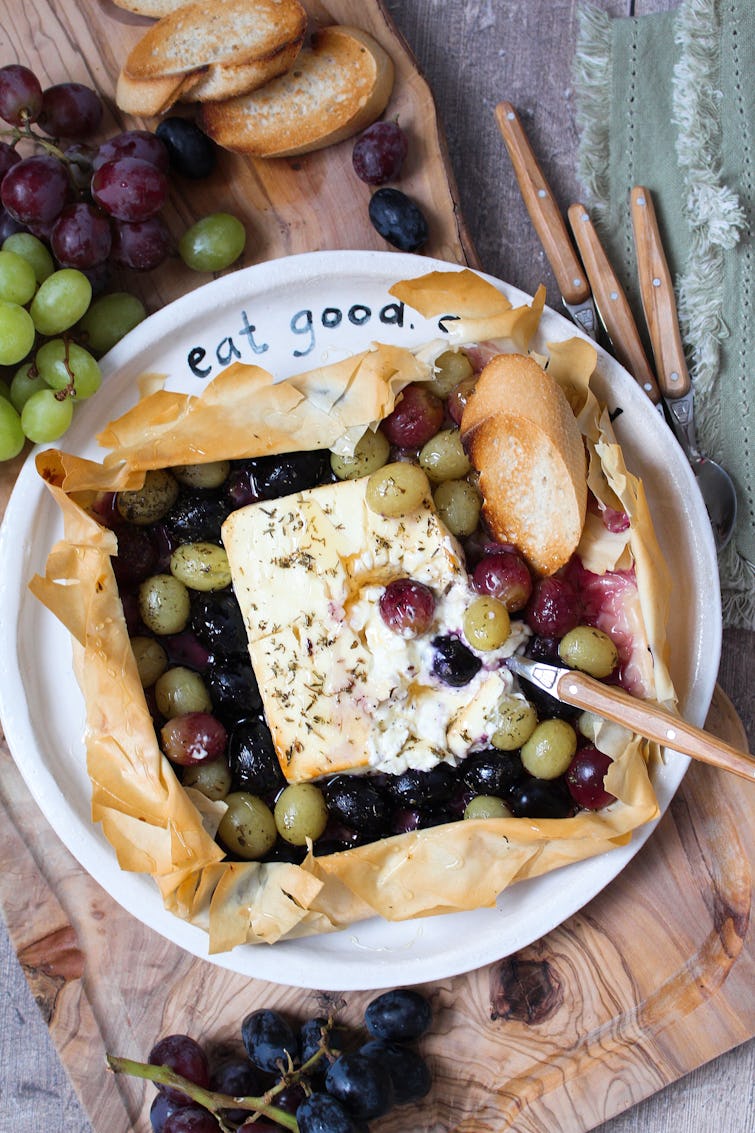 ---
How to store
Store in an airtight container, in the fridge for up to 3 days. 
Leftovers
Add al dente pasta and mix to get a creamy and juicy pasta dish.