Avocado Pancakes
These green fluffy avocado pancakes are colourful and quick to make. They are a great way to add extra nutrients and antioxidants into the whole family's diet. Kids love them too! They can be served on their own, or with sweet or savoury toppings. Try adding blueberries when cooking your avocado pancakes for extra goodness, or serve with a warm poached egg. 
Prep time: 10 minutes
Cook time: 10 minutes
Total time: 20 minutes
Servings: 6
Ingredients:
1 Avocado (1 medium-large/or small)
140 g Plain flour
1 tbsp Sugar
1 a pinch of Salt
110 ml Milk / Oat milk
1 tbsp Olive oil
1 Eggs (or 1 tbsp chia seeds)
Coconut oil (or light olive oil for cooking)
Blueberries (for toppings)
Honey (for toppings)
Flaked almonds (for toppings)
Recipe:
Prepare the dry ingredients: In a mixing bowl, whisk together the flour, sugar, baking powder, and salt.
Prepare the wet ingredients: In a food processor, add the avocado flesh, milk, olive oil and egg/chia seeds. Blend until smooth. 
Make the batter: Add the avocado mixture to the flour mixture and stir until just combined.
Cook the pancakes: Place a bit of coconut oil in a large frying pan over medium heat. Once melted and hot, scoop batter into the pan and cook for 2-3 minutes per side until fluffy and golden brown. If using blueberries, dot each pancake with a few of them before flipping to the other side.
Serve: Divide pancakes into stacks and top each with topping of choice.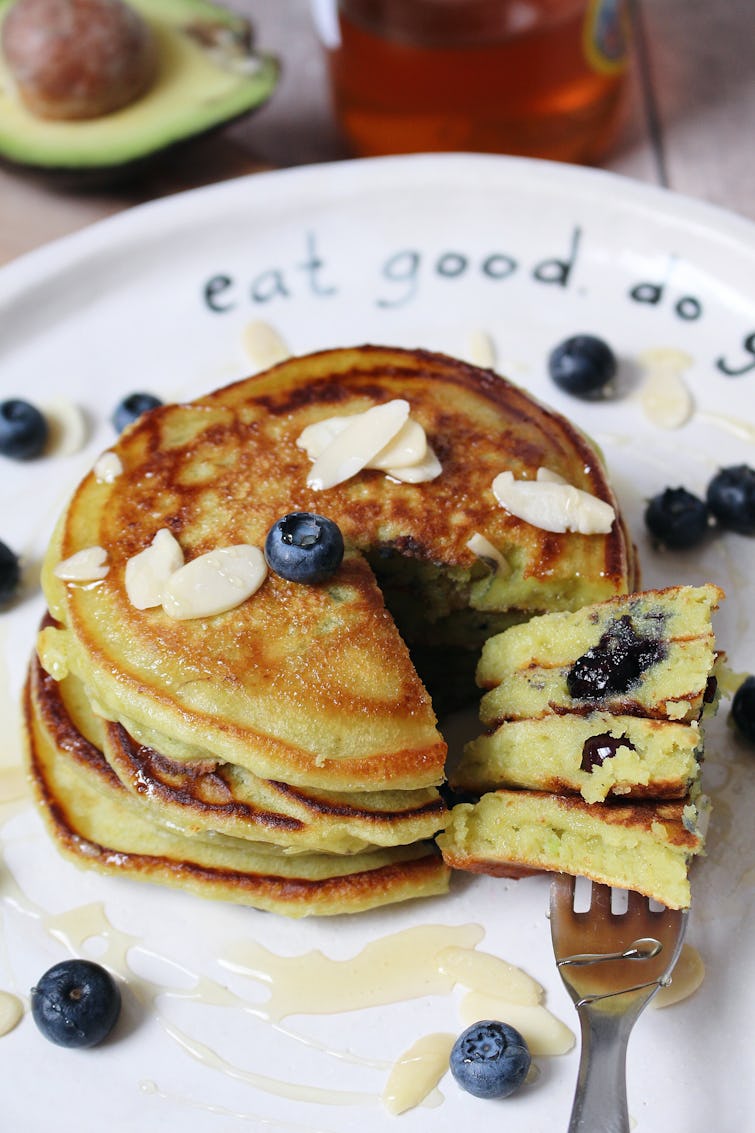 ---
How to store
Store the pancakes in an airtight container, in the fridge for up to 3 days. Reheat them in the oven for 5-6 minutes.  You can also freeze your pancakes: Leave them to cool completely before freezing. Store in an airtight container and freeze for up to 1 month. To reheat, take the pancakes out of the freezer, let them defrost then reheat in the toaster or in the microwave on low heat.
Leftovers
Pancake bread and butter pudding: tear or cut up the pancakes into small pieces. Place in a baking dish, pour over a custard mix and top with raisins or chocolate chips. Bake in the oven at 180C/160 fan/4 gas mark for about 30 minutes. Pancake trifle: Tear the pancakes up to fill the base of your favourite trifle recipe.