Aubergine Ragu pasta
A quick pasta recipe with simple ingredients that is packed with flavours! The aubergine is chopped very small, and gets nice and creamy when cooked. The toasted pine nuts adds a lovely nuttiness to the dish. 
Prep time: 5 minutes
Cook time: 20 minutes
Total time: 25 minutes
Servings: 2
Ingredients:
1 Aubergines
1 Red onion
2 Garlic cloves
1 Tin chopped tomatoes (0r 400g)
1 tbsp Oregano
250 g Conchiglioni pasta
Parmesan (or vegan parmesan, grated )
Olive oil
Salt
Black pepper
Recipe:
Prepare your ingredients: Chop the aubergine in small cubes of 1 cm. Chop the onion and garlic. Toast the pine nuts, in a hot dry frying pan for 2-3 minutes, until lightly golden. 
Cook the aubergine ragu: In a saucepan, cook red onion, garlic, oregano in a little olive oil over low to medium heat for about 3-4 minutes. Season with a little salt and pepper. Add the aubergine and cook for 5-6 minutes, until tender. Add the chopped tomatoes and a glass of water. Bring to the boil, and simmer over low heat for about 15 minutes. 
Cook the pasta: In the meantime, cook the conchiglioni pasta in boiling salted water until al dente, reserving some of the cooking water.
Serve the pasta dish: Season the aubergine ragu to taste, and add the cooked conchiglioni. Stir well and serve hot with grated parmesan/vegan parmesan and toasted pine nuts.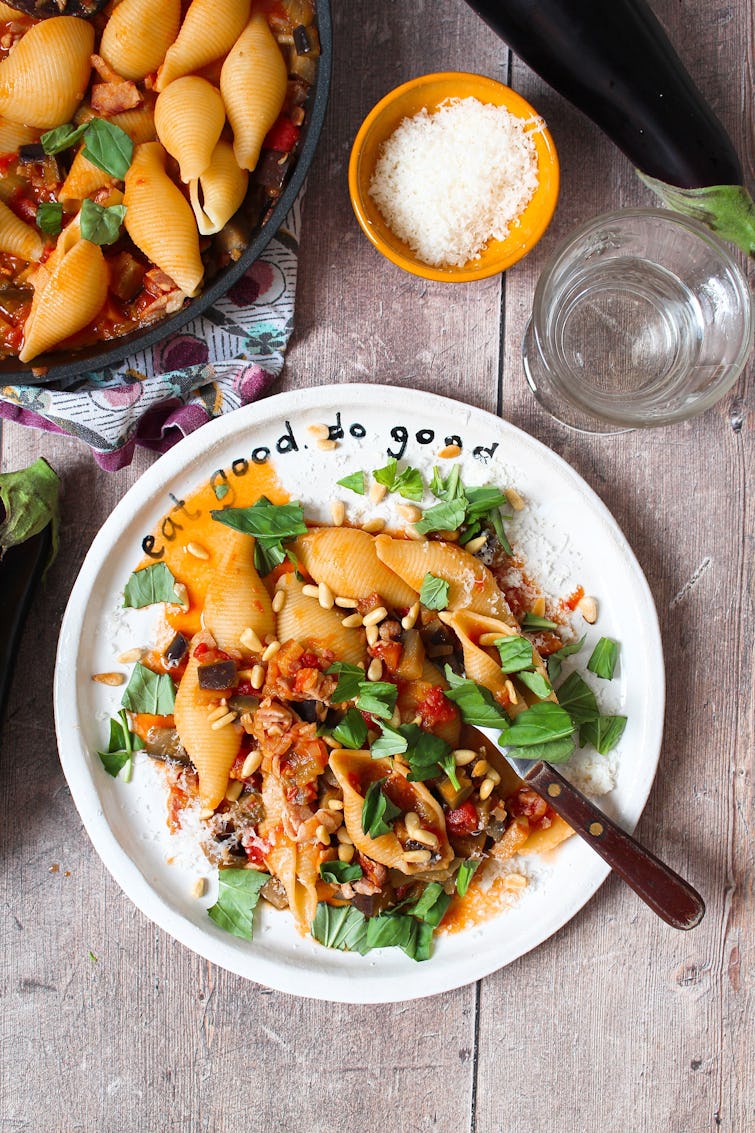 ---
How to store
If you are planning on storing your pasta dish, I recommend undercooking the pasta just a little. This way when reheated your pasta won't be over cooked.  Store your pasta dish in the fridge for up to 3 days. It is also freezer friendly; store in the freezer in an airtight container for up to 3 months. To reheat your pasta dish, heat up a few tablespoons of water in a frying pan and warm up your pasta. 
Leftovers
Mix the leftover aubergine ragu with cream cheese/vegan alternative. Fill up your pasta shells with the aubergine ragu and bake at 180C/160 fan/4 gas mark, until hot.