Aubergine, Peanut & Tamarind Curry with Anna Jones
"This curry is unreasonably delicious. It's all cooked in a tray in the oven so it's simple and pretty quick. Two perfectly wonky aubergines were what got me thinking about this curry, I love how the butteriness of aubergine stands up well to lots of spice. I used surplus vine tomatoes and spring onions from my box too, as well as some garlic, ginger, red onion and cucumber from my box the previous week.
 You could use squash or sweet potato in place of the aubergines if that's what you have and vegans can use firm tofu instead of the paneer. 
I made some quick pickled red onions to go on top, finely sliced a couple of red onions then scrunch them with a pinch of salt and the juice of ½ a lime (or lemon). They will keep in the jar in the fridge for 10 days or so. I also made a quick raitia by mixing roughly chopped cucumber with yoghurt, lime juice, chopped coriander and a good pinch of salt."
Prep time: 20 minutes
Cook time: 50 minutes
Total time: 70 minutes
Servings: 5
Ingredients:
2 Aubergines (Medium sized washed and cut into 3cm pieces )
2 tbsp Coconut oil (or ghee)
Sea salt  (to taste)
tbsp Cumin seeds
1 tbsp Fennel seeds
1 tbsp Black mustard seeds
1 tbsp Garam masala
1 tsp Turmeric 
1 small Coriander (bunch of )
Spring onion (a bunch of )
4 Garlic cloves
Ginger (a thumb of ginger, peeled and chopped into pieces )
400 ml Coconut milk (cooking coconut milk )
2 tbsp Crunchy peanut butter
2 tbsp Tamarind paste 
4 Vine tomatoes (roughly chopped )
200 g Natural firm tofu (or Paneer. cut into 2 cm pieces )
Recipe:
Heat your oven to 200C fan. First roast your aubergines, put them into a large baking tray with a couple of tablespoons of coconut or ghee and a good pinch of salt, put into the oven to melt the coconut oil for a minutes then remove and toss until all the pieces are coated, roast for 20 minutes until golden. 
Meanwhile toast the cumin seeds, fennel seeds and black mustard seeds in a dry pan over a medium heat until they smell fragrant, then put them into a food processor with the garam masala and turmeric.
Add the stalks from the coriander (that might otherwise get thrown away) trim the very bottoms of the spring onions and add those too, you use the white and the green parts making sure nothing goes to waste.
Add the garlic, ginger and pulse to a paste, then add the coconut milk and blitz again before stirring in the peanut butter and tamarind, taste and season with salt if needed. 
Once the aubergine have had their 15 minutes, add the chopped tomatoes and paneer to the tray and pour over the peanut and coconut mixture. Toss to make sure everything has been introduced to the sauce and carefully (it will still be hot) cover the tray with foil and put back in the oven for 15 minutes. 
After 15 minutes remove the foil and out back into the oven for 15 minutes. 
Now is the time to cook your rice and warm your bread and if you are making the onions and raitia get on with those too (see intro).
Once the curry has had its time, serve it next to the rice and breads with the onions and raitia and any chutneys or pickles you like.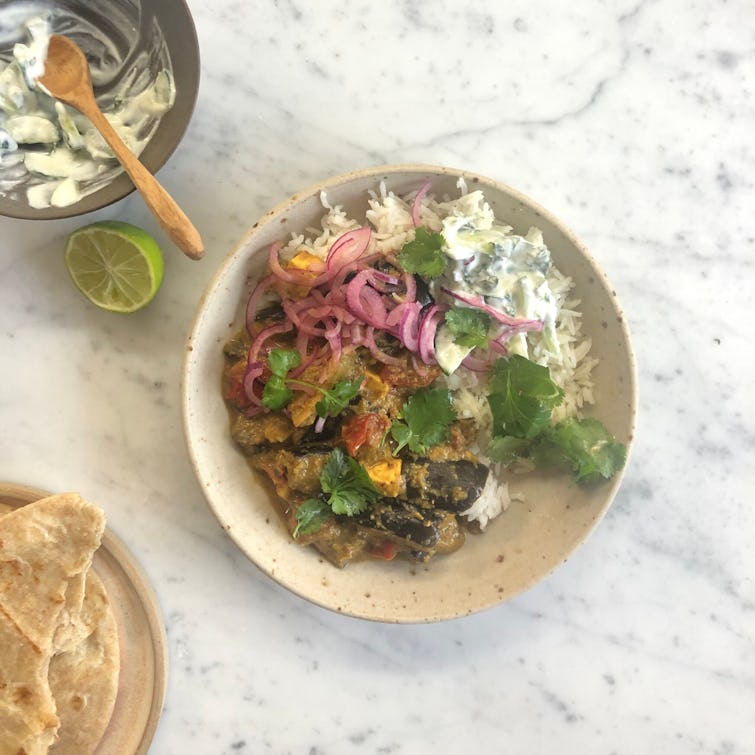 ---