Aubergine and Date Tagine
A nourishing slow-cooked tagine with lots of warm spices, the perfect supper for a family gathering. The cubed aubergines are cooked alongside chopped dates and flaked almonds and served with lots of fresh herbs. This dish is great with a side of greens, rice or cauliflower couscous.
Substitute:
No aubergine? Try with mushrooms or courgette instead. 
No onion? Use shallot instead. 
No garlic? Use 1 tsp garlic powder instead. 
No spring onions? Use parsley or coriander instead. 
No dates? Try with raisins instead. 
Not the same spices? Use what you have on hand such as ginger powder, fennel seeds, curry powder or masala powder. 
Prep time: 10 minutes
Cook time: 30 minutes
Total time: 40 minutes
Servings: 2
Ingredients:
1 Aubergine
1 Onion
2 Garlic cloves
2 Deseeded dates
1 tbsp Flaked almonds
1 tsp Ground cinnamon
1 tsp Ground coriander
1 tsp Ground cumin
1 tsp Ground turmeric
a pinch of Saffron
1 Tin chopped tomatoes
1 can chickpeas (drained and rinsed )
1 Lemon (zested and juiced )
4 tbsp Olive oil
Salt & pepper
2 tbsp Spring onions (chopped )
Recipe:
Chop the aubergine into 2 cm thick cubes and finely chop the onion. 
Add the aubergine to a large mixing bowl, along with the onion, cinnamon, coriander, cumin and turmeric.
Add the olive oil and toss well until the aubergine is coated with the spices. Set aside.
Finely chop the dates and garlic. 
Heat a large frying pan over medium heat. Add the aubergine, dates and garlic. Cook for 5 minutes, stirring often to prevent the spices from burning.
Add the chopped tomatoes, saffron, lemon juice, lemon zest and chickpeas. Mix well until combined and bring to a simmer. Cook for 10-15 minutes. If too dry add a splash of water. 
Now add the spring onions and flaked almonds. Mix well and season to taste.
Serve warm on its own, or with a side of wilted greens (kale or spinach). You can also serve with couscous, rice or cauliflower rice. For the cauliflower rice; use a box grater with the medium-size holes to grate the cauliflower into small pieces.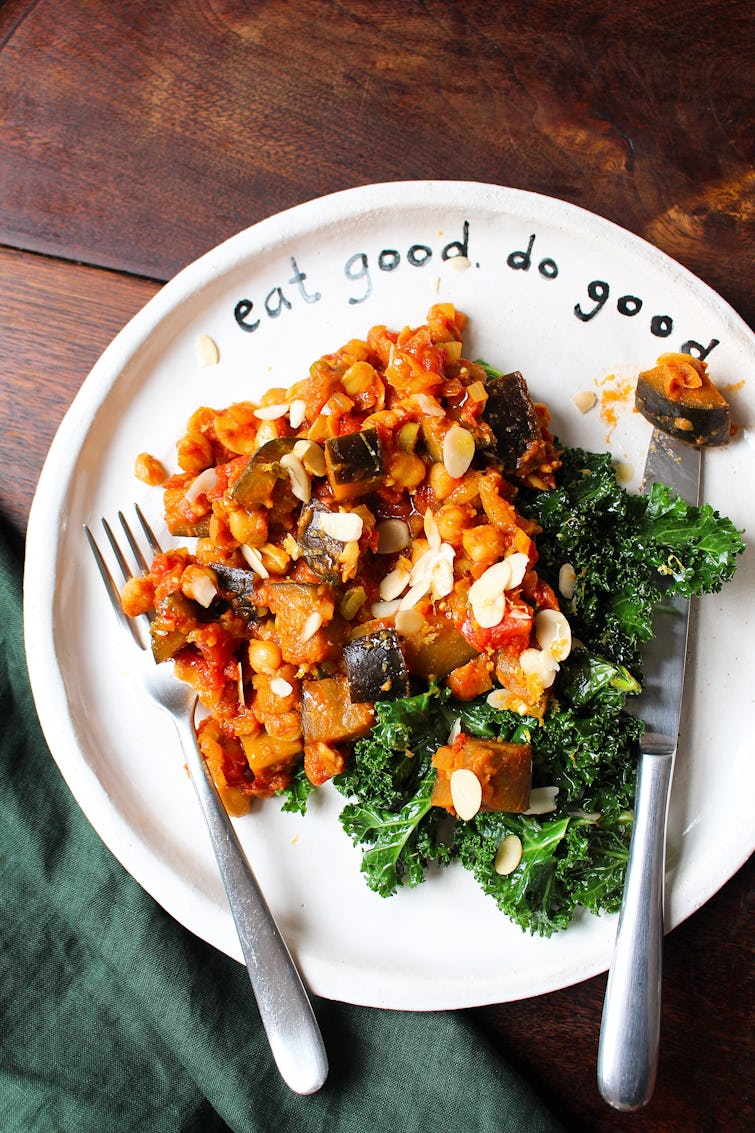 ---
How to store
Store in an airtight container, the fridge for up to 3 days or freeze for up to 1 month.
Leftovers
Aubergine tacos: Fill small corn tortillas with the aubergine tagine, top with fresh avocado and a jalapeno pesto. For the jalapeno pesto; in a food processor, add jalapenos from a jar, fresh coriander, lime juice, salt and pepper. Blend until smooth.