Asparagus Polenta Cake
Herby polenta cooked then poured over whole asparagus, cooled until it hardened and then grilled to perfection.
Substitute:
No asparagus? Use purple sprouting broccoli, mushrooms, mangetout or peas instead. 
No garlic clove? Use 1 tsp garlic puree instead. 
No parsley? Use fresh coriander or dill instead. 
No parmesan? Use any cheese/vegan cheese of your choice. This recipe can be done without cheese too! 
No capers? Try with finely chopped cornichons instead. 
No lemon? Use lime instead. 
No cumin? Try with ground coriander or ground turmeric instead. 
Prep time: 10 minutes
Cook time: 20 minutes
Total time: 30 minutes
Servings: 2
Ingredients:
100 g Asparagus
1 tbsp Olive oil
80 g Polenta (express)
1 Garlic clove (chopped )
270 ml Water
4 tbsp Parsley (chopped )
4 tbsp Parmesan (grated )
30 g frozen peas
Salt & pepper
For the sauce:
2 tbsp Mint (chopped )
1 tbsp Capers (chopped )
1 tsp Lemon zest
2 tsp Lemon juice
1 tsp Garlic puree
3 tbsp extra virgin olive oil
a pinch of Ground cumin
Salt & pepper
Recipe:
Snap off the woody ends of the asparagus - save them in your freezer for making stock or soup. Cut the asparagus in half lengthwise.
Blanch in boiling water for 2 minutes then remove from the water and set aside.  
Line a small tray or plate with reusable baking paper or cling film. You can also use a good dollop of olive oil instead. Place the asparagus and frozen peas in the centre of the tray. 
Place a saucepan on the heat. Add the olive oil, garlic, polenta and water. Add a generous pinch of both salt and pepper. Cook over low heat, stirring often for 4-5 minutes, until dense and thick.
Stir in the parsley and grated cheese/vegan cheese.
Transfer the polenta to the prepared tray, pouring over the asparagus and peas, trying to create a smooth rectangular shape. Set aside to cool. 
In a small bowl, combine all the sauce ingredients together, and season to taste with salt and pepper.
Heat a non-stick frying pan over high heat. Add 3 tbsp of olive oil and when hot, gently place the polenta cake in the pan. Pan fry for 3-4 minutes on each side until golden brown.
Serve with the sauce drizzled all over. Enjoy!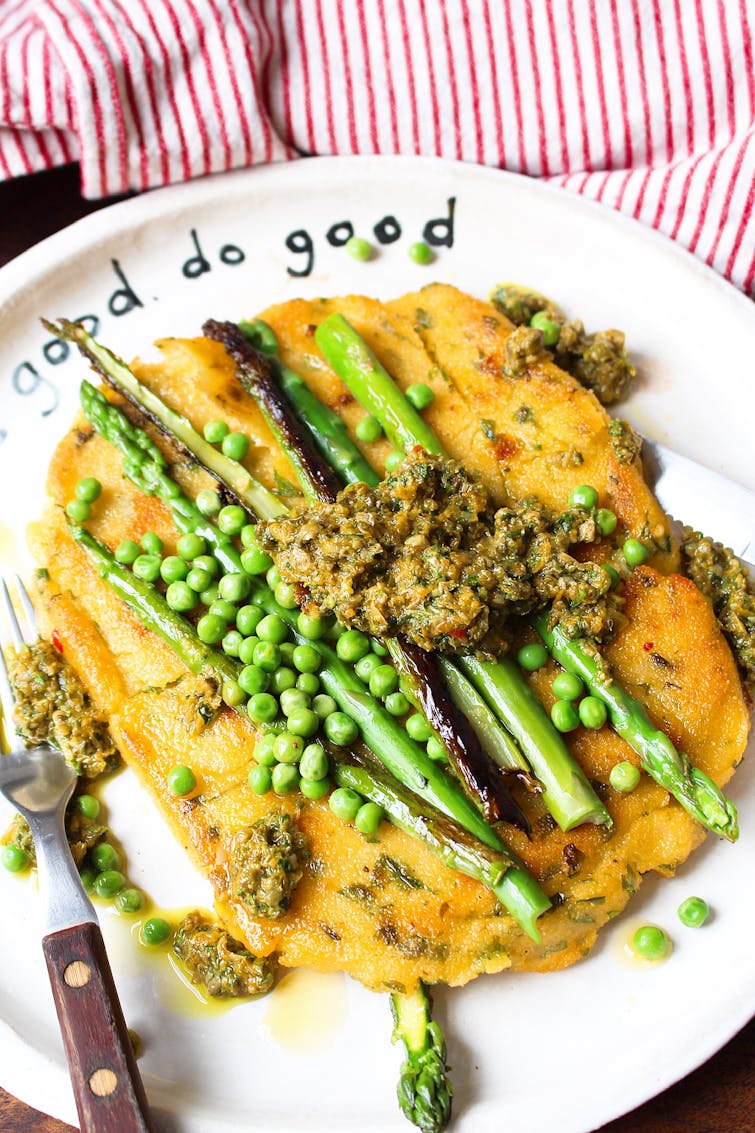 ---
How to store
Store in an airtight container, the fridge for up to 3 days or in the freezer for 1 month.
Leftovers
Leftovers can be eaten cold or reheated in the oven at 180 C/160 fan/4 gas mark for 10-15 minutes. The polenta cake would be delicious served with a tomato base sauce too.