Asparagus Mimosa
The perfect spring recipe showcasing tender asparagus topped with mimosa sauce made from boiled eggs, lemon and fresh herbs. This can be served on a big platter for a gathering, and the egg mixture can be made in advance.
Substitute:
No cornichons? Use capers or gherkins instead. 
No parsley? Try with tarragon or basil instead. 
No spring onions? Use chives instead. 
No lemon? Use sherry vinegar or red wine vinegar instead.
Prep time: 15 minutes
Cook time: 10 minutes
Total time: 25 minutes
Servings: 2
Ingredients:
250 g Asparagus
4 Eggs
6 cornichons (chopped )
1 Lemon (zested and juiced)
2 tbsp Parsley (chopped )
2 tbsp Spring onions (sliced )
5 tbsp extra virgin olive oil
Salt & pepper
Recipe:
Bring a small saucepan of water to the boil over a medium heat. Cook the eggs for 6 minutes. Drain and cool under cold running water.
Peel the eggs and place them into a mixing bowl, along with the cornichons, lemon zest, lemon juice, parsley and spring onions.
Mix well, breaking the eggs into small pieces. Season with a pinch of both salt and pepper.
Trim or snap the woody ends off the asparagus base. The point to trim or snap can be found by carefully bending the spears - it will easily break. Do not discard the ends but instead freeze and use in stock or soup recipes. Bring a separate pan of water to the boil over a medium heat and blanch the asparagus for 3-4 minutes, until just tender but still with some bite.
Drain and arrange the warm asparagus on a platter. Dress with the egg mimosa sauce.
Enjoy!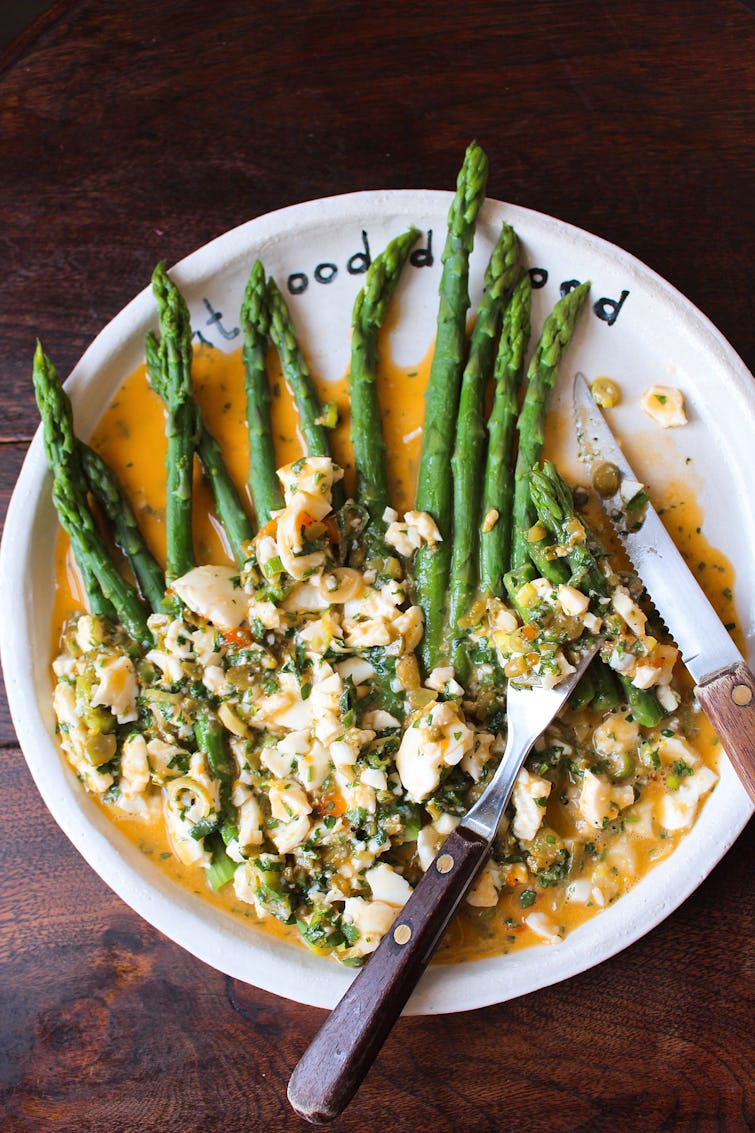 ---
How to store
Store in the fridge for up to 3 days. The mimosa dressing can be made up to 1 day in advance.
Leftovers
Make savoury breakfast asparagus toast: Chop the asparagus into smaller pieces and mix with the mimosa sauce. Serve on warm toasted bread with a sprinkle of chilli flakes.