Asparagus Fries with Harissa Mayonnaise
The asparagus spears are kept whole, dipped in flour, egg wash and breadcrumbs, then roasted until cooked through, golden and crisp. Served with a creamy and spicy harissa mayonnaise. 
Substitute:
No asparagus? Make avocado fries instead. Slice a couple of avocados and follow the same steps. 
No plain flour? Use any flour you have on hand. Self raising flour, gluten free flour, chickpea flour…
No garlic powder? Try with onion powder, paprika or even grated parmesan.
No white wine vinegar? Use apple cider vinegar, red wine vinegar, lemon juice or lime juice instead. You can also use already made mayonnaise/vegan mayonnaise.
No vegetable oil? Use a light olive oil instead. 
No harissa pesto? You can use normal harissa instead. Otherwise season the mayonnaise with saffron, smoked paprika or any chilli sauce. 
No eggs? Combine 2 tbsp flax seeds and 6 tsp water. Set aside for 10 minutes then use instead of the eggs. 
No breadcrumbs? Make your own from bread. You can use staple bread for that. Dry up the bread in the oven, then place in a food processor and pulse blend until fine breadcrumb consistency. 
Prep time: 20 minutes
Cook time: 20 minutes
Total time: 40 minutes
Servings: 2
Ingredients:
200 g Asparagus
70 g Plain flour
3 Eggs
50 g Panko breadcrumbs
1 tsp Garlic powder
1 tbsp Harissa pesto
1 tsp Mustard
½ tsp White wine vinegar
6 tbsp Vegetable oil
Salt & pepper
Recipe:
Make the harissa mayonnaise: Separate 1 egg, save the white for the asparagus and add the egg yolk  into a bowl along with the mustard and white wine vinegar. Whisk to combine then slowly add 3 tbsp vegetable oil. Whisk until light and creamy then add the harissa pesto. Mix well and set aside. 
Make the asparagus fries: Heat oven to 220C/200 fan/7 gas mark. Snap off the woody ends of the asparagus - save them for making stock or soup. Add the flour to a shallow dish. Add the eggs and the reserved egg white to another dish. Add the breadcrumbs and garlic powder to a third dish. Dip the asparagus in the flour, then the egg, then the breadcrumbs, and put on a plate. 
Bake the fries: Place the asparagus on a large oven tray in one layer, and drizzle with a little oil. If you have a vegetable oil spray use that. Roast the asparagus for 20 minutes, turning halfway through, until golden brown and crisp. Serve with the harissa mayonnaise for dipping.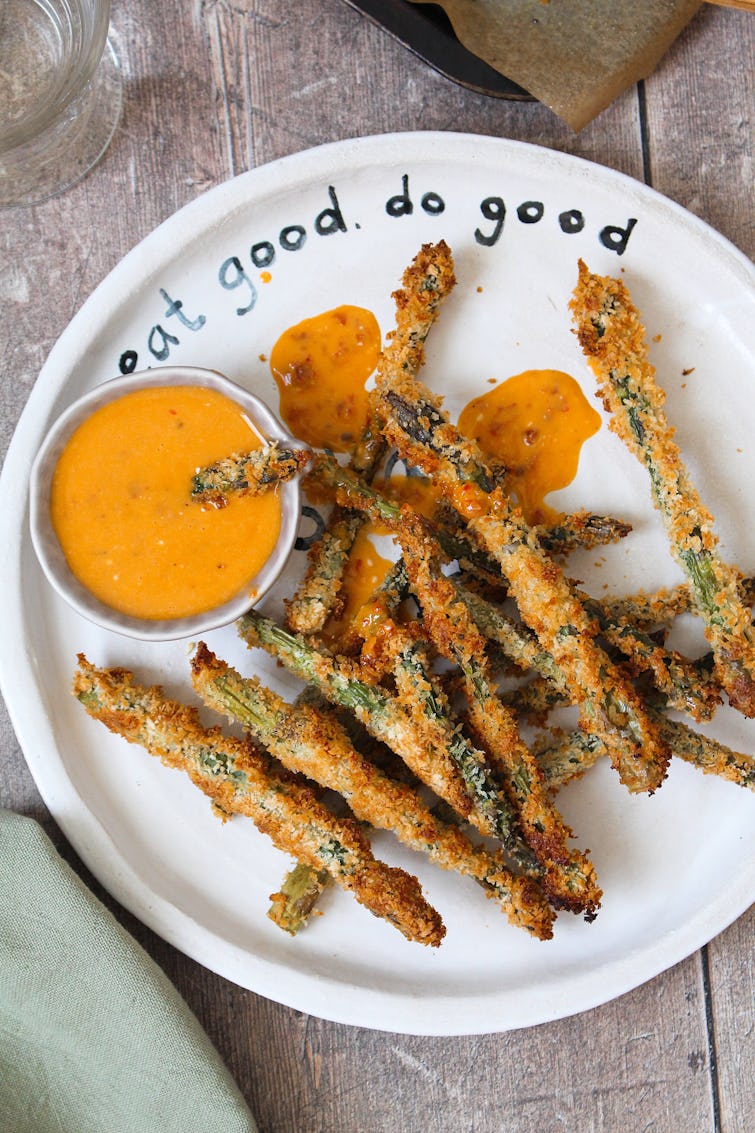 ---
How to store
The breadcrumbs asparagus can be prepared the day before, covered and kept in the fridge uncooked. When cooked, store your asparagus in an airtight container in the fridge for up to 3 days. The mayonnaise will keep in the fridge for 3 days too. 
Leftovers
The asparagus fries can be chopped up and tossed into a salad. They would also make a great addition to any buffet or cheese board. Use any leftover mayonnaise in slaw recipes as dressing, or to make stuffed eggs. For the stuffed eggs; shell hard boiled eggs, cut in half, and fill with a paste made from the egg yolks mixed with the harissa mayonnaise.