Apple & Peanut Butter Cookies
These vegan 4 ingredients cookies are so simple and delicious. The apples are cooked to a compote then mixed with oats, peanut butter (or any nut butter) and chocolate chips, then baked and that is all. Also gluten free adaptable, you just need to use GF oats. 
Substitute:
No apples? Use banana or pear instead. If using banana start the recipe at step 2; simply mash the bananas with a fork and mix directly with the other ingredients. 
No peanut butter? Use any nut butter of your choice.
Prep time: 15 minutes
Cook time: 20 minutes
Total time: 35 minutes
Servings: 2
Ingredients:
150 g Apples (chopped )
70 g Rolled oats
60 g Peanut butter
60 g dark chocolate chips
Recipe:
Place the chopped apples in a small saucepan along with 200 ml water. Place a lid on top and cook over medium heat. Cook until tender, for about 10-15 minutes, then place in a food processor and blend to a smooth compote.
Preheat the oven to 180 C/160 fan/4 gas mark. In a mixing bowl, add the apple compote, oats, peanut butter and chocolate chips. Mix until well combined.
Lined a large baking tray with baking paper or foil. Alternatively you can lightly spray with vegetable oil to prevent the cookies from sticking to the bottom of the tray. 
Scoop about 8 cookies on the tray and flatten the top with a spoon. If you have extra chocolate chips, feel free to add some on the top to decorate. Bake for 20 minutes, then remove from the oven and set aside to cool.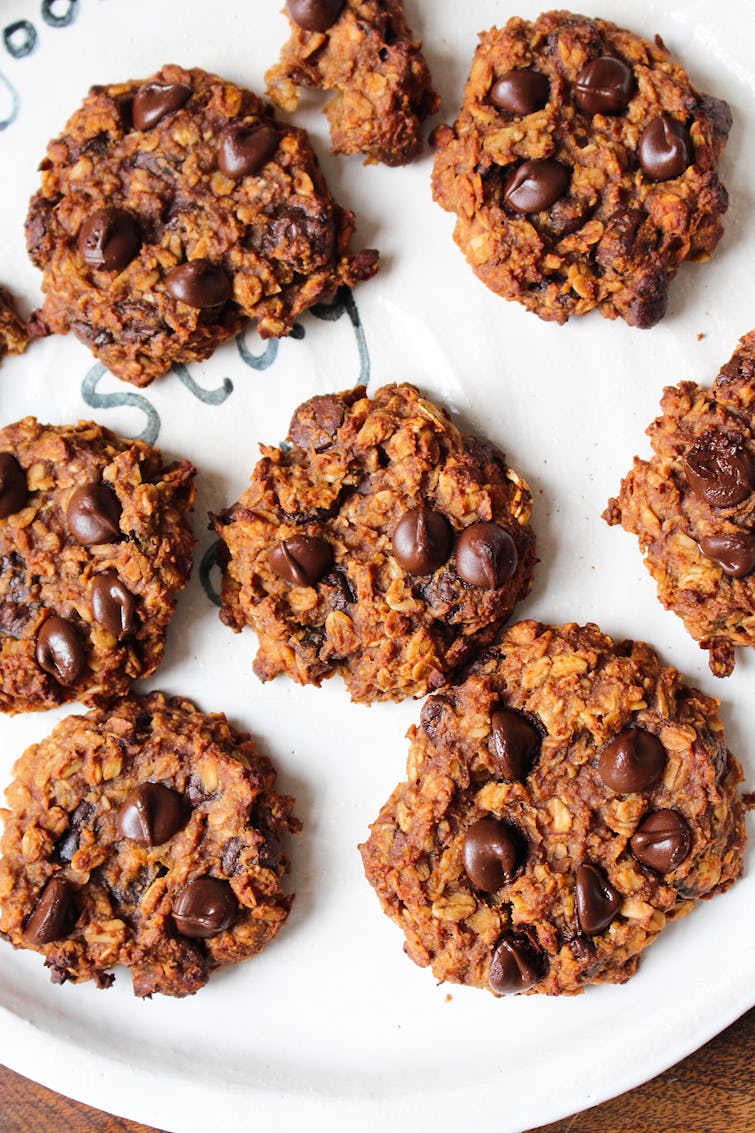 ---
How to store
Store in an airtight container for up to 3 days.
Leftovers
Make a cookie sandwich: place a cookie flat side up and add a scoop of your favourite ice cream. Top with another cookie and serve!