Apple Pancakes With Compote
Make the most of your apples with these light and fluffy apple pancakes with maple apple compote. 
Substitute:
No apples? Try with pears or quince instead. 
No butter? Use olive oil instead.
Dairy free? Use plant based milk and vegan butter instead. 
Vegan? Make a pancake batter from 150 g flour, 20 g oats, 1 tsp baking powder, 1 tsp chia seeds, 190 ml plant based milk, 10 ml olive oil and 1 tbsp maple syrup. Add the grated apple and follow the same recipe steps. 
Prep time: 10 minutes
Cook time: 10 minutes
Total time: 20 minutes
Servings: 2
Ingredients:
2 Apples
For the pancake batter:
150 g Plain flour
6 g Baking Powder
2 Eggs (medium)
80 ml Milk of choice
25 g Butter (melted) / Vegan butter
20 g Maple syrup
5 g Vanilla paste
For the compote:
20 g Maple syrup
20 g Water
a pinch of Ground cinnamon
For cooking:
Olive oil / Coconut oil
For the topping:
Maple syrup
Flaked almonds
Recipe:
Measure the ingredients.
Grate 1 apple. In a large mixing bowl, mix together the flour and baking powder. Make a well in the center and, using a whisk, mix in the eggs, milk, butter, maple and vanilla.
Beat until you have a smooth batter. Fold in the grated apple and set aside.
Chop 1 apple skin on, into 1 cm small cubes. Place in a small pan, along with the maple syrup, water and cinnamon. Bring to a boil, then cover the pan and simmer for 5-10 minutes until tender. 
Heat a non-stick frying pan over medium heat and add a drizzle of olive oil. Add about 2 tbsp of batter per pancake and cook each side for about 2 minutes, until both sides are golden brown, and the pancake has risen to about 1.5 cm thick. Repeat until all the batter is used up. 
Serve the warm apple pancakes with the apple compote, a good drizzle of maple syrup and a sprinkle of flaked almonds.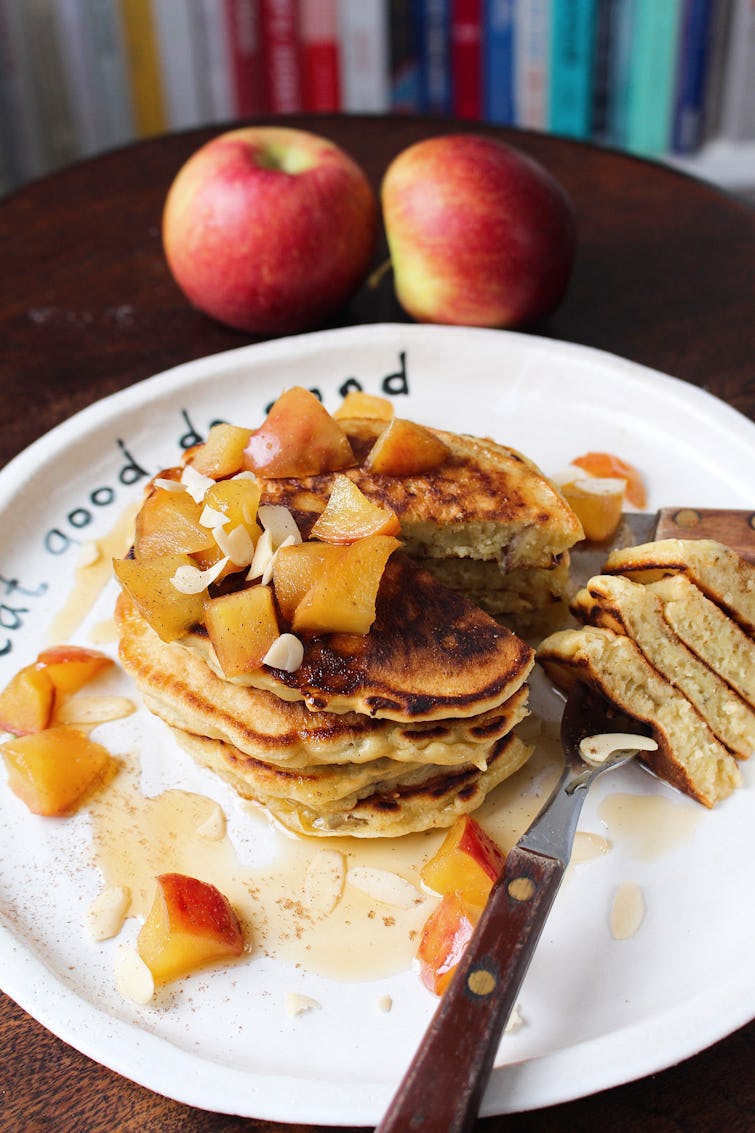 ---
How to store
Stack the pancakes, cover or place in an airtight container and store in the fridge for up to 3 days. Reheat the pancakes in the hot oven for 5 minutes and serve. To freeze; wrap and freeze your pancakes individually. 
Leftovers
Pancake bread and butter pudding: tear or cut up the pancakes into small pieces. Place in a baking dish, pour over a custard mix and top with raisins and/or chocolate chips. Bake in the oven at 180C/160 fan/4 gas mark for about 30 minutes.  Pancake trifle: Tear the pancakes up to fill the base of your favourite trifle recipe.