Apple Granola
Make the most of your apples with this easy and delicious fruity granola recipe. It will make your kitchen smell amazing!
Substitute:
No apple? You can make your delicious granola with other fruits too. Try using fruits that hold their shapes when cooking such as pears, figs, or quince. Avoid juicy fruits such as berries or peaches. Another option would be to add citrus zest into your granola mixture. 
Gluten free? You can swap the rolled oats for gluten-free oats. 
No pecans? Use any nuts and seeds of your choice. Walnuts, pumpkin seeds, sunflower seeds, hazelnuts, flaked almonds, peanuts and pistachios are great examples. 
No cinnamon? Try with ground ginger or ground allspice. Use half the quantity. 
No salt? Try to use flaky sea salt, for a flavourful granola. If you only have the fine salt, no problem just add a little less. 
No honey? You can substitute honey with maple syrup. 
No olive oil? Try the same recipe with coconut oil instead. Make sure to melt the coconut oil before adding it to your dry granola mixture. 
Prep time: 10 minutes
Cook time: 25 minutes
Total time: 35 minutes
Servings: 5
Ingredients:
2 Apples
150 g Rolled oats
70 g Pecan nuts
½ tsp Ground cinnamon
a pinch of Salt
4 tbsp Runny honey
4 tbsp Olive oil
Recipe:
Prepare your ingredients: Preheat the oven to 150C/130 fan/2 gas mark. Line a large baking tray and cut the apple in small cubes of 1 cm. Compost the apple cores. 
Mix your ingredients: In a bowl, mix together the cubed apple, oats, pecan halves, cinnamon and salt. Add the honey and olive oil into the oats mixture. Mix well to coat.
Bake your granola: Place the oats mixture on your baking tray. Spread a little, but try to keep your oats a little crowded in the baking tray so they can stick together, but not so crowded that they don't toast evenly. Bake for 15 minutes, then gently stir and return to the oven for an extra 10-15 minutes, or until golden brown.
Store your apple granola: Let cool fully before stirring and transferring to an airtight glass jar or container.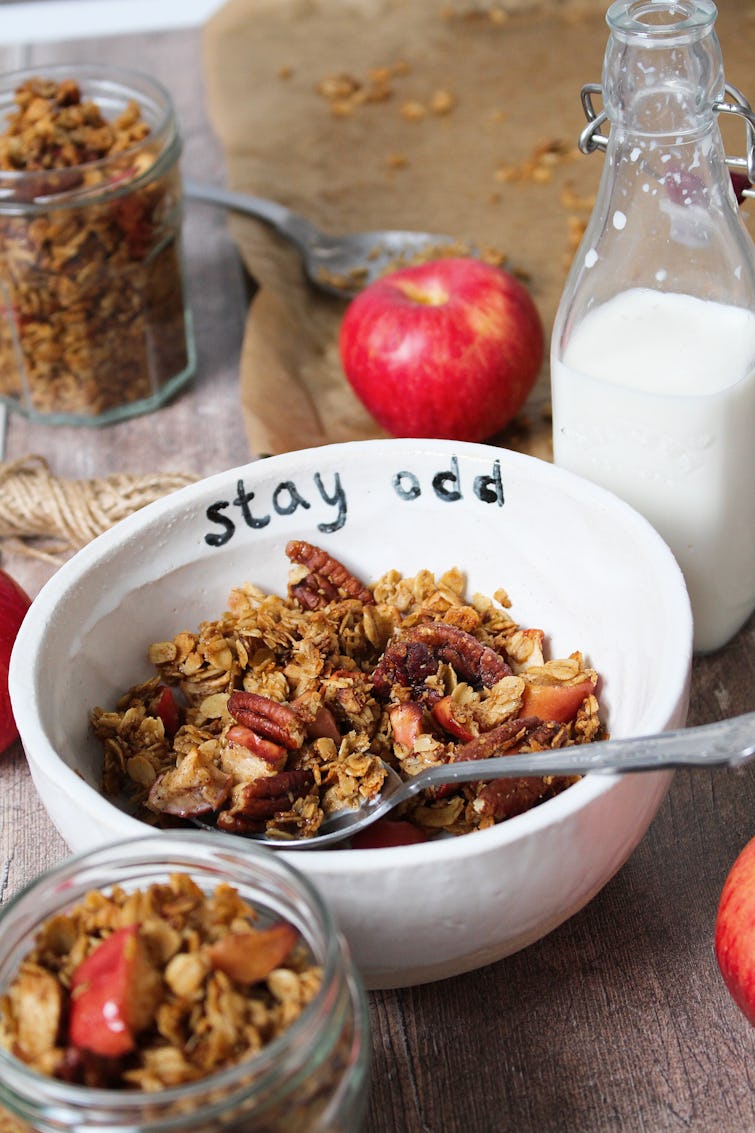 ---