Apple, Cinnamon and Chocolate Chips Muffins
Try these apple, cinnamon and chocolate muffins. They are  super quick to mix up and delicious!
Substitute:
No apples? Try with pears instead. 
No cinnamon? Use ginger powder instead. 
Prep time: 10 minutes
Cook time: 15 minutes
Total time: 25 minutes
Servings: 6
Ingredients:
2 Apples
80 g dark chocolate chips
For the dry ingredients:
300 g Self raising flour
1 tsp Baking powder
1 tsp Ground cinnamon
½ tsp All spice
For the wet ingredients:
2 Eggs
50 g Olive oil
150 ml Milk of choice / Plant based milk
3 tbsp Maple syrup
1 tsp Vanilla extract
Recipe:
Preheat the oven to 180 C/160 fan/4 gas mark. In a large mixing bowl, mix the dry ingredients together. 
In a medium mixing bowl, mix the wet ingredients together.
Chop the apples in small cubes of approximately 1 cm.
Add the wet ingredient mixture to the flour mixture, and mix until combined.
Fold in the apples and chocolate chips to the muffin batter.
Spoon the batter into lined muffin cases.
Bake for 15 minutes, or until risen, golden and firm to touch. Let cool for 10 minutes.
Serve!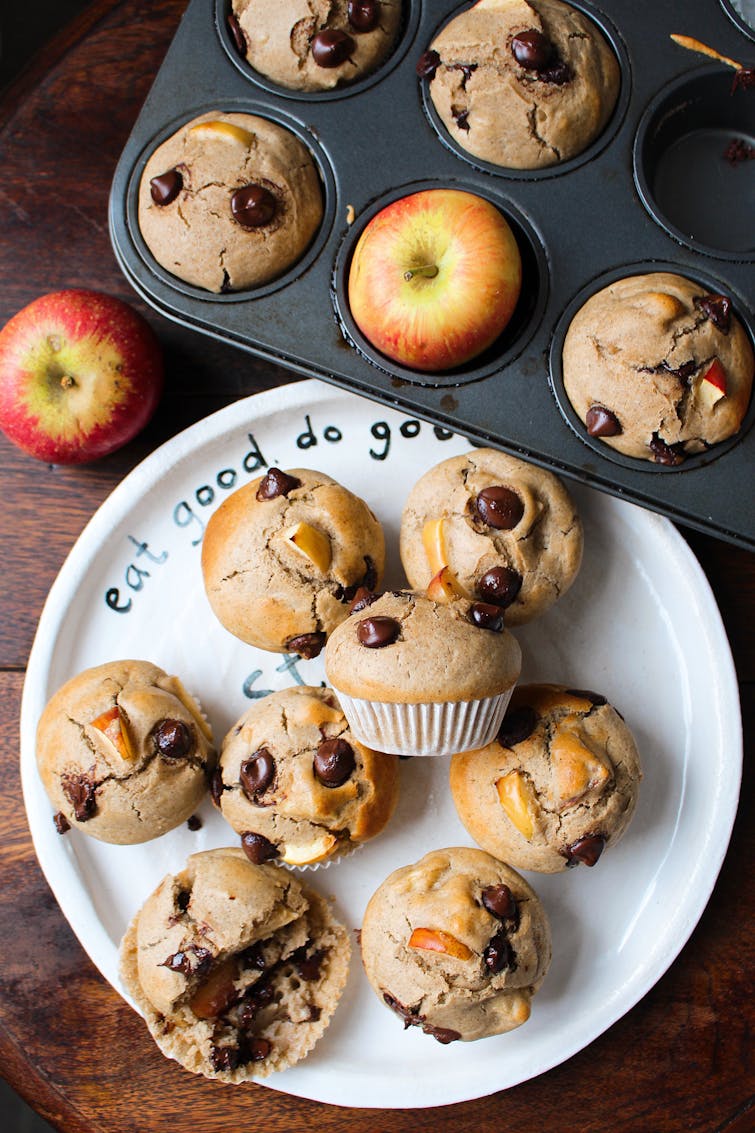 ---
How to store
Store in an airtight container for up to 3 days. Freeze for up to 1 month.
Leftovers
The muffins are delicieux for breakfast, dessert or as a snack!