Annie Bell's Roasted Vegetables with Parsnip and Parmesan Mash & Spinach Salad
To celebrate Food Waste Action Week, we've partnered with award-winning food writer Annie Bell @anniebellcook to whip up a delicious low-waste recipe that's perfect for eating to save the planet!
"My recently published book Eat to Save The Planet is very Oddbox! It is all about how we can eat in a way that supports global sustainability at the same time as eating to optimise our own health. The starting point is increasing our intake of plant foods and broadening out the range of what we eat, with lots of whole grains, legumes, nuts, fruit and veg. But the second way in which we can make a major contribution is by cutting down on food waste. This means eating the whole food, wherever possible, planning our meals, cooking from scratch and finding new ways of using up foods that might get thrown away.
Eat to Save The Planet has a handy 30-day meal plan to get you started, and one of the secrets is making use of any leftovers from supper for lunch in the days that follow. One of the drivers of waste lies with food that has no afterlife, so the leftovers end up in the bin (junk food a particular culprit!). This recipe is designed so that every part of it has a life thereafter if you have any left over. So if your Oddbox offers up more veg than the recipe suggests, then why not cook up more of it?" - Annie
*Roast aubergine and peppers – the starting point for any number of on toast scenarios, or as part of a mezze. They can also be whizzed up into dips with some nuts or pulses. 
*Salad - the French make a virtue out of leftover salad, that they refer to as being 'salade fatiguee', a tired salad that is drunk with its dressing. I love the silky wilted leaves of a green salad that has been allowed to marinate.  
*Mash - this mash can be reheated or fried up with some cabbage as a kind of bubble and squeak. Or you can whisk it into beaten eggs for fritters. 
Vegan Swap: Replace the crème fraiche with coconut yoghurt, the milk with coconut or nut milk, and the Parmesan with half a teaspoon of finely grated orange zest. 
Prep time: 15 minutes
Cook time: 65 minutes
Total time: 80 minutes
Servings: 2
Ingredients:
4 Bell peppers (core and seeds composted, quartered)
5 tbsp extra virgin olive oil
Salt & pepper
2 Onions (peeled, halved and thinly sliced into half moons)
2 Aubergines (ends composted, cut into 1 cm slices lengthways)
2 tsp Balsamic vinegar
900 g Parsnips (parsnips, cut into pieces)
2 tbsp Creme fraiche
30 g Parmesan (freshly grated, plus extra to serve)
200 ml Milk
120 g Spinach
60 g Pecan nuts (sliced)
Recipe:
For the roast veg, heat the oven to 190 C fan oven/210 C electric oven. Arrange the peppers in a crowded single layer in a baking dish or roasting pan, drizzle over 2 tablespoons of oil, season and roast them for 20 minutes. 
Stir the onion into the peppers, separating out the strands, and trickle over a thread of oil. At the same time lay the aubergine slices out on a non-stick baking sheet, brushing the slices with oil on both sides, and seasoning the top. Roast the aubergines on the top shelf and the peppers below them for another 20 minutes.
Turn the aubergine slices and stir the peppers, and cook for another 20-25 minutes until golden. Loosen the aubergine slices with a spatula and drip a teaspoon of vinegar over the peppers.
While the veg are roasting make the mash. Bring a large pan of salted water to the boil and cook the parsnips until tender. Drain them into a colander and leave for a few minutes to steam-dry, then pass them through a mouli-legumes, a potato ricer or a sieve back into the saucepan. Add the crème fraiche, Parmesan and some salt, and enough milk to achieve a creamy mash. 
To serve, toss the spinach in a large bowl with oil to coat and a few drops of balsamic vinegar, then lightly season with salt and mix in the nuts. Rewarm the mash, spread over the base of 4 warm dinner plates, place the aubergine slices on top, then the peppers and scatter over a little more Parmesan. Accompany with the salad.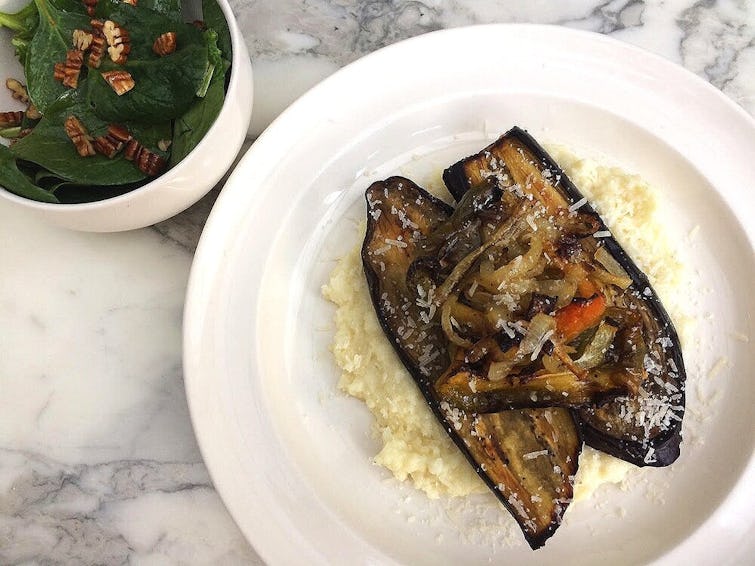 ---