30 Minute Meals: Vietnamese-inspired Cucumber Summer Rolls w/ Spicy Peanut Dip
"Summer rolls packed with fresh cucumber, zesty herbs and rice noodles served with a spicy peanut dip. These are great for picnics, summer bbq or as a light dinner or lunch. The cucumber is the perfect filling as it's crunchy and fresh! These summer rolls are incredibly versatile and super fun to make." - Storm, guest ODDBOX chef (@whatstormeats).
Prep time: 20 minutes
Cook time: 5 minutes
Total time: 25 minutes
Servings: 4
Ingredients:
1 large Cucumber (julienned)
10 Rice papers (16cm diameter, round)
20 small Lettuce leaves
a bunch of Beansprout
50 g Fresh herbs ( (coriander and Thai basil))
3 Spring onions (sliced)
200 g Rice noodles (Vermicelli)
 Noodle dressing:
1 tbsp Lime juice
1 tbsp Light soy sauce
1 tbsp Sesame oil
 Peanut sauce:
2 tbsp Peanut butter (creamy or crunchy - whatever you prefer)
2 tbsp Lime juice
1½ tbsp Light soy sauce
1 tbsp Sesame oil
a splash of Chilli sauce (such as sriracha)
Water
To finish:
A handful of crushed peanuts
Chilli (fresh)
Recipe:
For the sauce, combine all the ingredients together in a bowl. Add warm water until you achieve a thinner consistency. Mix slowly until smooth and set aside. 
Prepare your vegetables by slicing the cucumber and spring onion into thin matchsticks of roughly equal length of about 10cm. Place aside.
Put the noodles in a large bowl and cover with hot water. Leave them to stand for 5 minutes until they have softened. Drain and run under cold water then place in a bowl. Cut the noodles with scissors in about 10 different places and add the noodle dressing. Mix well.
Fill a flat bowl with warm water. Working with one rice wrapper at a time, soak the paper in water, and flipping once. They will soften after about 5 seconds. Transfer on to a clean work surface.
Ensure that the rice wrapper is spread out smoothly. Arrange some of the fresh herbs across the centre, top with the lettuce, and some of the vegetables. Top everything with about 1 tablespoon of noodles.
Fold the edge of the wrapper nearest to you over the filling, ensuring that it is as tight as possible so it reaches the other side of the wrapper. Continue to roll tightly until sealed. You can fold in the edges if you like. It might take a few goes but try not to overfill!
Whilst you prepare the rest of the rolls, place the prepared rolls on a baking sheet lined with a damp towel and cover with another damp towel to ensure they don't dry out. Serve up sliced in halves with your dipping sauce topped with some crushed peanuts and chilli.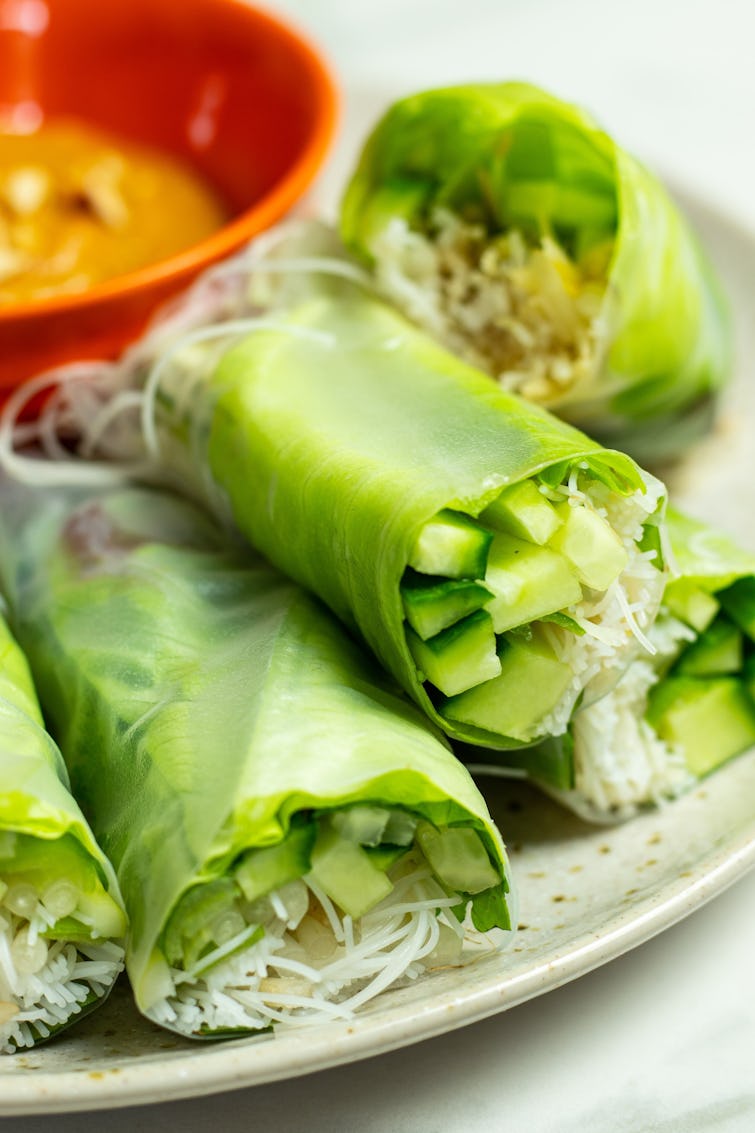 ---