30 Minute Meals: Spicy Mushroom Coconut Laksa w/ Beansprouts & Coriander
"Warm up with this winter with this fragrant and spicy coconut broth topped with nutty mushrooms, noodles, crunchy beansprouts and coriander. This is the basis for a wonderful noodle soup, which you can adapt with whatever you have in; why not top with crispy tofu or mix it up with different veggies!" - guest ODDBOX chef Storm, @whatstormeats
No mushrooms?
Simply swap for another veggie such as aubergine or Brussels sprouts. Cook as you would the mushrooms - the sprouts might need a little more time in the pan!
Tip: the paste freezes wonderfully so why not make a big batch and freeze in ice cube trays - it makes for a quick midweek dinner!
Prep time: 5 minutes
Cook time: 15 minutes
Total time: 20 minutes
Servings: 2
Ingredients:
2 Shallots
2 Lemongrass ((white parts only))
1 large Chilli ((Add another if you like spice!))
75 ml Neutral oil
Ginger (Thumb size piece )
tbsp Ground turmeric (1 ½)
1 tbsp Ground coriander
1 tsp Sweet paprika
Vegetable stockpot
Coconut milk (1 tin full fat)
Salt (just a pinch)
Lime juice (Generous squeeze)
6 large Mushrooms (sliced )
1 tsp Sesame oil
Dark soy (Glug of)
150 g Cooked flat rice noodles
100 g Beansprouts (Fresh)
Coriander (Fresh)
Lime
Recipe:
Spice paste Prepare your spice paste by chopping the white part of lemongrass, shallot, peeled ginger and garlic and pop it all in a food processor with the oil and the spices. Blend until you have a smooth, vibrant paste. Fry off the paste in a heavy bottomed pan for about 5 mins.
Broth To your spice paste, add the coconut milk, veg stock cube and a tin of water (use the coconut milk tin to measure). Season with a pinch of salt and a generous squeeze of lime juice. Bring to a boil and then pop on to simmer until you are ready to serve.
Prepare your veg Slice the mushrooms and add to your pan with a teaspoon of sesame oil. Cook the mushrooms until golden and once cooked, add a tablespoon of dark soy to glaze.
Build your bowl! Cook your noodles according to instructions and then start to build your bowl. Place your rice noodles in the bottom; pour over the steaming golden broth, top with mushrooms, beansprouts and plenty of coriander. Add a squeeze of lime for a bit of zing!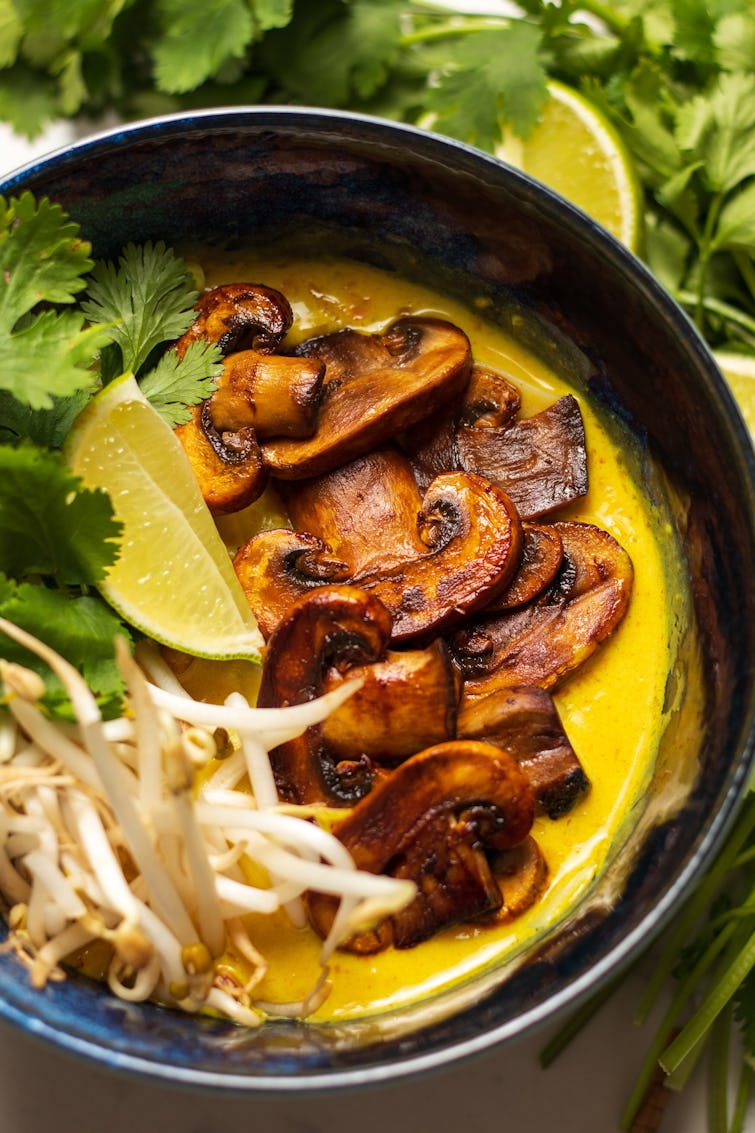 ---