30 Minute Meals: Spicy Buffalo Broccoli Wings w/ Blue Cheese Sauce
Gorgeously crispy and spicy buffalo broccoli wings with a tangy blue cheese sauce; these will be your new favourite snack or starter! The crispy batter means that you avoid overcooking the broccoli and it stays deliciously crunchy and green - ODDBOX guest chef Storm (@whatstormeats):
Prep time: 20 minutes
Cook time: 10 minutes
Total time: 30 minutes
Servings: 3
Ingredients:
1 Broccoli
Batter:
250 g Plain flour
375 ml Water
1 tsp Salt
1 tsp Garlic powder
Buffalo Sauce:
100 g Butter (cubed)
100 ml Hot sauce (Buffalo hot sauce, such as Frank's)
Blue Cheese Sauce:
75 g Blue cheese (strong)
100 ml Soured cream
50 ml Mayonnaise
1 tsp Lemon juice
a pinch of Salt
Recipe:
Prepare your head of broccoli by chopping into pieces (including stalks!).
Mix all the ingredients for the batter until smooth. It needs to be pourable consistency. If it is too thick, add some more water, or too thin, add a bit more flour. It needs to coat the broccoli. 
Prepare the buffalo sauce by gently melting the butter in a pan and adding the buffalo sauce. Whisk until emulsified. If you like a little extra spice, add a pinch of chilli or cayenne. 
For the blue cheese sauce, combine the soured cream, lemon juice, mayonnaise and crumble in 3/4 of the blue cheese, and a pinch of salt and mix. Crumble the rest of the cheese on top and set aside. 
Bring some vegetable oil to a rolling gentle boil. Test the temperature by dropping a little batter into the oil. 
Dip the broccoli florets into the batter, ensuring an even coating and drop into the hot oil. Cook in batches until golden and set aside on some kitchen towel to absorb any excess oil. 
Once all the broccoli is cooked, pop into a large bowl, pour over the buffalo sauce and toss until the broccoli is completely coated.
Serve immediately with the cooling creamy sauce and a sprinkling of fresh chives.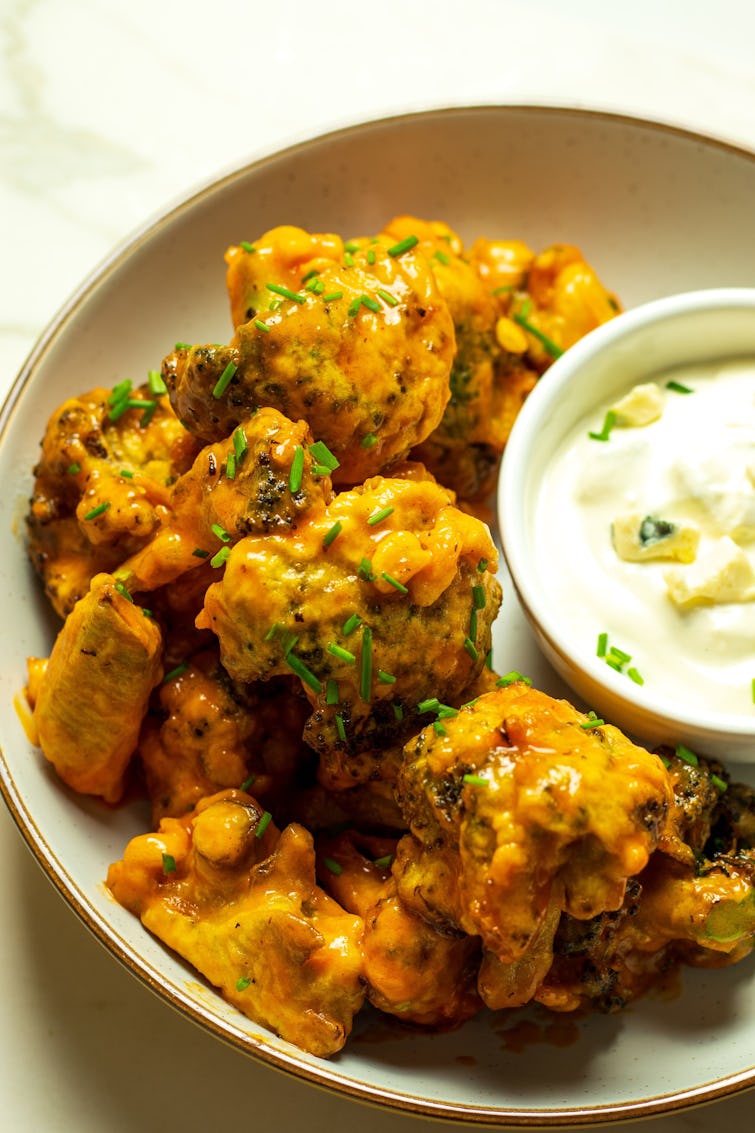 ---