30 Minute Meals: Crispy Spring Onion Blinis
Deliciously moreish, chewy & crispy - you can't beat these spring onion blinis for a quick brunch or even a light snack. Even better? You can whip them up in 30-minutes or less! Here to guide us through this quick and easy recipe is our guest ODDBOX chef Camille (@callherchef):
Prep time: 15 minutes
Cook time: 15 minutes
Total time: 30 minutes
Servings: 2
Ingredients:
100 g Plain flour
1 tsp Salt
½ tsp Baking powder
150 ml Milk
1 Egg (separated)
20 g Olive oil
5 Spring onions
Serve with:
2 tbsp Creme fraiche
1 Lemon (zested and juiced)
Black pepper
Recipe:
Finely chop half of the spring onions. Cut in fine batons the other half. Set aside.
In a bowl, mix together the flour, salt and baking powder. Make a well in the middle, then add the egg yolk and the milk. Whisk well then add the olive oil along with the chopped spring onions.
Whisk the egg white until you have stiff peaks then fold into the batter.
Lightly grease a frying pan, pour 1⁄4 of the batter, add spring onion batons and cook until bubbles start to appear on the top of the pancakes. Flip the blini over and cook the other side until charred and golden brown, pressing often on top of the blini to push the spring onions through.
If you have extra spring onions, use the same pan to quickly brown them for the pancake topping.
Serve the pancakes with a dollop of creme fraiche, lemon zest, lemon juice, freshly ground black pepper and charred spring onions.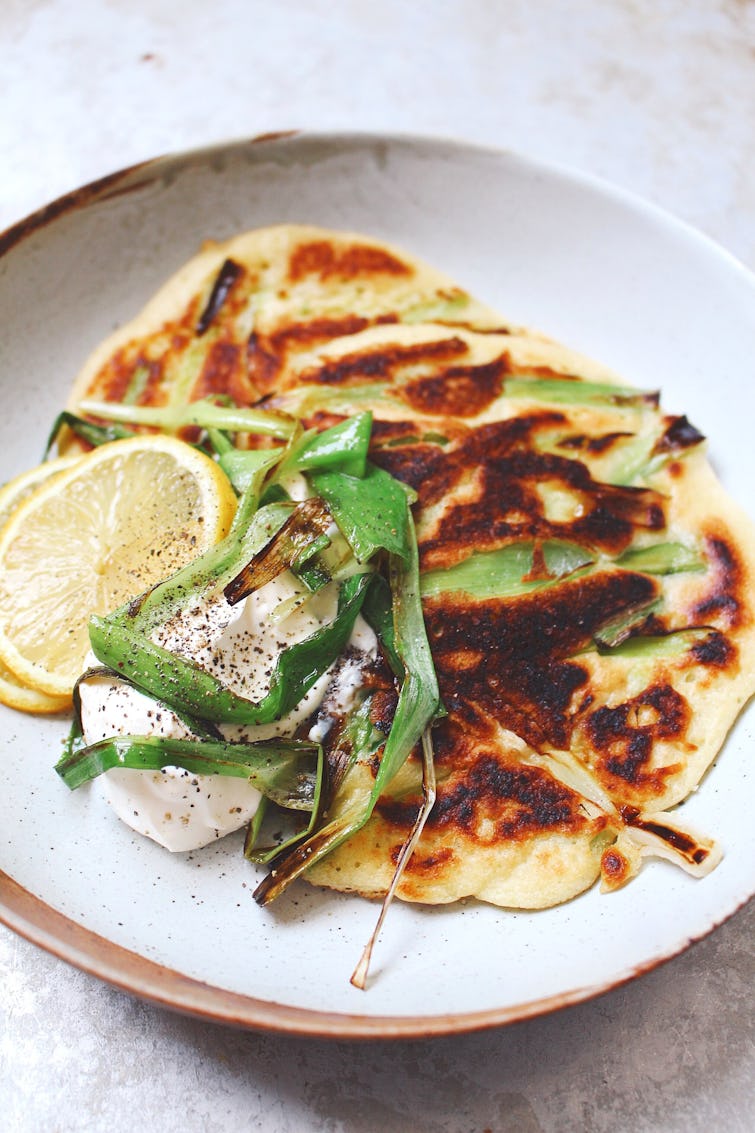 ---