30 Minute Meals: Buttered Corn Miso Ramen
Buttery corn in a spicy, umami-packed miso broth, topped with spring onions and a jammy egg; this will be sure to warm you up when the weather starts getting a little colder! The key to a good ramen broth is a little time and effort but the dried mushrooms and miso really give it an all-round umami flavour and paired. Why not get creative with all your favourite toppings! - ODDBOX guest chef Storm (@whatstormeats).
Prep time: 5 minutes
Cook time: 25 minutes
Total time: 30 minutes
Servings: 2
Ingredients:
Ramen base
1½ litre Vegetable stock (or dashi)
10 g dried mushrooms
3 tbsp Miso paste
3 tbsp Soy sauce
1 Garlic clove (crushed)
1 Chilli (crushed)
1 Spring onion (chopped)
1 tsp Tahini (or sesame paste)
Noodles (2 portions)
Toppings
1 tbsp Sesame oil
10 g Salted butter
a splash of Soy sauce
100 g Corn
Shichimi togarashi (Japanese seven spice) (Replace with a little white sesame and chilli flakes, optional)
2 Eggs
Optional:
2 Spring onions (diced)
Nori (seaweed flakes)
Chilli oil
Recipe:
Start by making the ramen stock. Add the stock, garlic, chilli and chopped whole spring onion and bring to a rolling boil. 
Strip the corn kernels if you are using unhusked corn and n a separate pan, melt the butter with sesame oil, and soy sauce. If you like a little spice, add some shichimi togarashi or a pinch of chilli flakes. Stir in the fresh the stripped corn until just cooked through. Set aside.
Finely slice your spring onions and set aside.
Prepare your eggs by boiling a pan of water to a rolling boil. Once simmering, add your eggs carefully into the water. Boil for approximately 6-7 minutes depending on how soft you like the eggs – 6.5 minutes is perfect.
Once boiled, place into cold water until they have cooled. Peel and place in a separate bowl. 
After about 15-20 mins, remove the vegetables from the broth and add the miso, sesame paste and soy sauce. Bring to the boil again until your ramen stock turns cloudy and all the miso is incorporated. Keep on a simmer.
Cook your noodles of choice according to instructions (buckwheat, udon, rice or ramen all work really well!)
Build your ramen by adding cooked noodles, followed by the piping hot broth and finally all your toppings. Slice your eggs in half and place on top of the noodles. 
Finish with spring onions, chilli oil and a sprinkling of seaweed flakes.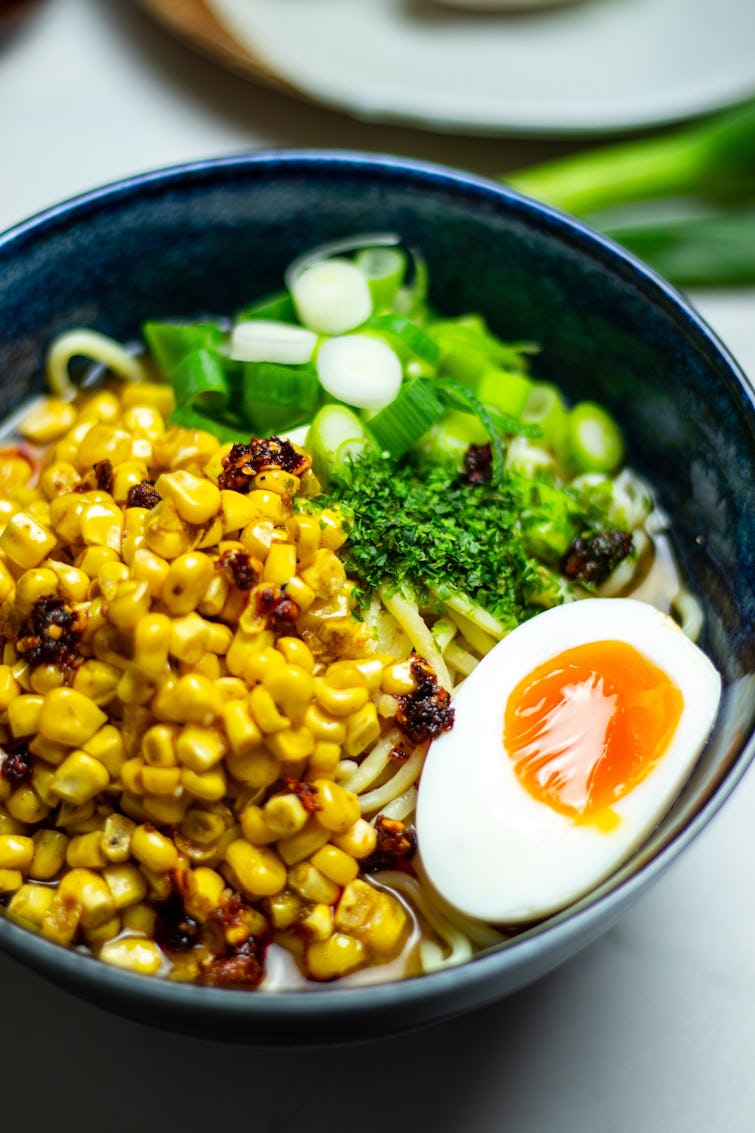 ---