World Hunger Day: A conversation with City Harvest
Whilst a global conversation is needed, we sat down with Fiona from our long-time friends at City Harvest today to discuss food poverty within the UK, and why the work they do is so crucial, particularly in the time of COVID-19.
"City Harvest puts surplus food to good use in a sustainable way. We get surplus food safely to the hungry. While thousands of Londoners go hungry each day, safe, healthy and usable food is being disposed of". - City Harvest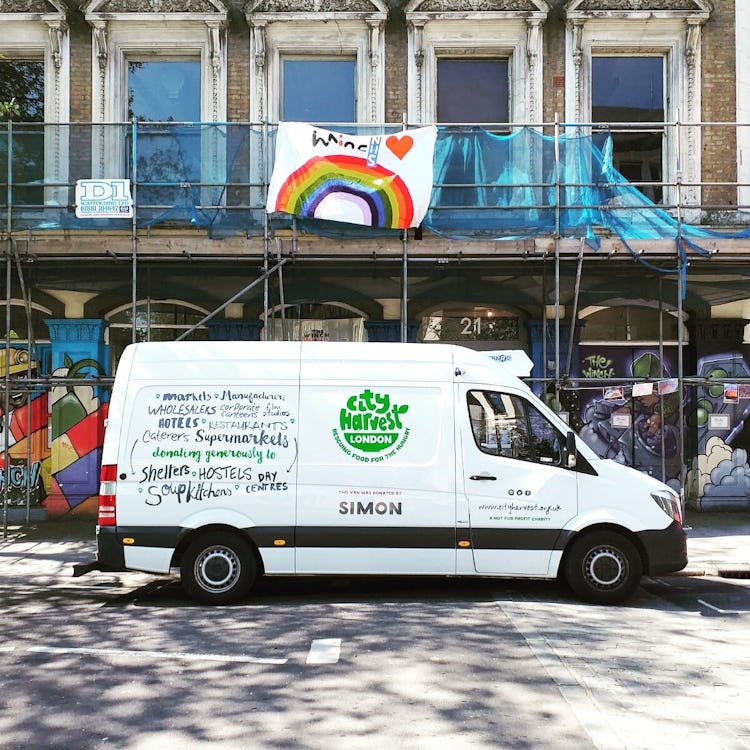 WHAT ARE THE CORE VALUES OF CITY HARVEST?
"City Harvest launched in 2014 with one van, by a small group of people focused on rescuing surplus food and a driver who used to be homeless. This sums up what we City Harvest is about, grass-roots grit, passion to help the community and an absolute right to nutritious food. Our operation has now grown to 14 vans, 3 depots and we recently reached 10 million meals rescued!"
WHAT HAS BEEN THE BIGGEST ACHIEVEMENT OF CH TO DATE?
"In the first 6 weeks of COVID-19 we rescued 1 million meals alone! At week 9 we had rescued 1.46 million meals. Our relationships with companies, the food industry and good-will we have in the city meant we could scale up and reach even more people in need. Initially many of or charities closed while they worked out how to reach their recipients in a safe way. We are now back to 300 charities on our routes with a waiting list of people who we can hopefully reach as we expand."
WHAT ARE MISCONCEPTIONS AROUND FOOD POVERTY THAT CH OFTEN RUN INTO?
"Food poverty in London has sadly skyrocketed, and in light of the looming redundancies and hardship, this situation will continue to worsen. Before COVID-19, 9.2 million meals are missed monthly because of food poverty in London and 13.4 million meals are wasted monthly by businesses. We were redistributing an abundance of food and trying to educate people about surplus and food waste. Now we are focused on food sourcing, fundraising and distribution in equal amounts in order to keep our vans rolling."
HOW DOES CH REDISTRIBUTE THEIR FOOD?
"Food is delivered free of charge. To onboard with us we require up to date food safety certification, this is to ensure food is kept in the chill chain and is prepared hygienically for recipients. If people call us for individual donations, we direct them to their nearest food bank or community group. Delivering food for free allows charity groups to use any money they have for services like counselling, activities and medical services."
HOW CAN MY BUSINESS DONATE TO CH?
"Companies who want to help can organise corporate volunteering at the depot, and help us fundraise. All our services are free. so as a non-profit, without funding, we cannot keep our vans rolling. For every £1 donated we can deliver 4 meals - so every penny really does count."
HOW HAS COVID-19 POSITIVELY IMPACTED CH? 
"We have had so many wonderful furloughed volunteers during the lockdown, people from the food industry and people who wanted to help, but would otherwise not have had the time. Many new food suppliers have seen the impact working with us has and we have created many exciting new partnerships. Making use of drivers, chefs, vans and fridges from closed down restaurants has been a lovely 'feel-good' pooling of resources in a time of crisis."
WHAT CHALLENGES HAVE COVID-19 POSED TO CH?
"There have been fluctuating levels of surplus food throughout lockdown, and we are always looking for new and varied partnerships to ensure we are not reliant on one main supplier. Fresh food, particularly vegetables, were hard to access for a short period. Our groups relish fresh ingredients as it allows them to cook healthy nutritious food for their recipients. The pandemic has highlighted to many, how for many people, the one meal they received at the community group will be all they eat for that day - or even a couple of days. With schools being closed and new people facing food poverty the level of demand has increased and the hospitality industry has seen first hand how their cooking of fresh food is literally a lifeline for so many Londoners."
WITH CH DELIVERING TO OVER 300 DELIVERY ORGANISATIONS, HAS THERE BEEN A PARTICULARLY MEMORABLE RESPONSE OR STATISTIC FROM ONE OF THEM THAT STANDS OUT TO YOU THE MOST?
"We are a relatively small team, who work hard to make London a better place. Last year the GLA estimated 400,000 children in London aged 16 or under faced food insecurity. Of these, only 196,000 are on free school meals, therefore qualify for the Government food voucher scheme during the pandemic, meaning at least 200,000 may go hungry. Stats like these are what make us work 7 days a week."
WHAT HAS BEEN YOUR BIGGEST LEARNING SINCE JOINING THE TEAM?
"My biggest learning joining the team is that no matter what you do to support a charity - be it financial, time donated or even promotion of a message - it is all so valuable and has a huge impact. By committing your heart to help others, even in a small way, inspires change all around you. The ripples of kindness are felt far and wide."
"Everyone who comes to the depot leaves inspired, feeling part of something bigger than they are, that they have or can easily make a huge difference. Our team is bonded by a huge love for what we do each day, saving quality food and feeding those who would otherwise have nothing. It is about loving thy neighbour, helping those that need help."
HOW CAN INDIVIDUALS HELP CONTRIBUTE TO THE AMAZING WORK THAT CITY HARVEST IS DOING?
Whilst City Harvest are currently restricted on volunteers, they can still volunteer to sign up here. They also have a donation page, where every little bit really does help.
You can also follow them on Instagram, to keep up to date with their current work.