How to store, prep, and cook Beetroot
Those delicious bunched beetroots in your boxes this week are amazing in a whole variety of dishes, from their leaves to their flesh! As usual, here to us guide us through the best ways to prep and cook these delicious beets is our guest ODDBOX chef Georgia (@georgia_levy_):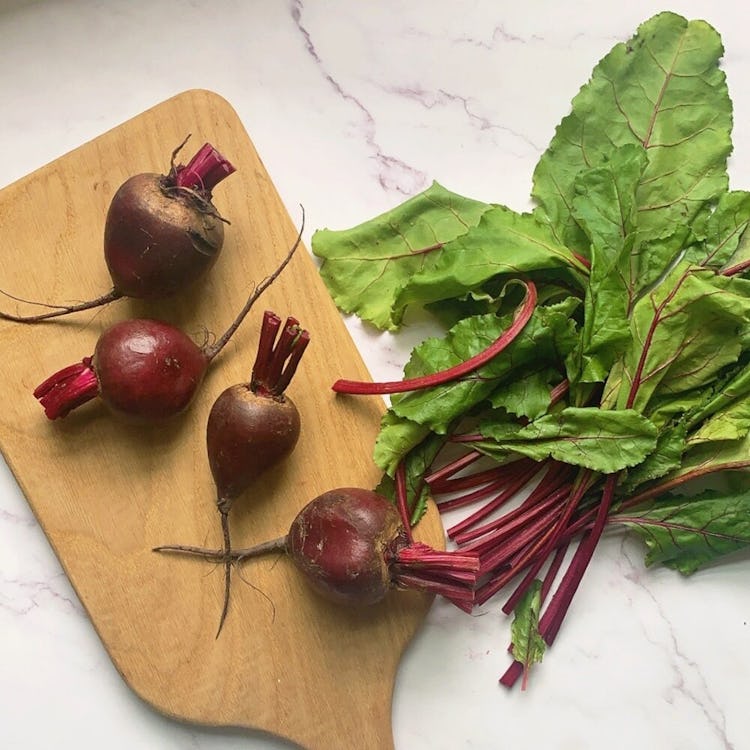 HOW TO…STORE:
These guys have an exceptionally long existence if kept the right way. To keep for as long as possible, separate the roots from any leaves – cook and eat like spinach – and place the beets unwashed in a plastic bag with a few holes to allow moisture to escape. Keep in the fridge and you'll find that they're still be firm a month and up to 3 months later.
HOW TO…PREP:
Life is too short to peel a beetroot: simply scrub under cold water and discard any whiskery bits. The skin is totally edible and actually has a great texture when roasted. 
HOW TO…COOK:
Pickle:
Combine vinegar and sugar, infuse with bay, peppercorns and coriander seeds. Pour while hot over boiled beet wedges. Ready to eat in a week.
Make into a dip:
Blitz boiled beet with garlic, Greek yoghurt, oil, red wine vinegar and dill. Eat with feta and flatbreads.
Roast:
Cut into wedges, toss with unpeeled garlic, rosemary, thyme, olive oil and seasoning. Roast at 200C for 20-40 mins until tender and crisp on the edges.
Braise the leaves:
Gently fry some onion, garlic, chilli, raisins and pine nuts and stir through the blanched leaves.
Make Spanakopita with the leaves:
Fry spring onion, stir in chopped leaves, dill and feta and encase in filo pastry
Eat raw:
Finely slice and add to salads. Tastes amazing with goat and feta cheese, walnuts and hazelnuts.
Make gravadlax:
Combine grated beets, juniper, gin, salt and sugar. Pile over a side of salmon, wrap tightly and cure in fridge for 3 days.
Make into a curry:
Fry onions, then chuck in cumin and mustard seeds and curry leaves until they crackle. Add blitzed ginger and garlic, followed by beetroot wedges and water. Once tender, add coconut milk and simmer for 10 mins until reduced.