Spiced apple porridge
Getting out of bed in the morning can be tricky in the darker, colder months. One way to motivate yourself is having a warm, sweet breakfast on the horizon, like this amazing wintery porridge recipe created by Emily from EasyPeasy.LemonSqueezy.
She says "This recipe is a real winter warmer to keep you full until lunch (or nearly anyway)".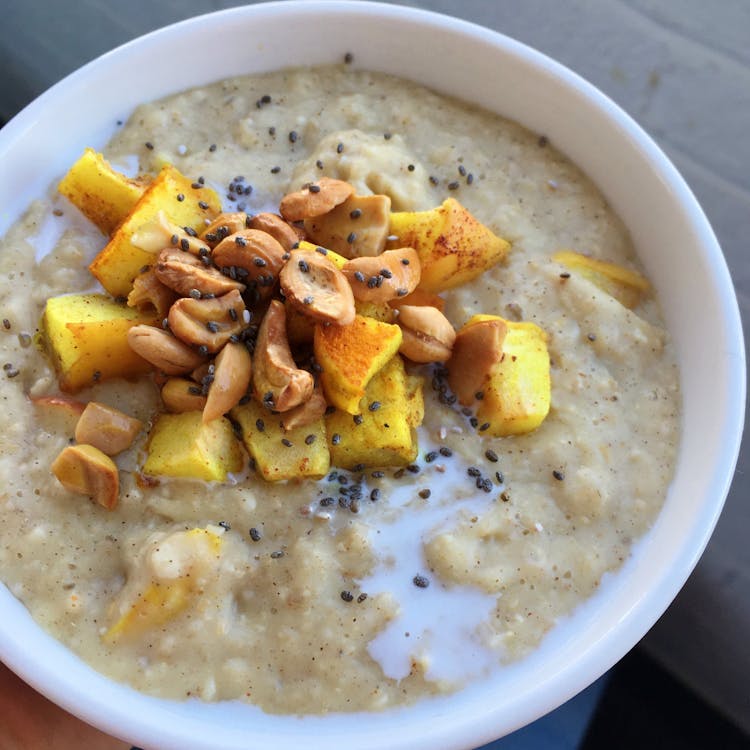 Serves 1
INGREDIENTS
1 cup oats 
2 cups water/ milk of choice
1 apple 
2 tsp cashews 
1 tsp cinnamon 
1 tsp nutmeg 
1 tsp chia seeds
1 tbsp honey/agave/sweetener 
1 tsp coconut cream (optional)
Coconut oil (for roasting)
METHOD
Preheat your oven to 180 degrees celsius, spoon 1tsp of coconut oil on to a baking tray and place it in the oven.
Wash and chop one apple into cubes and add to the warm baking tray. Coat apple in coconut oil and then sprinkle with cinnamon.
Put the cashews onto the same baking tray and bake them together with the apple for around 15 minutes .
After about 10 minutes, start making the porridge. Add the oats and 1 cup of water/milk, sweetener and spices into a pan and heat until porridge thickens. Add the 2nd cup of water/milk gradually until it reaches desired consistency.
Remove the apple and cashews from the oven after 15 minutes. Add half the apple into the pan and mix well. Then dish up - add more apple, cashew and chia seeds before serving.

Tip: To make the porridge extra creamy, add one 1tsp of coconut cream while cooking the oats.

Thanks to Emily for the recipe!
How long have you been cooking? Since I was little really. I used to help my mum cook dinner (well, mostly eating the cheese I grated for her, haha). When I was 16 I started working as a kitchen assistant in a cafe in my home town and was taught the basics and developed a passion for cooking. Then, when I started uni I felt inspired to be creative and show people how easy it was to cook healthy delicious food on a student-friendly budget and it's just grown from there really. 
Cooking style: Healthy, wholesome plant-based recipes that are quick, easy and delicious. I work with whole foods and try to shop locally when I can. But my aim is to create recipes that are cheap, easy and with assessable ingredients so that everyone can recreate my recipes.
Favourite cooking method: Hmmm, generally roasting whatever veg I have then throwing it in a pan with onion, garlic, herbs and spices and seeing what happens!
Favourite vegetable: I love root veggies because they're so versatile, cheap and easily accessible! So... potatoes, carrots, sweet potato, parsnip, beetroot, squash, pumpkin. I love roasting root veg but there's so many different ways to make the same veg interesting: mashing, boiling, puréeing, frying, shredding, grating…
Find Emily at @easypeasy.lemonsqueezy and on www.easypeasylemonsqueezy.net.