Rescue story: turning waste into wine
When they're not supplying beautiful blueberries for our boxes, family-run Lutton Farm are busy pressing their "too small", "too odd" berries into wine.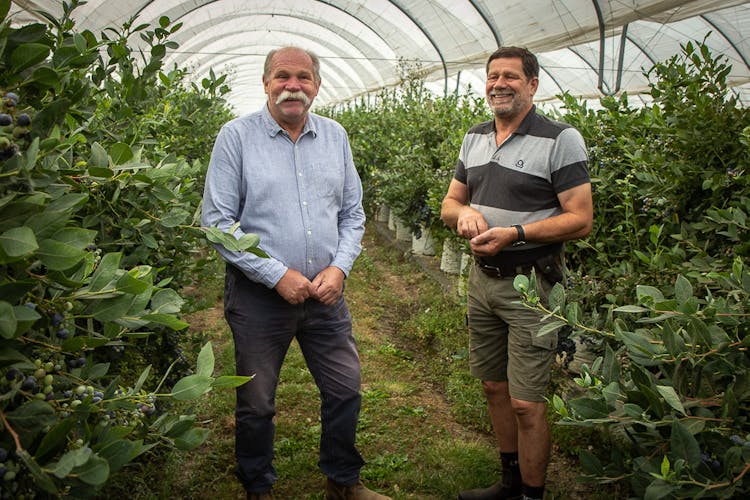 Lutton Farm
You'll likely have seen blueberries crop up a lot in your boxes over the summer/early autumn months. Many of these come from our grower, Stephen, who owns Lutton Farm in the heart of rural Northamptonshire. We rescue roughly 19 tonnes of the farm's blueberries every year, but there's still plenty left in the fields that are largely unwanted by the supermarkets. 
In an effort to minimise waste, Stephen came up with an ingenious alternative for their undersized, overly-soft and discoloured berries...
Bountiful blueberries 
Lutton Farm hasn't always grown blueberries. In fact, it started off as a pick-your-own fruit farm in the 1970s before going into the commercial soft fruits (including strawberries, blackberries and raspberries) business in the early 90s. 
"I hadn't really intended to do blueberries," Stephen explains. It wasn't until a trip to Poland to visit friends who were looking to set up a blueberry farm, that it caught my attention and I decided to establish an area in the UK."
Blueberries are now Lutton Farm's main crop, with over 50 hectares of land dedicated to growing them. They produce around 600 tonnes of blueberries each and every year, with plans to increase that to 1000 tonnes in the not so distant future. 
With so many blueberries in Lutton Farm's fields, you might expect there to be a good amount of waste, too. This is far from the truth thanks to an efficient sorting process and multiple outlets for any berries that aren't quite perfect. 
Each blueberry the farm grows is handpicked before being sorted via an electronic optical sorter. "The optical sorter lets us be less specific with what we pick" explains Stephen. "It helps to keep the cost of picking down, something we have to take into account in the UK because of the cost of labour."
Some of the crops are 'graded out' - in other words, they're considered not quite up to standard for the supermarkets. Nevertheless, very few berries end up being graded below a one (the top tier).
"With grading out, it can be between 15% and 20% of the crop because the supermarkets we're supplying want the really big, really firm fruit," says Stephen. We don't really get class two as such. The fruit we tend to send oddbox is the smalls, a lower-tier class of grade one berries"
So, what about the waste?
It wouldn't be possible for us to rescue all of those graded out berries for our boxes. That's why Lutton Farm has come up with various other waste-saving ideas. One of these is to turn those less-than-ideal berries into wine.
The farm's first experiment with blueberry wine was a few years ago when Stephen asked a friend of his in the wine industry to produce a batch. "We sent the first blueberries there in 2018 and made our first wine. We thought it would be a good idea to make some ice wine which is fundamentally a German inspired product."
Traditionally, ice wine requires the fruit to be left on the plant until the first frost. However due to the growing season of blueberries in the UK, there would never be any berries left on the bushes when Lutton Farm has a frost. Therefore instead, Stephen freezes the graded out berries and keeps them stored ready for pressing. The frozen blueberries are then pressed during the coldest months of the year to prevent the berries defrosting too quickly. Pressing the berries from frozen produces the amazing concentrated juice.
An estimated 37 tonnes of Lutton Farm's graded out blueberries have been turned into wine so far. There are three delicious types, too: Midnight (full bodied, like a red wine), Dusk (a drier, rosé style wine) and the Ice Wine (currently the most popular of the three). 
So far, they've had brilliant success with their blueberry wine, with over 30 outlets stocking bottles on a regular basis. 
"Sometimes, people are expecting fruit wines to be sickly sweet, while we just let the sweetness of the blueberries do the talking," says Rachael, Lutton Farm's Development Manager. "We don't add any grape juice, we don't add any concentrate. It's just purely pressed blueberries."
And what happens to any berries Lutton Farm can't freeze, ferment or find a home for at outlets like Oddbox? They're composted; returned back to the earth to feed other crops, just as nature intended.