Rescue story: brassicas
Love 'em or hate 'em, Christmas lunch wouldn't be the same without a Brussels Sprout (or ten). But even if you're not a fan, this year it's more important than ever to show our little green friends some love.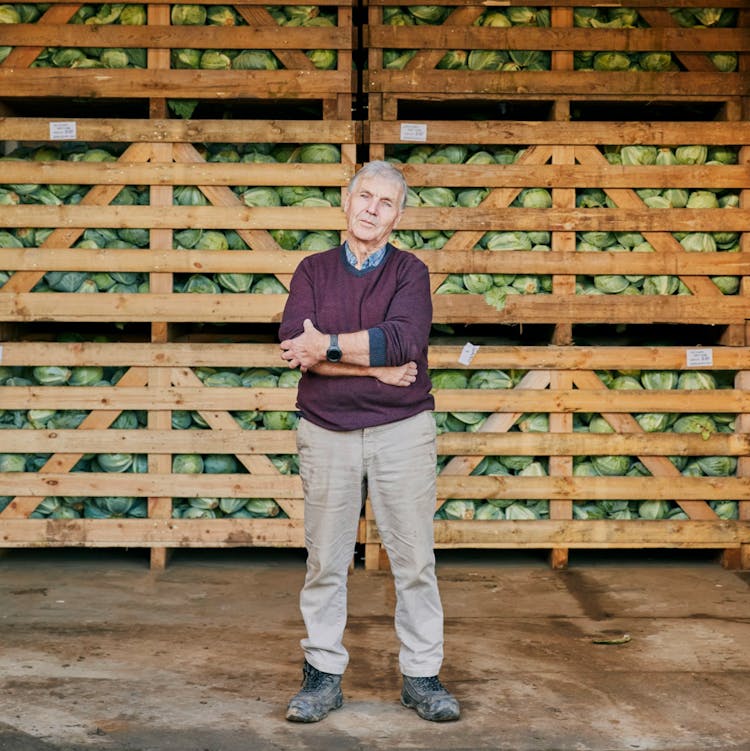 Peter at PC Thorold's – a family farm in South Lincolnshire – explains why:
"In all honesty, this has been one of the hardest years for growers I can remember.
We began 2021 in lockdown, which obviously shut down catering businesses, then the bitter nights in April destroyed whole fields. Absolutely heartbreaking, especially as brassicas can take 12-14 weeks to grow.
We then had a summer with more rain than sun, followed by the warmest September since who knows when. It meant our crops slowed down, then sped up, leaving us either out of sync or suddenly overwhelmed – no wonder so many farmers have quit this year."
But isn't there anything growers can do to protect their crops from the weather? And why does it even matter if things grow to their own schedule?
Exposed to the elements
We went to visit Peter and his family on the farm and were blown away by the size of it. Along with hundreds of acres of neat cabbages, cauliflowers, broccoli and sprouts (known collectively as 'brassicas'), they also have four acres of greenhouses, where they protect the veg over winter.
The problem is, the crops are 'planted out' in spring. And when you have one frosty night after another in April, even relatively hardy vegetables don't stand a chance.
On the flip side, if you get an unusually warm and sunny period – like we saw in September – all the careful planning and coordination that goes into growing crops flies out the window.
It doesn't matter how many cabbages are ready or what 'class' they are. If you can't harvest them fast enough – and let's be honest, there have been plenty of labour issues too this year – all a grower can do is get the rotavator out and plough them back into the ground.
In Peter's words: "There must have been more crops lost in Lincolnshire than any other year." You don't need us to tell you what a waste of food, energy and water that is.
Embracing the 'out-of-season'
Peter and his family harvest Brussels Sprouts every day throughout the winter, right up until April. "One year I even had the family sizing and grading them for Boxing Day after our Christmas meal! You can imagine how popular that made me." 
But the truth is, 'seasonality' is so engrained in our food system, that crops which are ready even a few weeks 'early' or 'late' are at risk of going to waste.
Anyone remember the surprise Brussels we rescued in the autumn? What about the early cauliflowers? Or the late squashes?
All these crops were affected by the unpredictable weather we've seen in 2021, meaning they were out of sync with the seasons and no longer required by their original destination.
Celebrating every sprout
As the end of the year approaches, Peter and all at PC Thorold's are hoping for a more predictable 2022. (As are many of the rest of us.)
But whatever the weather throws at UK growers, they'll know they have the support of the Oddbox community. We're happy to rescue fruit and veg whatever the date, and whatever it looks like.
And if you happen to find a lovely pile of sprouts on your plate this festive period? You'll know just how lucky you are. Enjoy.