Our favourite low waste soup recipes
The weather's getting colder, so bring on evenings at home in the warm with simple soups and a good film.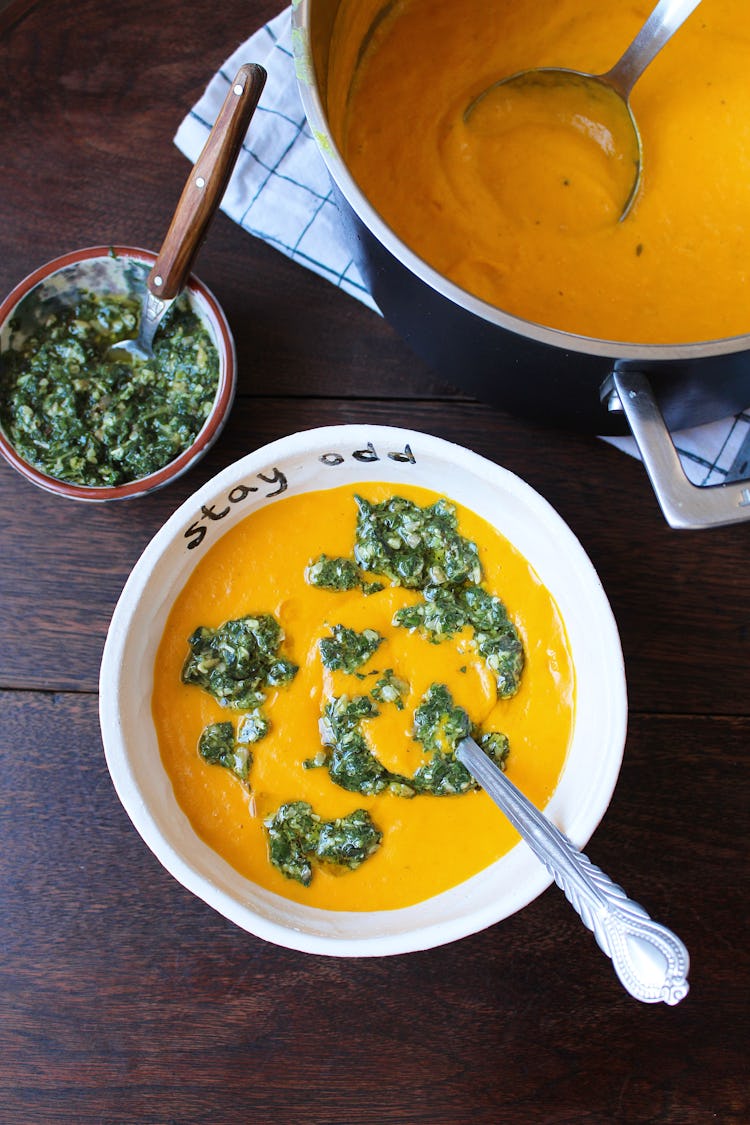 As well as warming us up, making soups is a great way of using the whole of each vegetable. Here are some of the best low waste soup recipes around. 
Potato peel soup
Potato peels are often seen as waste, but they add the same flavour to dishes as potatoes. This Love Food Hate Waste recipe from Hugh Fearnley-Whittingstall uses up the peels from a tray of roast potatoes - just make sure you scrub the potatoes before peeling. You'll use up 2 onions too. Switch the whole milk with a creamy plant-based drink, like oat milk, to make the recipe vegan. 
Creamy curried carrot & butter bean soup
With Indian spices and a creamy finish, this carrot and butter bean soup recipe from BBC Good Food is guaranteed to comfort you on a cold evening. For 8-10 servings you'll use up 3 cans of butter beans and over 1 kg of carrots. Place leftovers in the freezer to use on evenings when you don't have time to cook. To make the recipe vegan, simply swap the whole milk for plant-based milk. 
Vegan ramen noodle soup
If you prefer your soup with some substance, a good noodle soup ticks all the boxes. This recipe from It Doesn't Taste Like Chicken contains whole tofu, shiitake mushrooms, carrot, spinach and noodles. Make this a truly low waste soup by washing the carrot rather than peeling it, and sub the shiitake for mushrooms from your box if needed. 
Herb, spinach and burnt aubergine soup
Skip to the third soup recipe on this page from Yotam Ottolenghi via The Guardian. The herb, spinach and burnt aubergine soup is smoky, earthy and spicy all in one dish. It'll also help you use up 3 aubergines, 2 onions and 400g spinach. Sub the fresh herbs for dried, if needed. 
Fennel soup with peas and lemon
Roast the fennel from your box to make it extra delicious with this clever soup recipe from The Veg Space. Peas and lemon complement the fennel slices perfectly, and coconut milk turns the soup creamy. You'll also use up spinach and onions. Substitute the fresh parsley for dried herbs if you need to, and save the lemon rind (if it's unwaxed) to make candied peels afterwards. 
Moroccan spiced cauliflower and almond soup
What's more warming than Moroccan spices? Cook this simple recipe from BBC Good Food to use up 1 whole cauliflower and 50g of almonds from the cupboard. If you don't have dried cinnamon, cumin and coriander, experiment with similar flavours. 
Creamy Chinese bok choy soup
You can swap out the bok choy in this recipe from Pure Bootiful for 2 pak choi from your box, as they're very similar vegetables. A can of butter beans gives this soup creaminess and red lentils add extra depth of flavour. You'll also use up a celery stick, a carrot and an onion if making 4 servings.