New year, new food system? What's ahead in 2022
This week we're gazing into our crystal ball, to see what's on the cards for the food system in the year ahead. Urban underground farming? Nature-positive food growing? Regenerative agriculture? There's lots of change ahead, but we've pulled out some key themes that we expect to capture attention and headlines in 2022.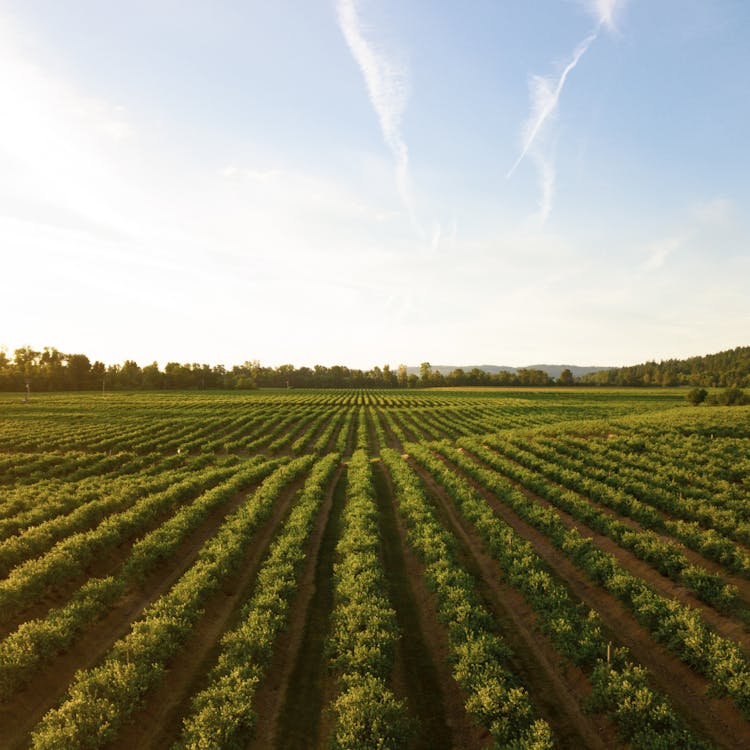 Supply chain-ges are here to stay
The supply chain issues that have hit the headlines in recent months aren't going anywhere fast. Labour shortages in particular put the UK's food security at risk: according to Minette Batters, president of the NFU, "the government has tried to paper over the cracks with short-term fixes, but if we want to avoid this crisis continuing, long-term solutions are urgently needed to ensure a resilient supply chain."
Christmas didn't give us the barren shelves we might have expected, due to supermarkets adapting to smaller ranges and increasing standard delivery times. Could 2022 see us start breaking our addiction to next-day delivery, and get used to choosing from less? This flexibility is good news, but we should also be wary that some last minute changes in the supply chain can come with environmental costs, like added airmiles. As reported by The Telegraph, some Boots products had to take a detour via two other countries before being flown to the UK so they would get to stores on time. 
There's no justice without food justice
Food justice – the idea that everyone should have access to nutritious and affordable food, and that those working in the food supply chain deserve fair treatment and pay – is already becoming a big(ger) topic. As food journalist and professor Jessica B. Harris says, "these last two years [have] blown the lid off much of what we had previously lived with as the food system. From food insecurity to service issues… It has called into question so much."
Access to nutritious food was a key focus of last year's National Food Strategy, an independent review of the food system that the government will publish its response to later this month. Recommendations include extending the free school meals scheme and fruit and vegetable prescriptions for low-income groups.
When it comes to workers' rights in particular, the pandemic has prompted shifts in the labour market that are pointing towards what the FT calls a "wake up call" that could mean improvements for workers in the food industry and beyond. Essential workers are finally being recognised as such, union membership is growing, and the EU has put forward proposals for gig economy workers to get better rights, more benefits and fairer pay.
Climate conversation moving to climate action
Whatever your feelings about Netflix's latest smash hit 'Don't Look Up', it's clear that environmental issues are continuing to make their way further into the mainstream. Last year's COP26 summit got the whole world talking, but the food system was largely left out of the conversation. The World Economic Forum says there are signs that food will move up the agenda at COP27. We can expect action and commitments overall to ramp up: the i Paper points out that agreements made at last year's summit to come back with bolder promises means that 2022 is the real "climate crunch time". 
The UK could see some important changes finally actioned, as the National Food Strategy also recommended mandatory food waste reporting for businesses and a long overdue consultation is set to kick off. Ministers have recently been lobbied to support this move, and supermarkets are already backing the change.
Bolstering biodiversity
It could be a "super year for nature" as highlighted by The Guardian, thanks to the newly-rescheduled biodiversity COP15 in March. At the summit, it's expected that finally, a deal will be struck between nations to halt or reverse damage to our ecosystem - and that goes hand-in-hand with fighting climate change and improving the food system.
Biodiversity is also being incorporated into the food system via regenerative agriculture and it's going to be top-of-mind for 2022. Just this week, The BBC reported on the news that the government plans to pay grower's for rewilding their land, while The Grocer suggested we swap veganuary for 'reganuary', such is its importance. 
Meanwhile, the Get Nature Positive campaign is also in place, with more than 70 high-profile companies – including GSK, Landsec, Burberry and Sainsbury's – now signed up to put nature and biodiversity gain at the heart of decision-making and design. 
The challenges faced by the food system – on logistics, on justice and on climate – will be as big as ever in 2022. But the shifts we're seeing on the horizon show that attention seems to be in the right places. The early signals look like cause for cautious optimism – and we like that.