How to store, prep, and cook Tomatoes
The ultimate versatile fruit (yes, fruit!) is perfect for a whole host of Springtime dishes, and can be cooked in an endless variety of ways. And here to take you through the best ways to store, prep, and cook these red fruits is our good friend, and guest ODDBOX chef Georgia (@georgia_levy_)!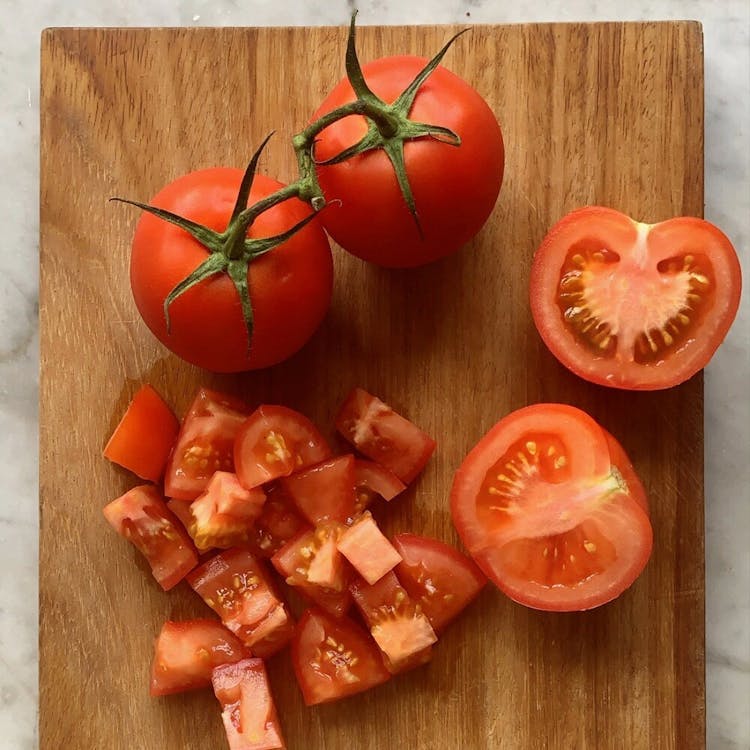 HOW TO…STORE:
Not-yet-ripened tomatoes are best kept at room temperature and out of direct sunlight. Store them stem side-down, not touching, and in a single layer. Don't put them in the fridge as this will impact the ripening process. However, if you find they've become overripe, putting them in the fridge will hold them at this ripeness for three days. Make sure you take them out the fridge before eating, however, as the cold flattens their flavours.
HOW TO…PREP:
Everything except the stalk is edible, though some people like to remove the eye as it can be a bit fibrous. Perfectly ripe tomatoes are probably best appreciated raw, while under- or over-ripe ones should be dispatched into a saucepan or oven. Tomato sauce is a particularly good use for sub-optimal tomatoes - both over or under-ripe - and it freezes beautifully so you can always have fresh pasta sauce on hand.
HOW TO…COOK:
To make chutney:
Fry onion, garlic and ginger until sweet, then add star anise, brown sugar, cider vinegar and chopped tomatoes. Simmer for 1 hour until jammy. Goes with everything.
To make gazpacho:
Blitz in a blender with peeled cucumber, red peppers, a little bit of onion and garlic plus a dash of white wine vinegar and oil. Chill and drink all day every day during the summer.
To make charred tomato salsa:
Cut in half and place under a grill under blistered and burnt, then squeeze out their skins and roughly chop with red onion, chilli, fresh coriander and lime juice. Eat with guacamole and tortilla chips.
To make the BEST tomato sauce:
Simmer 1kg chopped tomatoes with 1 halved onion, 75g butter and some seasoning for 45 minutes. Remove onion before tossing through pasta. So simple, so delicious.