How to store, prep, and cook Potatoes
Spuds - otherwise known as the most wasted vegetable in the UK! Goodness knows why - these delicious root vegetables have been a staple in our diet for centuries, and feature in some of most comforting dishes! Never to be underestimated, we thought it best to get our good friend and ODDBOX guest chef Storm (@whatstormeats) to guide us through the best way to prep and cook them:

"The humble potato is probably one of the most versatile vegetables and comes in so many different varieties from fluffy Maris Pipers to waxy Anyas!" - Storm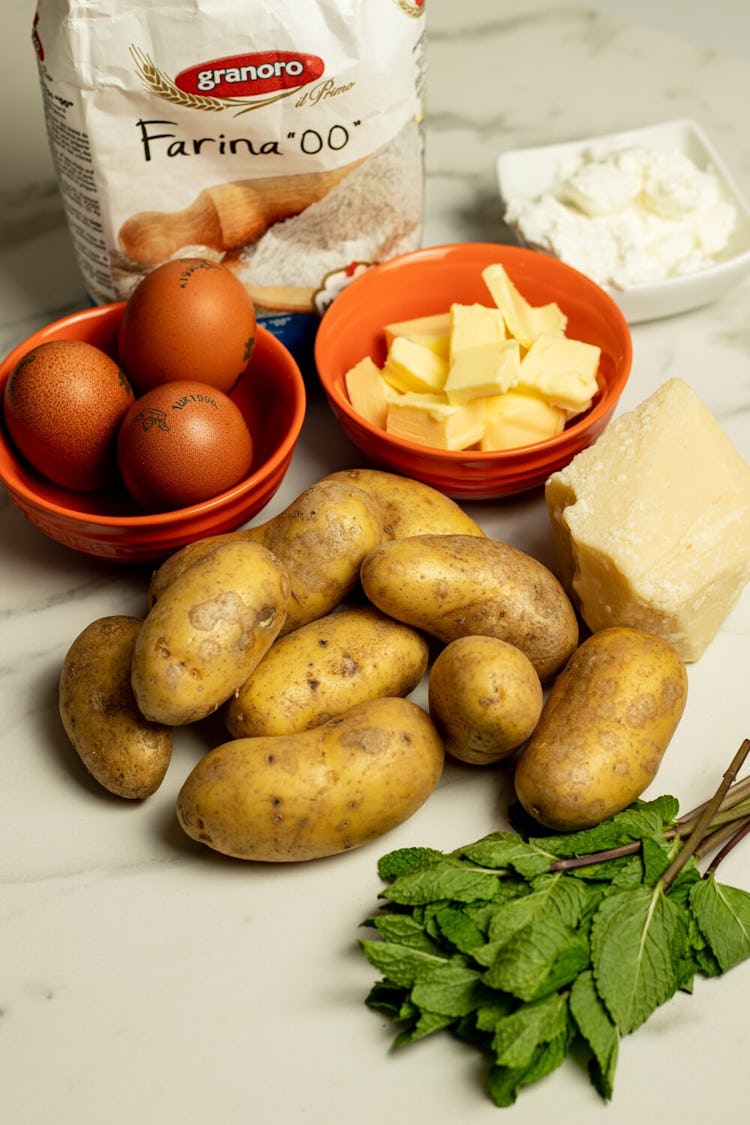 HOW TO…STORE:
Keeping them in a cool dark place in a paper bag, cardboard box or veg basket. Potatoes need good ventilation to ensure that they stay fresh for longer.  Stored correctly, potatoes can last for weeks. Avoid putting them in a plastic bag as this wont allow them to breathe and never store potatoes in the fridge – cold temperatures turns potato starches into sugar. Remove any sprouted potatoes so they don't cause your others to go bad and keep them away from any other fruit or veg to prevent premature ripening!
HOW TO…PREP:
Wash them when you are ready to use, you may need to give them a good scrub in cool water if there is any residual dirt. Lots of the nutrients in a potato are stored in and under the skin so leave on if possible or include it in your dish!
HOW TO…COOK:
The way you cook potatoes often depends on the type. New potatoes yield themselves more to summery potato salads, and steaming, and other types lend them themselves more to roasting. Experiment with different types and see what you prefer!
ROAST:
The classic British roastie has pride of place on many of our Sunday roasts. Try tossing in semolina and Parmesan for extra crispy, crunchy edges. New potatoes are also great to roast; try roasting in olive oil, garlic and fresh thyme. 
GRATE:
Grate your potatoes, a large carrot and some halloumi and season with salt and pepper. Fry off in olive oil for a crispy rosti. Serve with a buttery fried egg – the perfect weekend breakfast! 
SLICE:
Slice thinly and layer with onion and garlic in a flat dish. You can either bake with white wine and stock for Boulangere-style potatoes or if you are feeling indulgent, what about a classic potato dauphinoise with unctuous double cream. Sliced potatoes are also fantastic on pizzas or on top of focaccia with black olives.  
FRY:
Dice and fry in plenty of olive for a classic Spanish tortilla. This one is great for a picnic; dice into 1cm pieces and fry on a high heat in lots of olive oil until translucent. Remove potatoes from the oil, season and add 6 eggs and bake – or if you are feeling brave, try flipping in the pan. 
STEAM:
New potatoes are perfect in a salad; why not add some asparagus, boiled eggs and drizzle with a honey mustard dressing or toss with crème fraiche, dill and mayonnaise with diced gherkins and fresh apple. 
PIE:
A cheesy potato and onion pie wrapped in buttery shortcrust pie makes a great lunch or dinner with a side salad. Line a pie plate with pastry and slice the potatoes thinly.  Layer the potatoes, onion, cheese and herbs into the pie dish and press down and pop on the pastry top. Brush with egg glaze and make two holes in the top of the pie to allow steam. Bake for a couple of hours or until the pastry is golden and filling is soft.  
CURRY: 
Potatoes are a great flavour absorber – why not try a Potato, spinach and chickpea curry packed with lots of spice and homemade naan. Fry off onion, garlic and diced potato with curry powder, garam masala and add a tin of tomatoes.  Once the potatoes are cooked, add a tin of chickpeas and frozen spinach – serve with naan and mango chutney. 
GNOCCHI:
Gorgeous, plump pillows made from fluffy potato, egg and flour. Simply mix the ingredients together, boil in seasoned water and toss through buttery spring veg - asparagus and peas work wonderfully!
FONDANT:
A favourite amongst chefs, fondant potatoes are crispy on the outside, and fluffy and decadent on the inside. The potatoes are cooked in butter to start with until they are gloriously golden. Carefully pour in some stock, with garlic and thyme and cover with a lid and reduce until the potatoes have soaked up all the stock and are tender. 
SKINS:
All the goodness is in the skins so if you are peeling them, save the skins! Dose in olive oil, pop in the oven to crisp up and serve with garlicky mayo. 
AVOID…
Boiling them without their skins on as they will soak up water and turn mushy. Avoid eating them raw.