How to store, prep, and cook Mushrooms
Love 'em or hate 'em, there's endless delicious ways to eat these delicious funghi, and you may just be surprised at all the ways you can prep them - beyond just frying or grilling! With us this week, is our good friend and guest ODDBOX chef Camille (@callherchef) with all the prep tips and tricks you'll need: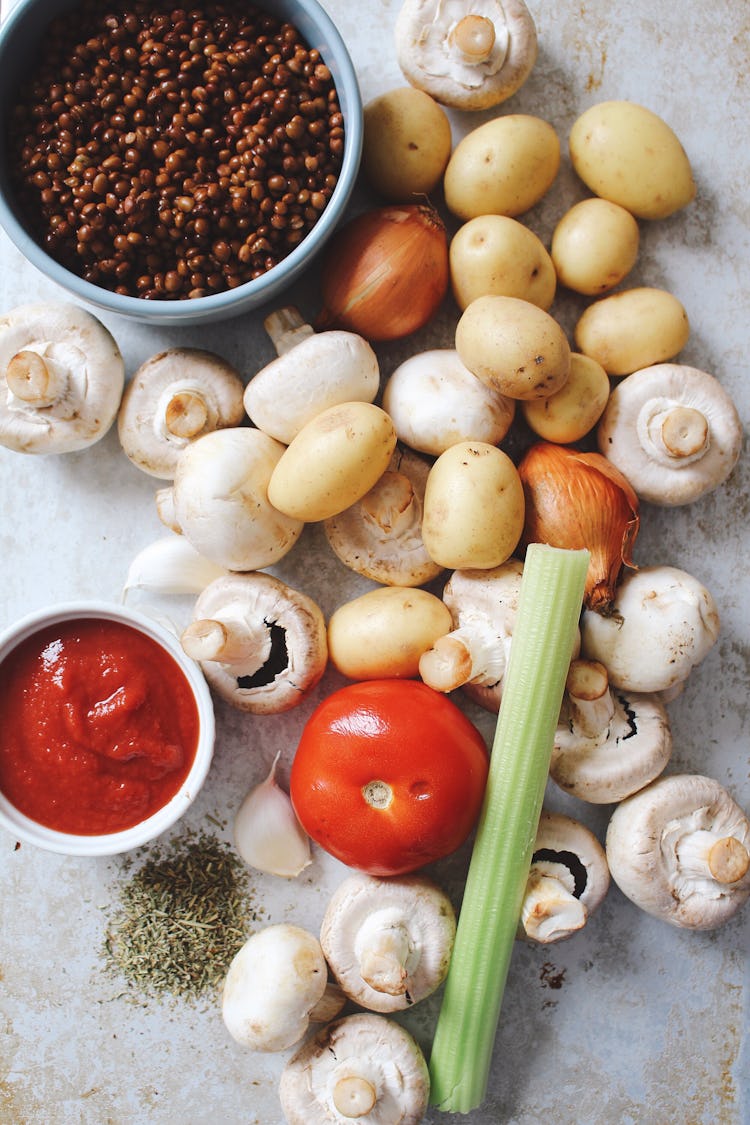 DID YOU KNOW?
Mushrooms are a good source of antioxidants and vitamins, and they are low in calories. They are also high in protein which make them a great meat alternative in vegetarian and vegan recipes.
HOW TO…STORE:
Mushrooms are best stored in the fridge, but they must "breathe". Storing in air-tight containers or plastic bags will cause condensation and speed spoilage. You can use the original Oddbox paper bag packaging they come in. Just leave it open. In the fridge, they will keep for up to a week, though they are best eaten within a few days after receiving them.
HOW TO…PREP:
Just before cooking/eating, gently clean your mushrooms with a damp cloth or a cooking brush. You can also (but only if you are quick) wash them in a bath of cool water. With a rapid hand-washing movement, rub mushrooms lightly against one another. Then immediately place them in a cloth towel. The mushroom gills are like little sponges; they absorb water, so you must wash and dry them quickly. The whole mushroom is edible, even the skin. So keep it all!
HOW TO…COOK:
Raw edible mushrooms are delicious but because of their texture and flavours you can also use many techniques to cook them.
SAUTE:
One of the quickest ways to cook mushrooms. You can pan fry whole or chopped mushrooms, depending on the size and recipe. Simply use olive oil or melt butter in a pan over medium to high heat, then add the mushrooms and cook, uncovered, between 5 to 10 minutes, until tender and crispier, stirring frequently. Finish with a little white wine to get them caramelized, and season with dried herbs, salt and pepper.
ROAST:
Great if you don't want to stay in front of the stove. Add your mushrooms to a bowl with olive oil, dried herbs and seasoning. Toss well to coat the mushrooms and spread them evenly into an oven dish. Roast in a hot preheated oven until golden brown. Dried herbs and spices works well when roasting mushrooms.
PUREE:
In a food processor, pulse your mushrooms until finely chopped. Then use the sauté technique; add a little olive oil into a pan over high heat and cook the mushrooms until golden brown. Drain to remove any excess oil and water before returning to the pan. Add a little double cream, bring to the boil, then remove from the heat and blend until smooth. Season with salt and pepper. A touch of truffle oil at the end will elevate your puree to the next level.
PICKLE:
Great to preserve your mushrooms a little longer and a wonderful addition to any food board, salad and barbecue. To pickle your mushrooms, slice and place them in a jar. Add chopped onion, bay leaves, peppercorns and cover with a hot vinegar syrup made from vinegar and water. Let the mushrooms marinate in the vinegar for 2 hours minimum and keep your pickle in the fridge.
STUFF:
You can stuff big and smaller mushrooms. They will make lovely appetisers for your dinner parties. Kids also love them! To stuff your mushrooms, you need to gently remove the stems. Chop and mix the stems with onion, garlic, creme fraiche, herbs or any other ingredients you want. Fill the mushroom caps and bake until golden brown.
DEEP-FRY :
The ultimate party snack! Coat your mushrooms in flour first. Then dip them in a batter made of flour, water (or beer) and seasonings (curry works very well). Carefully pop them into hot oil and cook until golden brown and crispy. Remove them from the oil, let them drain and serve.