How to store, prep, and cook kohlrabi
Although it looks like it's from another planet, you may occasionally spot the long tendrils of kohlrabi in your box. The kohlrabi vegetable is versatile and can be used as a sweet substitute for cabbage or broccoli.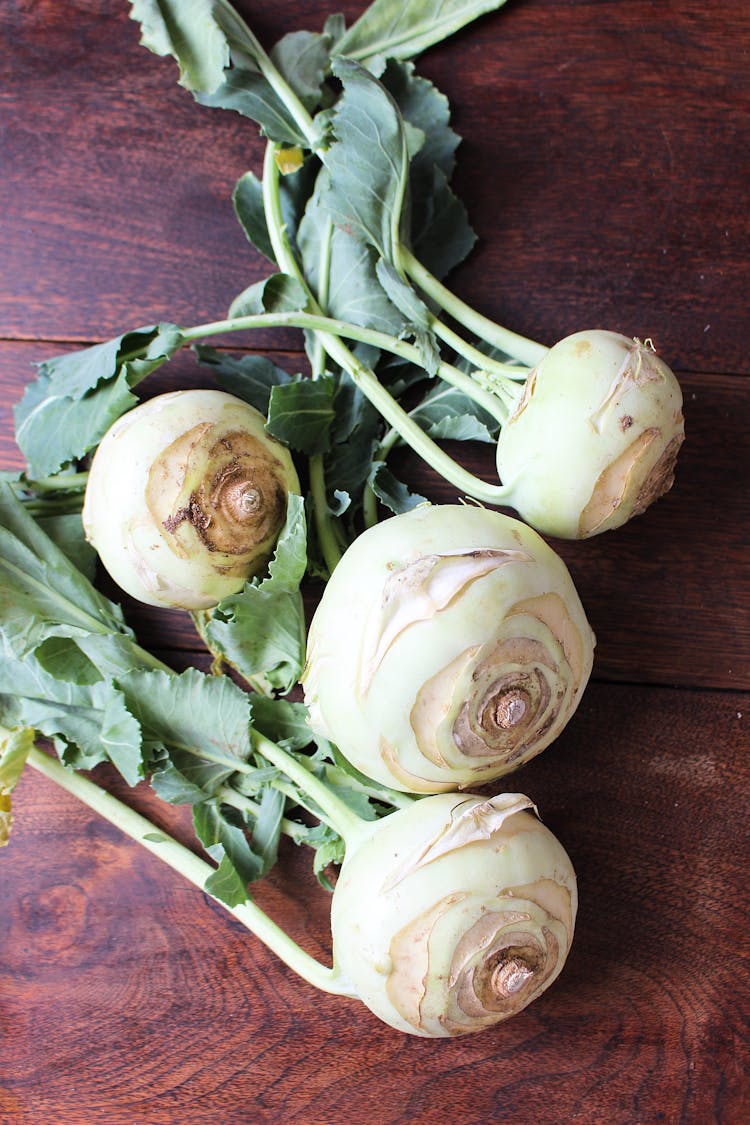 In this guide, we'll cover everything you need to get familiar with using kohlrabi in your kitchen. 
What is kohlrabi?
Kohlrabi is a brassica so it's related to vegetables like turnip, kale and cabbage. You can grow green or purple kohlrabi varieties, and it has white flesh inside. 
Kohlrabi may look like a root vegetable but it's actually a swollen stem that grows above ground. 
This veg is usually trimmed and peeled before use. People often then pickle or roast it, or use it in salads and stir fries. Kohlrabi is in season in the UK between July and November. When they're sold in Spring, the leaves are sometimes even still attached. 
What does kohlrabi taste like?
Kohlrabi has a light flavour – slightly peppery, like a radish, and a little sweet. The texture is crisp, like biting into an apple. 
Some people say kohlrabi tastes like a cross between a cucumber and a broccoli stem. Others think the flavour is similar to a cabbage or turnip. This vegetable gets likened to a whole variety of others – so you may want to decide its taste for yourself. 
Generally, kohlrabi pairs well with the same flavours as other cruciferous veg. Creamy elements like mayonnaise or Greek yoghurt complement its mildly peppery flavour well. 
Kohlrabi's flavours shine through when pickled or added to a sharp lemon salad dressing. Cook kohlrabi with herbs like coriander, dill, chives and parsley. 
Can you eat kohlrabi leaves? 
The greens of the kohlrabi plant are completely edible. So, if you're lucky enough to receive a bulb with the leaves still attached, you can eat the whole thing. 
Kohlrabi leaves are tender in Spring, earlier in the growing season. They taste like broccoli greens and can be easily cooked up into a stir fry or made into a kohlrabi salad. 
Can you eat kohlrabi raw? 
Kohlrabi is delicious when eaten raw. Young stems from earlier in the season are crisp and have a milder flavour. 
Grate raw kohlrabi and toss through a salad, or cut into matchsticks and dip in hummus. 
How to store kohlrabi
Storing kohlrabi in the fridge will help it stay at its best for a week or two. It may even last for a month. 
Trim off any leaves and store them separately, as they can draw moisture away from the bulb. 
If you get kohlrabi later in the season and you have a cellar or other cool space, keep it dry and cold in there until the early spring. 
How to prepare kohlrabi
Trim off the root end of the kohlrabi with a sharp knife. Earlier in the season, the skin of kohlrabi is tender enough to eat. If you can't eat it, peel off any visibly fibrous skin with a vegetable peeler or sharp paring knife. 
Sauté the peels in a pan with some spread, salt, sugar and nutmeg. Or toss them in oil and salt and roast them in the oven until crispy. 
You can slice, dice, shred or grate kohlrabi – get creative! If roasting, steaming or braising your kohlrabi, cut it into sizeable chunks. If eating raw, thinly slice or grate. 
How to cook kohlrabi
Whether cooking kohlrabi or eating it raw, there are loads of ideas for what to do with kohlrabi. Here's a selection of our favourite kohlrabi recipes. 
Pickled kohlrabi
If you have more kohlrabi than you can eat in time, pickle it. Slice 500g kohlrabi and put it into a mason jar or similar container with a lid. 
Then add 50g sugar, 12g sea salt and 40ml red wine vinegar. Put the lid on and leave it for a few days, mixing once a day. 
(via Ikigai Diet)
Steamed kohlrabi
Due to its dense, low-water texture, kohlrabi is well-suited to steaming. Cut your kohlrabi bulb into thick chunks. 
Steam for 5 or 6 mins, until tender. Toss with salt, garlic and olive oil to serve. 
Peppery kohlrabi coleslaw
Using a sharp knife, very thinly slice 2 kohlrabi bulbs, then cut them into strips. Tip into a bowl and toss with finely shredded spring greens and spring onions, and 1 or 2 tsp of sea salt. Set aside for 30 mins so the salt can draw out excess liquid from the vegetables. 
To make the dressing, mix together 175g mayonnaise (or plant-based mayo), 50g of horseradish and 2 heaped tsp black pepper. 
Rinse the kohlrabi mix and squeeze out excess water with a clean cloth. Tip into a bowl, then toss together with a small bunch of quartered radishes, the juice from half a lemon and your dressing. 
(via BBC Good Food)
Chilli-garlic roasted kohlrabi
Cut 700g kohlrabi into ½-inch wedges. For a simple side dish, preheat the oven to 230 degrees C. Mix together 2 tbsp olive oil, 1 tsp grated garlic, 1 tsp chilli pepper, ¼ tsp salt and ¼ tsp pepper in a large bowl. 
Add the kohlrabi and toss to coat. Transfer the mixture to a baking sheet. Roast, stirring once halfway through, for 20-25 mins. The kohlrabi should be tender and slightly charred. Top with 2 tbsp chopped coriander. 
(via Eating Well)
Creamy kohlrabi soup
Remove the stems and leaves from 700g kohlrabi, and set aside. Remove the small woody part from the bottom of the kohlrabi bulb and compost it. Cut the stem and bulb into cubes. 
Cube 450g potatoes and finely chop 1 medium onion. Heat 1 tbsp olive oil in a soup pan and cook the onion until translucent. Add the cubed potatoes and kohlrabi, then cook for another 4 mins, stirring occasionally. 
Add 750ml vegetable stock and bring to a boil. Then turn down the heat and simmer for 20 mins, or until the vegetables are tender. Add the kohlrabi leaves during the last 5 mins of cooking time. 
Add 3 tbsp cream cheese (or plant-based cream cheese) and blend the soup. Reheat it gently but don't bring it to a boil again. 
Add salt, pepper, sugar, nutmeg and 1 tbsp lemon juice. Adjust to taste. Sprinkle with chopped parsley, chilli flakes, nigella seeds or whatever flavours you like. 
(via Where Is My Spoon?)
Carrot and kohlrabi stir fry
Dice 1 large carrot and 1 kohlrabi, then boil them until they've softened a little. Quickly drop them into iced water to cool. 
Heat 1 tbsp vegetable oil in a saucepan then add ½ tsp mustard seeds, placing the lid on the pan. Lower the heat and wait 20 secs for the popping noise to end. Add 1 tsp cumin seeds, 1 tsp dhal, a sprinkle of turmeric powder and chilli to taste. Substitute with 3 tsp curry paste if needed. Fry for 10 more secs. 
Add the vegetables to the oil and coat with the spices. Add the zest and juice of half a lemon. Once cooked through, sprinkle salt and fresh coriander to taste, then serve. 
(via Taste of the West)