How to store, prep, and cook Cauliflower
If not stored and cooked properly, cauliflower can easily be the watery soggy stuff of nightmares! That's why we've got our guest chef Storm (@whatstormeats) to help us guide us through the best ways to prep and cook these delicious vegetables.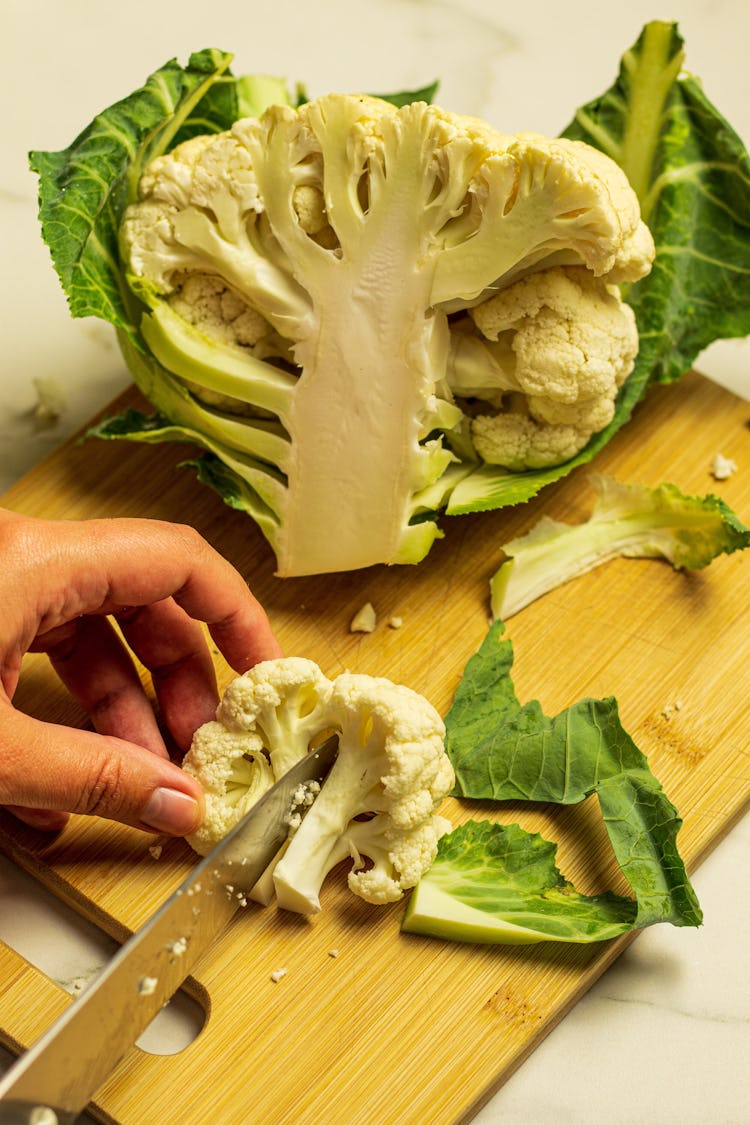 HOW TO…STORE:
Keeping them in the fridge whole – this way they can last up to 7 days. You can also freeze cauliflower florets from fresh; simply cut into florets, lie on a tray and place in the freezer. Once they are ice cold, pop in a bag and freeze until later.
HOW TO…PREP:
Cutting them into your desired size (florets, steaks or keep it whole!), and give them a gentle rinse with cold water. Use a paper towel or kitchen towel to pat dry.
Never chuck away the stalks or leaves, these are packed full of flavour and goodness! They are perfect for adding to stocks, soups or simply peel the stalks and add them to your roasting tin! They are great in a stir fry!
HOW TO…COOK:
ROAST:
Roasting a cauliflower whole is a beautiful centerpiece for any dinner table. Smother the whole cauliflower in Harissa paste, drizzle with olive oil and roast in an oven until cooked through. Serve whole on coriander hummus with pomegranate, fresh mint and a tahini drizzle. Why not make some homemade pitta to go with it too?!
GRATE:
Cauliflower rice is a great low carb alternative and makes for a tasty stir fried rice alternative. Try adding peas, spring onion, crispy tofu and season with soy and chilli for a healthy takeaway alternative! Grating or ricing cauliflower means you can combine it into pretty much anything –, burgers and cauliflower pizza bases work very well! 
STEAKS:
Cauliflower steaks are delicious pan fried or roasted. They act as a sponge so absorb flavours really well; try marinating in Korean chilli paste and serving on lentils and kale, or pan fried in a little butter and garlic and served with a zesty walnut salsa verde. Why not try cauliflower schnitzel and coat in breadcrumbs and deep fry until golden?!
DEEP FRY:
Dip in a beer batter and serve with a homemade tartar sauce or toss the crispy bites in a hot buffalo-style dressing for cauliflower "wings" – the perfect party snack! Try stuffing into filo parcels with spices and cooked potato and serving with a spicy mango dip. 
SALAD:
Try shaving the stalks with a peeler and tossing into a salad with raw fennel, orange segments and fresh mint - serve with a dressing made with fresh orange juice, capers and plenty of olive oil. 
MAC AND CHEESE:
Everyone loves cauliflower cheese, but imagine it meddled with cheesy pasta! Make a roux with butter, milk and plenty of cheese, add in steamed cauliflower, paprika and cooked pasta. Bake with extra cheese – so delicious and comforting! 
TACOS:
Coat with some Mexican spices such as cumin, paprika and garlic and roast on a tray with a little olive oil until crispy. Stuff into homemade tacos with fresh avocado, pink pickled onions and fresh chilli. 
PICCALILLI:
The perfect addition to any cheese board! Add cauli florets (leaves and all!), diced courgettes, green beans, shallots and mix with mustard powder, spices and sugar until completely coated. Heat in a big pot with vinegar. Pack into jars and serve with your favourite cheeses, or slather on hearty sandwiches. This also makes a great gift for foodie friends! 
HASH BROWNS:
Coarsely grate the cauliflower or pulse in a food processor, add a couple of eggs, chopped spring onion and season with salt, pepper and a little garlic powder. Shape and fry in oil until golden and crispy and serve with a fried egg – the best brunch recipe! 
AVOID:
Boiling cauliflower – it will lose its structure and disintegrate. Remember that it is a flavour sponge so you can be generous with seasoning to make up for its subtle taste.