5 delicious ways to enjoy radishes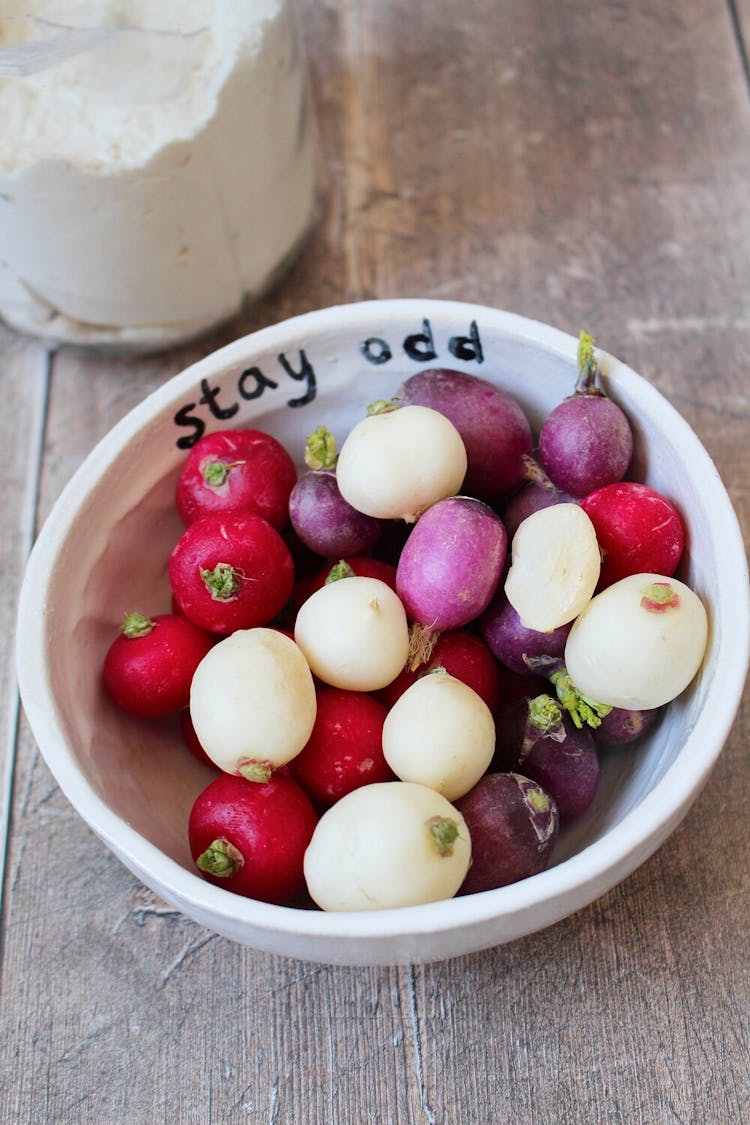 DID YOU KNOW?
Radishes are members of the mustard family. They have a peppery flavour and a crisp, crunchy texture. Rich in antioxidants and minerals, radishes are delicious eaten raw and cooked. 
STORE THEM BY: 
Store your radishes in the fridge for up to 5-7 days. To increase the crispness of radish, soak them in ice cold water for a couple of hours. 
PREPARE THEM BY: 
Radishes can be used whole in recipes. Otherwise, use a knife of mandoline to slice and cut. Try to prepare radishes just before using, as they lose their crispness when cut. 
5 DELICIOUS RECIPE IDEAS: 
BRAISED: Cut the radishes in half. In a pan, heat a little butter. Place the radishes cut-side down and cook undisturbed for 3 minutes, until the bottoms begin to brown. Add sliced onions and cook, stirring, for another minute. Add balsamic vinegar and water — the water should just come up around the sides of the radishes. Cover, lower the heat, and simmer for 10 minutes, until the radishes are tender. Remove the lid and continue to simmer for 5 minutes, until the liquid has reduced into a syrupy sauce.Season with salt and pepper.
MUFFINS: Cut 200-250g of radish in half. Make the muffin batter from 250 g plain flour, 2 tsp baking powder, ½ tsp salt, ¼ tsp black pepper, 1 tsp garlic powder, 1 tsp rosemary , 3 eggs, 50 g olive oil, 4 tbsp milk of choice, 1 tsp runny honey. Add the radishes, 150 g goat cheese and 12 black olives. Fill a greased muffin tin with the mixture and bake at 180C/160 fan/4 gas mark, for 15 minutes. 
ROASTED: Roasting brings out the sweetness that's otherwise masked by the peppery kick that they're known for. Place the radishes in a bowl along with garlic powder, olive oil, salt and pepper. Toss well to coat and place on a baking dish. Roast at 180C, for 20 minutes. Add chopped parsley. 
PICKLE: Trim and thinly slice the radishes lengthways, then slice a piece of ginger into fine strips. Put both in a bowl. In a small saucepan, make the pickling liquid from spices (coriander seeds, fennel seeds…), chilli, sugar, white wine vinegar and salt. Simmer gently to dissolve. Stir into the radishes, cover and put in the fridge overnight to mellow. 
BUTTER: Grate the radishes on the largest side of the box grater and place the radish flesh in a fine sieve. Using a spoon, press on the radish flesh to extract as much liquid as possible. Add to a mixing bowl along with softened butter, season with flaky salt, and mix until well combined. Serve on toasted sourdough and top with any leftovers. Butter will keep in an airtight container in the fridge for up to 3 days - but you can freeze for up to 3 months.