Getting to the root of these shipping delays
If you've recently received a box packed full of rescued fruit and veg, you'll likely have noticed a particular topic cropping up again and again in our letters...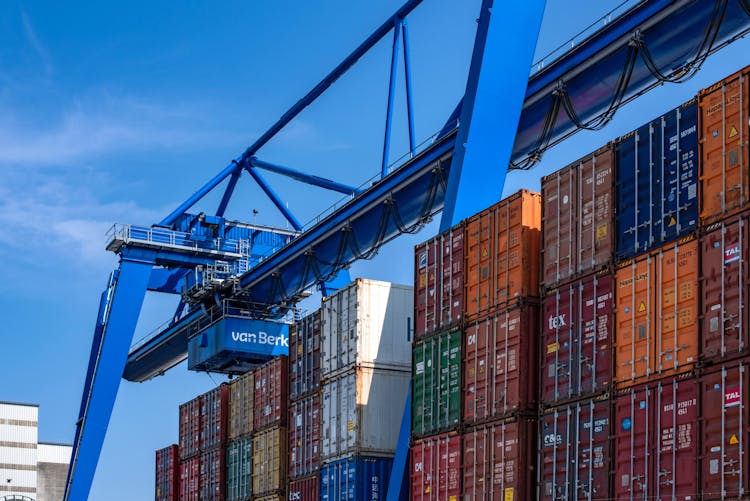 Yep, we're talking about those pesky shipping delays that so often force us to make last-minute changes to your final box contents. Wondering what's behind all this disruption? Lettuce take a closer look.
A global dilemma
First things first, these shipping delays are by no means a new issue, nor are they exclusive to the UK. In fact, in 2021, supply chains across the world were plagued by a series of long-term problems, from the ongoing coronavirus pandemic to a certain container ship clogging up the Suez Canal… 
The delays are expected to continue throughout 2022. This includes hold ups in Cape Town, a major international shipping port that's become severely congested in recent months. The South African city is currently in talks to help ease delays that have hugely disrupted their fruit season. And to top it all off, they've just experienced a particularly bad period of weather, too.  
If you've unearthed some nectarines, plums or peaches from your box over the past few weeks, they've likely come from South Africa. According to our grower, windy conditions and staff struck down by COVID-19 caused many of the ships transporting these fruits abroad to be grounded in Cape Town for days on end. 
Fast forward a few weeks, though, and there's now a huge backlog of stone fruits arriving in the UK. Supermarkets aren't likely to take any that are "too small", "too odd" or fruits that aren't quite the right variety. Luckily, our community has been able to help give these fruits a home.
A whole bunch of problems 
Rescuing odd-looking or oversized fruit and veg may be at the heart of what we do, but it's also not uncommon for us to save the "too few" or "too many", either. 
Container ships arriving ahead or behind schedule is often the reason for this. COVID-19 has undoubtedly been responsible for a good chunk of these supply chain issues that we keep bringing up. From staff sickness to pesky paperwork, the pandemic has affected numerous global shipping routes and caused many ports to become backed up. New Brexit regulations coming into play also haven't helped those ships arriving into UK ports.
What's more, there's something called 'blank sailing' to consider. This is when a container ship ends up cancelling a certain leg of their journey or even skipping out a few ports from their route altogether. Great news if your country's made the list and your goods end up arriving on time or even ahead of schedule. 
It's not so ideal if they're travelling on a ship that's been forced to re-route. As you'll discover in our latest rescue story about spring onions arriving from Egypt, diverting container ships that are transporting fruit and veg can often be the difference between it selling or going to waste. 
Oddbox community to the rescue
Worried all these shipping delays might have an impact on the quality of the fruit and veg you receive? Thankfully, if stored correctly, a lot of fresh produce has a fairly long shelf life or is transported in controlled atmosphere containers to keep it fresh. 
Nevertheless, while a difference of a few days - or even a couple of weeks - won't affect its quality, it can affect where it ultimately ends up. Containers brimming with fruit and veg that arrive late to their final destinations often miss their chance to be included in supermarket or food service programmes. 
It's during these stressful situations that our community really do make a huge amount of difference to our growers. There's almost always nothing wrong with the quality or size of the produce; it's simply a case of being in the right place at the wrong time. 
Just like the supply chains, what we're able to save (and when) can be very unpredictable. That's why you might experience the occasional last-minute change or substitute in your box. These small blips are ultimately part of a much larger, global dilemma - and one that's entirely out of our control. 
So, next time you bite into a juicy nectarine or slice up some spring onions for a stir fry, remember: they've probably gone through quite the epic journey to reach you.