Get To Know Oddbox: 6 Questions For Our Founders
Transparency is one of our core values here at ODDBOX. In the coming weeks we'll be sharing some tips on how to start and grow your own business. So, as a foundation, we thought why not share a bit more about ourselves and our journey to ODDBOX too? Sharing is caring after all.
We sat down with our founders Emilie and Deepak to talk all things ODDBOX and how they went from just 10 customers to delivering 25,000 boxes in two years.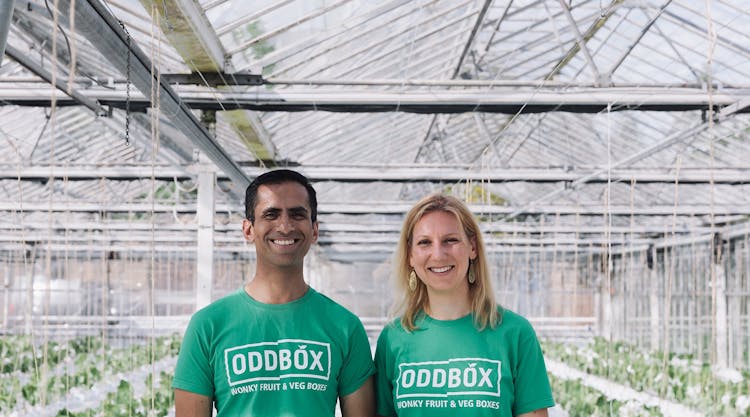 Why was having a sustainable business important to you both?
D: We don't really see why we wouldn't have a sustainable business. Although we've worked for brilliant companies in the past, Emilie especially has always wanted to have her own business making a difference and somehow we've been lucky enough (through a lot of hard work) to make that a reality.
E: We try to keep those sustainable values in every decision we make for the business. We try to limit plastic waste as much as possible, only putting it in our boxes if it's been pre-packed by our supplier (for example if we get a call saying a grower has surplus salad that he can't shift but it's pre-packed, we make the call to take the food in plastic rather than seeing it all go to waste), then use 100% biodegradable bags if necessary for freshness, and have fully recyclable boxes.
Why food waste specifically?
E: At the end of the day food waste affects absolutely everyone and has a huge impact on the planet. My grandparents on both sides were potato farmers back in Northern France so I've witnessed the time and effort spent to grow produce, especially through my Dad working on the farm. For all of that time and work to end in food going back into the ground for reasons that have nothing to do with the taste and quality of the produce is just madness.
D: After we started to realise what was happening with all of this totally edible food and that there could be a solution — especially one that makes economic and commercial sense — then it just seemed like the right thing to do.
What's been the highlights so far?
E: The highlight for me has been hearing the difference that it makes for the growers. We regularly get calls from suppliers thanking us with genuine relief for taking their produce and more and more people are becoming interested in through purely word of mouth.
D: For me it's been hearing the feedback from our customers. Having people describe the arrival of our boxes as 'like Christmas morning' is pretty incredible. Especially when you hear about how the wonky fruit and veg have become a part of a family's morning routine, getting their children more excited about fruit and veg, I don't think we really expected it to have such an important impact but it really has and that's something I'd really like to do more of.
How did it all start?
E: The idea for ODDBOX came about two years ago while we were on holiday in Portugal. We'd been eating all this ugly looking but incredible tasting 'odd' produce from local market stalls and we started questioning why the food back home in the UK just wasn't the same.
E: That's when we started looking into cosmetic food standards and the food waste that comes with it. The more we learnt about the extent of food waste and how seemingly tiny, simple things like a slight difference in colour, size or shape meant that totally edible produce ended up being wasted — not harvested at all or thrown into landfill was shocking. So we decided to do something about it.
D: We wanted to see if these cosmetic standards really did put people off. So after a bit of research and a lot of persistence we found a local grower and set up a trial in friends, family and some game strangers to try our wonky produce. We started out with 10 people to trial and thought if this works, let's do it properly…
Over the next 6 months we were gradually expanding, we moved to a new warehouse in West Norwood and brought on a few members of staff including Gavin, our head of operations who had worked in the food industry for 7 years and is really brilliant. Then at the start of this year things really took off. Now we've delivered over 25,000 home boxes and 4,000 work boxes in just over two years. We've rescued over 150 tonnes of food that would have otherwise been wasted in the process and work directly with around 26 local growers making a real difference to their businesses! We also partner with charities like City Harvest to donate up to 10% of our produce to help tackle food poverty with food that would have gone to waste.
What's been the weirdest fruit or vegetable?
D: We've had some pretty exciting things come through like kohlrabi and oca, both of those were fairly memorable.
What's next?
E: We want to be able to continue our mission of tackling food waste by shifting food standards and normalising surplus or odd produce by getting the word out there to as many people as possible!