Get inspired with these 7 delicious celeriac dishes
Craving some culinary inspiration for your celeriac? Here's seven mouthwatering ways to enjoy this root veg, courtesy of our guest ODDBOX chef Camille @callherchef!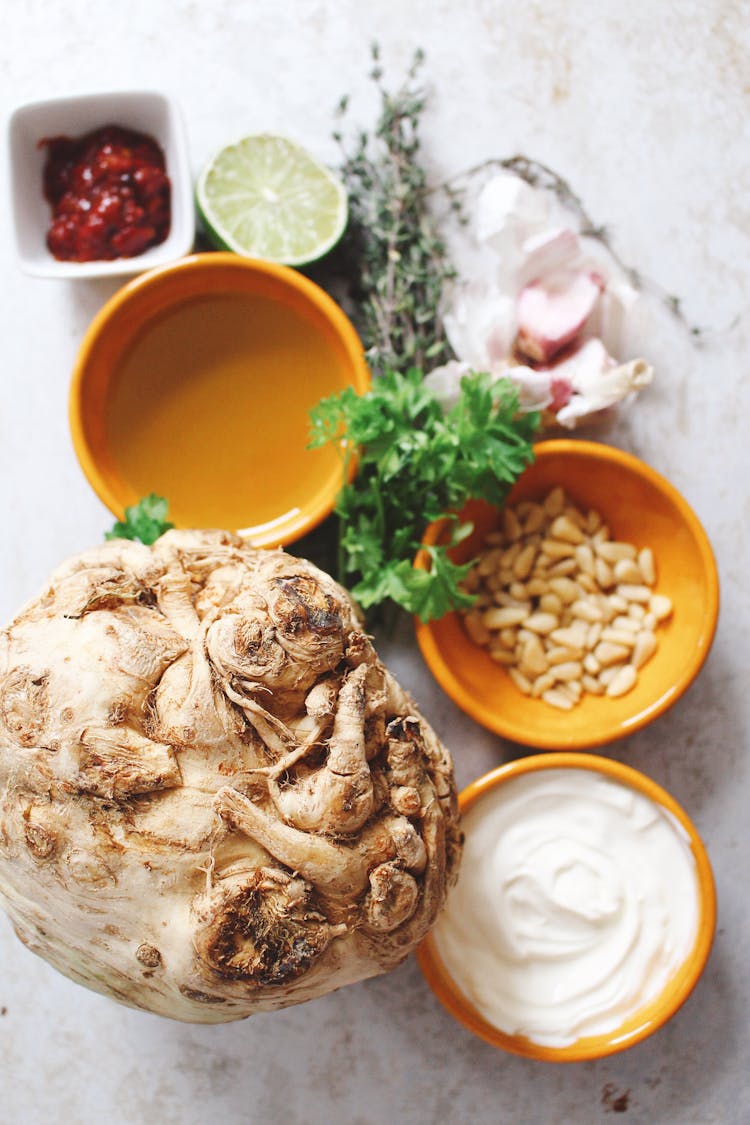 DID YOU KNOW?
Celeriac is a variety of celery cultivated for both stem and green parts. Celeriac is a good source of antioxidant, packed with fiber and vitamins.
HOW TO STORE…
Store your celeriac in the fridge for up to 1 week. You can also freeze your celeriac - simply wash, peel and chop before freezing.
HOW TO PREP…
The celeriac skin is edible. So if you are roasting the whole celeriac, wash, scrub and discard the hairy roots - you can compost them.
If you are cooking other celeriac recipes, use a knife to top and tail the celeriac then continue around the celeriac slicing off the rest of the skin, or use a vegetable peeler.
You can then chop the celeriac into slices or pieces. Celeriac discolours quickly so once sliced, immerse the celeriac pieces into a bowl of water with a squeeze of lemon juice or splash of vinegar.
7 DELICIOUS WAYS TO ENJOY YOUR CELERIAC
RAW:
Raw celeriac is a great addition to salads and has fantastic crunch and a nutty, celery-like flavour. Cooked celeriac taste is slightly sweeter and works well mashed, baked, roasted or boiled. You can treat it like any root vegetable such as potato.
ROASTED:
Whole roasted celeriac is one of the easiest and best ways to cook the root vegetable. Cut off the hairy roots and rub the celeriac into an oil mixture made from olive oil and flaked sea salt. Place in a baking tray and roast at 170C for 2 to 3 hours until browned and soft all the way through. Cut the celeriac into wedges and serve with a spicy creme fraiche or pesto dressing.
BRAISED:
Peel and chop the vegetable in cubes. Add to a saucepan with onion and cook in olive oil until lightly colored and caramelised. Add water and slow cook until tender.
MASH/PUREE/SOUP:
Add chopped celeriac into a saucepan and cover with milk and water. Bring to a boil, then simmer until tender. Let cool and place in a food processor with seasoning, Blend to the wanted consistency.
GRATIN:
Slice the celeriac into 1 cm slices and layer with onion and potato in a baking dish. Pour over double cream seasoned with nutmeg, salt and pepper. Sprinkle with grated cheese and roast at 180C for 45 minutes, until tender and golden.
RIBBONS:
Use a vegetable peeler to make celeriac ribbons. Pan fry for a few minutes in hot olive oil, stirring often and serve with tomato sauce.
REMOULADE:
Finely chop the celeriac in fine batons. Mix raw with mayonnaise, lemon juice and chopped parsley. This is great made in advance so that all the flavour infuses together.