From skin to seed: how to use all your pumpkin this Halloween
You have rescued a pumpkin… now what to do with it?
Before we start, let us answer an often asked question: 'what is the difference between a pumpkin and squash?'. To put it simply, pumpkin is a type of squash. The big orange-coloured cousin of the popular butternut squash belongs to the same squash family and, even though the taste profiles might vary slightly, they can easily be interchanged in curries, stews and soups.
Despite its versatility, pumpkins can be a daunting ingredient to work with. Much more than a Halloween decoration, they are an easy way to theme your dishes to the season in both savoury and sweet takes. Here is our no-fuss guide to a low-waste feasting session this Halloween, with everything you need to know about using all parts of your gourd.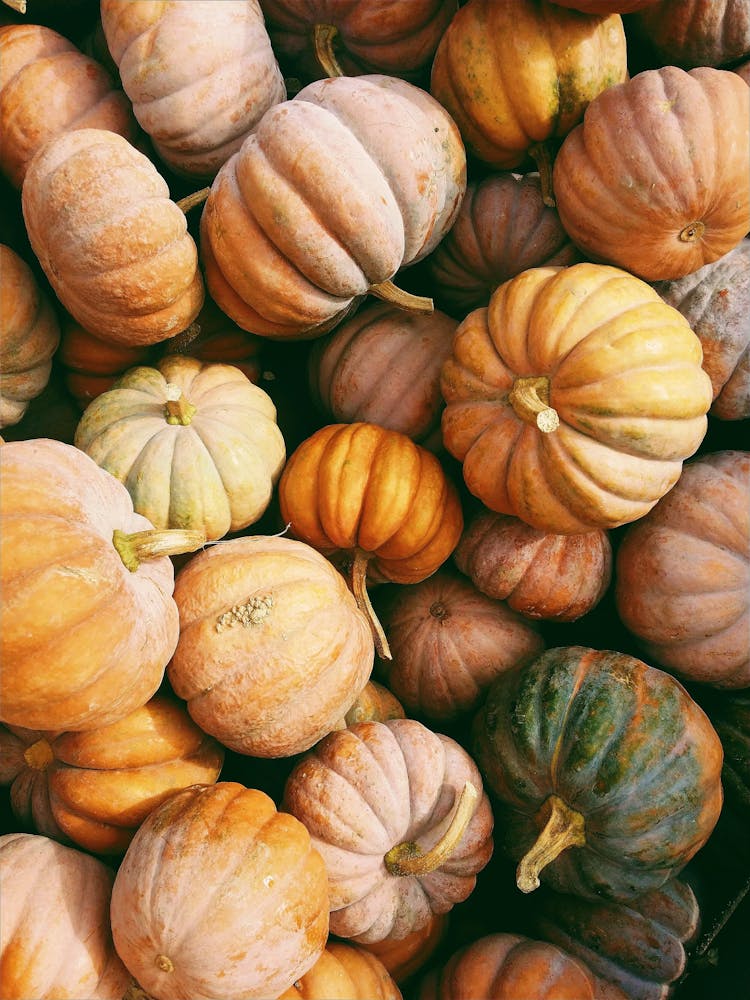 1. HOW TO ROAST A PUMPKIN?
Arguably the quickest and easiest method to prepare any vegetable apart from eating it raw, and the perfect autumn-warmer.
Start by cutting the pumpkin in half lengthwise, and scooping the seeds to use later. With a sharp knife, slice the pumpkin into wedges and spread these in a baking tray. Drizzle the slices with olive oil, rubbing on both sides. Sprinkle salt and spices - we love adding thyme and nutmeg - and roast for about 20 minutes, depending on the thickness of the wedges, in a 200C preheated oven.
2. WHAT TO DO WITH PUMPKIN SEEDS?
Perfect in granola, as a snack, simply tossed on a salad or sprinkled over a soup. After separating from the stringy parts (do not throw those away, you can use them too!) and rinsing, spread the seeds in a large baking tray with a generous coat of olive or coconut oil, and roast for about 10 minutes in a 180C preheated oven until golden brown.
Store in a jar and you are good to go.
3. DO YOU NEED TO PEEL A PUMPKIN?
It's not only the inside that counts. There is no need to peel. Pumpkin skin is perfectly edible when cooked properly. A way to avoid waste and make your life easier when preparing pumpkin is to simply skip the peeling stage. Massage with plenty of olive oil, season to taste and serve it at your next Sunday roast.
If you are feeling creative, you can indeed peel your pumpkin and turn the skin into crisps. Sprinkle with salt, drizzle a small amount of extra virgin olive oil and bake it for 25-35 minutes on the top rack of a 200C oven until crisp.
4. CAN YOU USE ITS STRINGY PARTS?
Don't be scared of the guts. The is also a zero-waste solutions to the stringy parts of your pumpkin. After separating the seeds, use guts in a soup base, mulled wine or bread for a seasonal touch.
5.WHAT TO DO WITH YOUR LEFTOVER JACK O' LANTERN?
We are all together in the journey to reduce our impact in the planet, carving a pumpkin with your family and friends does not need to add to landfill - and to your conscience. It might not be safe to eat your pumpkin after it has been out and open for long, so when carving make sure you use up or freeze all the flesh and guts for the future, and bin your Jack O' Lantern in your kitchen waste caddy to be composted.
Do you have any other suggestions on how to eat a pumpkin? Let us know your methods and recipes below, and remember: squashing pumpkin waste is the treat the want this Halloween.