FIGHTING FOOD WASTE SINCE 2016 AND NOW A B CORP TOO!
We have always believed that doing the right thing in business makes sense. We want to fight food waste, and the larger we grow, the bigger our impact becomes. And the bigger our impact, the larger we grow. We keep this in mind in every step we take at ODDBOX and we are chuffed to join the group of other like-minded companies leading the way to use business as a force for good. People, planet and business can, and should, go hand and hand.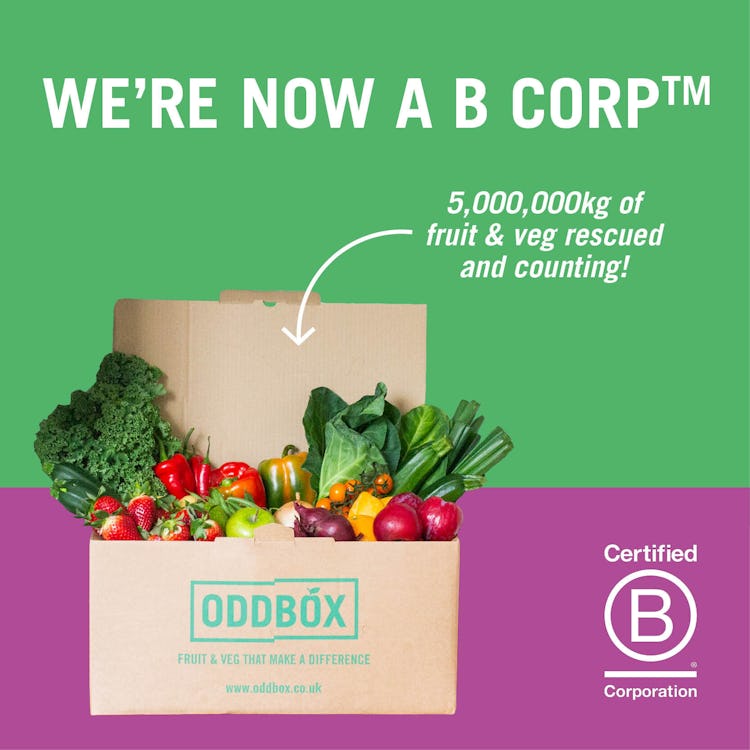 SO, WHAT IS A B CORP? AND WHY DID WE DECIDE TO SIGN UP?
Certified B Corporations are businesses that meet the highest standards of social and environmental impact, and are evaluated based on several criteria, including governance, workers, community, environment and customers. B CORP is a global network, and in the UK there are around 200 of us. 
As a business we are responsible for the impact that we have, and that we care about the planet and the people who live on it.  To be certified as a B CORP means that we are held accountable by a recognised network and that we stay focused on our mission to fight food waste as we grow.
Here are some words from Emilie & Deepak:
"We could not be more thrilled to be a B CORP and join a growing community of businesses who believe that doing the right thing makes good business sense. As a B CORP, we're provided with a great framework to measure ourselves against, ensuring that we're always balancing our purpose, profit, and impact on the planet in our fight against food waste" - ODDBOX founders
To become a B CORP, we passed a rigorous test (we started the process in 2019) to show how we meet the highest standards across five areas - governance, workers, community, environment and customers. You can see how we did here. This is just the beginning and we are committed to continuously improving our score -  we have to re-certify every three years so we will be able to track our progress. 
Any comments, questions or concerns please do drop us an email hello@oddbox.co.uk. You can also read more on what others have to say below