Easy homemade beauty products
Forget expensive beauty creams and tinctures – you can easily make awesome treats for your body from ingredients you already have around the home.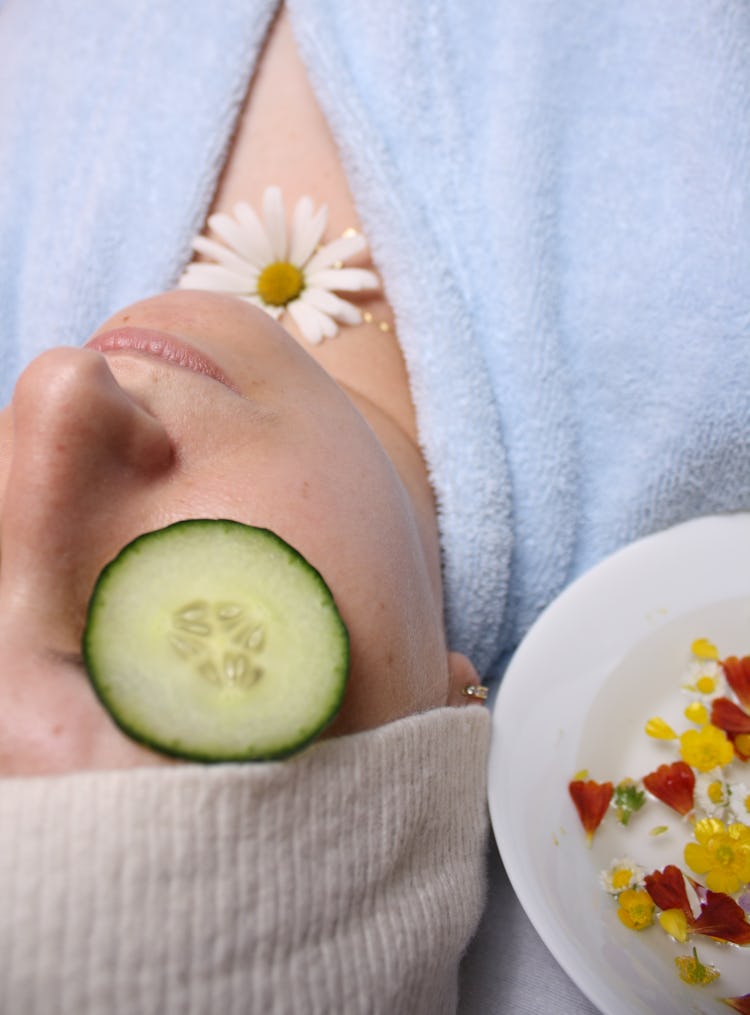 Here are recipes for some of our favourite homemade beauty products. 
Calming cucumber face mask
Cucumber is thought to have anti-inflammatory properties, making this face mask the perfect antidote for irritated skin. Take 2 tbsp each of plain sugar-free yoghurt, pureed cucumber and oatmeal. Add 1 tsp of chopped sage, then mix all of the ingredients. Massage into clean, damp skin, then rinse off after 15 mins. 
(via Hello Glow)
DIY bath bombs
Make your own fizzy bath bombs using everyday cooking ingredients with this recipe from BBC Good Food. Simply whisk together baking soda, citric acid, cornflour, Epsom salt, oil, any essential oils you have and a few drops of liquid food colouring. If you don't have Epsom salt, swap for sea salt and a few more drops of essential oils. Add blended, dried orange peel for extra zesty fragrance. 
Baking soda shampoo and vinegar rinse
To detox your hair from product buildup, you'll want to go back to basics. Mix 1 part baking soda to 3 parts lukewarm water in a bowl until it becomes a paste. Then apply it throughout the length of your hair. You should only wash your hair with this mixture occasionally, as baking soda can damage hair when used regularly. Always follow with a rinse of 1/2 tbsp apple cider vinegar mixed with 1 cup of cold water. Then rinse out with warm water. 
(via Mind Body Green)
Fennel toner
Fennel is thought to rejuvenate skin and banish puffy eyes. You can decide for yourself by making a toner that uses just four ingredients. Puree 2 raw fennel bulbs and gather 2 sprigs of fresh thyme. Bring them to a boil in enough water that the mixture will pour. Add the juice of half a lemon, let it steep for 15 mins and strain out the solids. Let your toner cool, then apply under the eyes. Keep it in the fridge for up to 10 days. 
(via Hello Glow)
Coffee and Himalayan salt scrub
Coffee may help reduce the signs of skin ageing, and at the very least it will exfoliate the skin. Mix 1/2 cup of coffee grounds, 1/2 cup of Himalayan salt (or other sea salt), 1/4 cup of coconut oil and 2 tbsp of water. Gently scrub over your body or face in circles, then rinse. Keep any leftover scrub in an airtight container and use it within a week. 
(via Healthline)
Lavender and oatmeal bath soak
Grind 3/4 of porridge oats in a food processor until they have the texture of flour. Pour 1/2 cup of Epsom salt and 1/2 cup of Himalayan salt into a bowl along with 30-40 drops of your favourite essential oils. Sub the salts for 1 cup of regular sea salt, if needed. Mix well, then add the oat flour along with 1/2 cup of baking soda, mixing again. Store in a jar and use 1 cup of your bath mixture in each bath. 
(via The Merrythought)